How unlicensed forex & derivatives trader Fullerton Markets came from nowhere to get its name splashed around high profile Wellington events and sports teams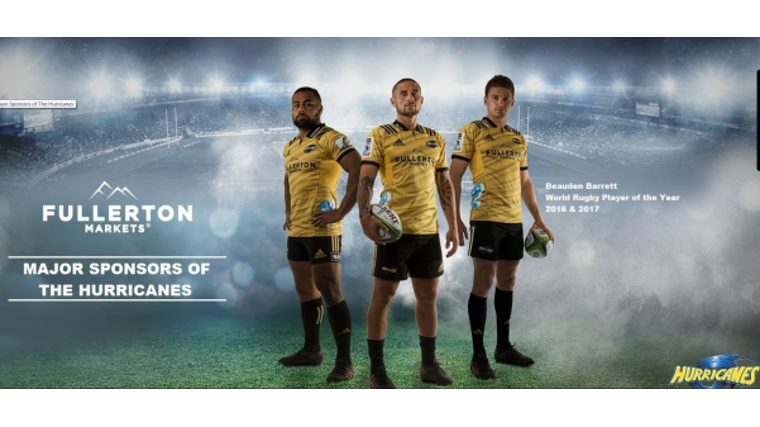 By Gareth Vaughan
"We're not playing tiddlywinks here mate."
So said Tana Umaga, one of the Hurricanes' most famous rugby players, to Australian referee Peter Marshall in 2003 after being penalised.
Nor does Fullerton Markets, until very recently a Hurricanes jersey sponsor, play tiddlywinks. But unlike Umaga, Fullerton operates free from a referee.
Fullerton is an unlicensed foreign exchange, or forex, and derivatives trader offering contracts for difference, or CFDs, in gold, silver, shares and oil. And it was in this guise that it launched in New Zealand in 2016 and secured a range of high profile sponsorship deals.
Fullerton now says it's swapping NZ for St Vincent and the Grenadines. This follows a colourful spell in NZ, which saw the company go to great lengths to try to establish itself in Wellington. Singapore-based CEO Mario Singh described the city as "the next financial hub of New Zealand," before Fullerton's registered office and address for service was shifted to an Auckland serviced and virtual office earlier this year.
In NZ Fullerton managed to entice then-Finance Minister Bill English to its June 2016 launch party, saw its man on the ground in Wellington, Malaysian national Chanthrueen Sarigabani, forced by Immigration NZ to leave the country in 2017, had its trustee Kiwi Global Trust Ltd lay a complaint with the Police over $4 million from its ANZ bank account being moved overseas, and received a formal anti-money laundering warning from the Financial Markets Authority (FMA).
As previously reported Fullerton's sponsorship deal with the Hurricanes was in the name of Sarigabani's NZ registered company Nova Barclays Idea Ltd.
Chamber of Commerce and Minister of Finance 'reliable endorsers of Fullerton Markets'
So just how did Fullerton, an unheralded company with a Singapore-based CEO, wander into Wellington and secure those sponsorship deals? Aside from the Hurricanes, it has also been a sponsor of the Wellington Phoenix football team, the Wellington Gold Awards and the Wellys, or Wellingtonian of the Year Awards.
According to Gayle Page, event director of the Wellington Gold Awards which are described as the city's annual celebration of business, Fullerton was "presented and promoted" to the Wellington business community by the Wellington Chamber of Commerce at a special function on February 4, 2016.
"The Chamber representatives recommended their company to Wellington businesses including the Gold Awards and we accepted their endorsement," Page says.
"A function hosted by Fullerton at the Wellington Club on 24 June 2016 was fronted by the Minister of Finance Bill English who spoke positively and confidently about them as a new business to Wellington and New Zealand. The Gold Awards were of the view that both the Chamber of Commerce and the Minister of Finance were reliable endorsers of Fullerton Markets and therefore accepted their sponsorship in good faith," adds Page.
The Wellington Chamber of Commerce function in February 2016 was a regular monthly "Business After Five" networking event. They are jointly run by the Chamber of Commerce and a hosting member. The hosting member on this occasion was a company named Walking Boards, which agreed to Singh speaking.
Walking Boards managing director Keegan Walls says Singh spoke after an approach to him (Walls) from a public relations company representing Fullerton.
"They [Fullerton] actually reached out to us. He [Singh] was in from overseas and was just basically looking for something to speak at in the local area. I met with his PR company, had a bit of a chat about what he was about and what he was wanting to talk about, and all that kind of stuff and thought it would be a good, interesting fit and add a bit more to the speaker roster than just me," Walls says.
"I think they [the PR company] originally contacted the Chamber of Commerce and then came through to me," Walls adds.
Singh was asked to speak for five minutes on the "outlook on the 2016 global economy and the challenges and opportunities for New Zealand businesses in Asian markets," Chamber of Commerce CEO John Milford says, and was introduced as "an international forex trader and financial markets analyst, and CEO of Fullerton Markets New Zealand."
Shortly after this Fullerton became a member of the Wellington Chamber of Commerce, but chose not to renew the membership in 2017, says Milford.
Fullerton was a category sponsor of the 2016 and 2017 Gold Awards, and category sponsor for the 2016 Wellys. Fullerton's deal with the Phoenix ran for two seasons, ending earlier this year. According to a Phoenix spokeswoman, the deal saw Fullerton "owning" the home team technical area, and included scoreboard sponsorship and purchasing some match day sponsorships.
'Fullerton Markets has been an enthusiastic sponsor'
The Hurricanes announced a sponsorship deal with Fullerton in July 2016, with the company described as a major partner. Then in January 2017 the Hurricanes announced Fullerton was becoming a front of jersey sponsor for the next three seasons, along with car manufacturer Kia. 
In 2016 Hurricanes CEO Avan Lee said Fullerton had built "a great name in the trading industry" and was clearly "a company with high ambitions and high values." However, this week the Hurricanes announced National Storage has become a front of jersey sponsor for all its home matches for the next Super Rugby season. That's the role that was filled by Fullerton, and based on the 2017 announcement, should continue into next season.
Lee would only say; "Fullerton Markets has been an enthusiastic sponsor of the Hurricanes and their support has been appreciated."
As it leaves NZ Fullerton claims on its website that it has "built up significant brand equity in New Zealand, especially with our sponsorship of the Hurricanes rugby team." And Fullerton chairman Gerald Carter says; "We will continue our full and enthusiastic support of the Hurricanes."
In early 2017 then-Prime Minister Bill English distanced himself from Fullerton, with his spokesman telling interest.co.nz attendance at an event by a Minister did not constitute endorsement of a company or its products or services. 
'Like gambling, you are just as likely to lose money as make it'
Meanwhile, the FMA has a message of caution about foreign exchange trading.
"Online foreign exchange (forex) trading is used by some people to try to make a quick profit by betting on the changing value of foreign currencies. Like gambling, you are just as likely to lose money as make it. The risk is increased if you trade with borrowed money, as this increases any gains or losses you make," the FMA says.
"For every person who gains a dollar from forex trading, someone else loses a dollar. And that's before taking into account costs and fees, which can be significant. Forex trading is not appropriate for most investors because trying to make a profit from predicting exchange rate changes is extremely risky."
Fullerton's website also promotes CFDs. These are an agreement between two parties, being an investor and the CFD provider, to pay each other the change in the price of an underlying asset over a set period of time. Depending on which way the price moves, one party pays the other the difference from the time the contract was agreed to the point where it ends. Investopedia details some of the risks of CFDs here.
Overseas focus
Fullerton made noises about obtaining a derivatives issuer's licence from the FMA but never received one. Thus the company has only legally been allowed to target its derivative products and services at overseas clients. Overseas Fullerton, which describes itself as Asia's fastest growing broker, has been able to promote itself as being on NZ's Financial Service Providers' Register (FSPR) until coming off it on August 30. Merely a phone directory style registration for NZ financial service providers, the FSPR's purpose has been confused overseas to mean companies on it are actually licensed and fully regulated in NZ.
In correspondence with English's office Fullerton claimed it would hire 50 staff in Wellington and said it planned an Initial Public Offering (IPO). Companies Office records have shown Singh as Fullerton's sole shareholder since last November when his stake increased from 60%. Previously NZ registered companies Sixth Dimension Ltd and Guardsman Trustees Wellington Ltd were also listed as shareholders. Companies Office records showed Paul Turner as sole director and shareholder of both companies. Turner, a Wellington accountant, was also a Fullerton director.
According to Singh's LinkedIn profile, he was previously director of training and education at FX Primus. This company's NZ offshoot, Strategic Markets Ltd, was kicked off the FSPR by the FMA in 2015. Around the same time the Australian Securities and Investments Commission (ASIC) announced FX Primus had agreed to make changes to its websites and to notify its Australian clients it was not licensed to provide them with financial services. ASIC also put a stop to a proposed FX Primus IPO. FX Primus sponsored football club Melbourne City FC. 
*This article was first published in our email for paying subscribers early on Thursday morning. See here for more details and how to subscribe.