Growth in year to March 2013 won't be as good as previously thought due to higher NZ$ and weak exports, NZIER consensus forecasts show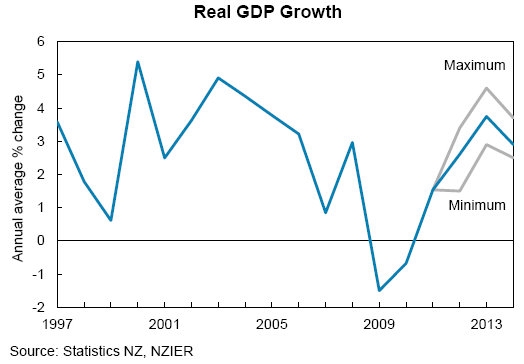 Economists are more optimistic in September than they were in June about growth in the current year to March 2012, but less optimistic about the economy the following year as export growth is weaker than expected due to a high New Zealand dollar and a weaker global outlook.
Consensus forecasts released by the New Zealand Institute of Economic Research showed the New Zealand economy would be resilient in the face of global risks, with rebuilding in the Canterbury region driving economic growth despite a later than expected start to the rebuild.
The September consensus forecasts, compiled before the Reserve Bank's relatively dovish Monetarty Policy Statement last week, pick economic growth accellerating from 1.5% in the year to March 2011 to 2.6% in the year to March 2011, up from a consensus of 2.1% for the March 2012 year in June. But growth is likely to be weaker than expected in the year to March 2013, with the consensus forecast for that year falling in September to 3.7%, from 4% expected in June, NZIER said.
"Economic growth will average 3.1% over the next 3 years. The recovery is being supported by growth in residential construction, led by the Canterbury rebuild. Without that, growth averages 2.7%," NZIER said in a release.
"Household spending growth will be steady, rather than accelerate, and public sector spending will ease. Exports will grow less strongly, due to weaker global growth and a higher NZD," it said.
"While the Canterbury reconstruction will provide a sizeable impetus, particularly to the construction sector, economists are uncertain on the actual timing and speed of reconstruction. Forecast residential construction growth ranges from 24% to 59% in the March 2013 year and the rebuild will start later than thought in June," it said.
Exports not as strong due to higher NZ$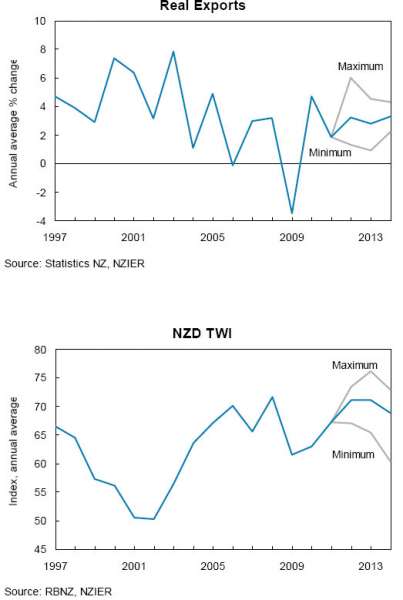 Export growth forecasts had been trimmed, reflecting global economic uncertainty and expectations of sustained strength in the New Zealand dollar. However the outlook was resilient despite the downward revisions, NZIER said.
Forecasters expected export growth of 3.2% (down from 4.0%) in the March 2012 year, and 2.8% in March 2013 (down from 3.4%).
Economists expected a higher currency for longer, reducing New Zealand's export competitiveness.
"Exchange rate forecasts have been revised up by around 5-6% for the 2012 and 2013 March years. The TWI will average 71.1 over the next two years, before easing back a little to 68.8 in the March 2014 year," NZIER said.
Rate rise in early 2012
Economists expected inflation to average 2.7% over the next three years, near the top of the RBNZ's target band. Global risks mean rate hikes are likely to be from early 2012, NZIER said.
New Zealand's current account balance was expected to deteriorate, reversing the improvement of the past two years. Forecasters expected a current account deficit of NZ$8.6bn in 2012, deteriorating to NZ$13.7bn by 2014.
"A widening current account deficit reflects insufficient domestic savings to fund investment in the economy. This can be a source of economic vulnerability when global investment appetite sours," NZIER said.
Wages to rise
Meanwhile, the labour market was recovering with economists expecting continued growth in employment and wages.
"Employment growth forecast for the March 2012 year has improved (1.7% form 1.3%), and is unchanged at a strong level for the Mach 2013 year (2.5%). This will flow through to wage growth, accelerating from 3.2% in the March 2012 year to 3.8% in the March 2014 year. This translates to around 1% real wage gains after accounting for increases in living costs. This should improve household finances and support household spending," NZIER said.
Finally, the outlook for private consumption was stable, with continued moderate growth.
"Economists expect 2.0% growth in the March 2012 year, unchanged from the previous year. Growth will trend slightly higher to 2.6% by the March 2014 year. This is more moderate than 4.2% average growth in the 5 years preceding the recession," NZIER said.
"Economists expect public consumption growth to trend lower from 2.5% in the March 2012 year to 0.3% in the March 2014 year. This is consistent with more restrained government spending announced in the May 2011 Budget," it said.