PM John Key says record high NZ$ doesn't help exporters, but is making NZ more competitive and making New Zealanders wealthier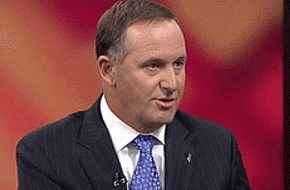 By Bernard Hickey
Prime Minister John Key has commented that a New Zealand dollar at a record high may be hurting exporters, but it also makes New Zealanders wealthier and can make New Zealand more competitive.
Key was commenting at his regular post-cabinet news conference after finance ministers from the G20 warned against currency wars at the weekend. 
Key also downplayed the need or effectiveness of the sort of local-first government procurement policies announced over the weekend by Australian Prime Minister Julia Gillard.
Key was asked about the risk of currency wars costing New Zealand jobs.
"It's quite clear that some countries have been either beneficiaries of actively looking to devalue their currency. Part of the process of printing money has in the case of some countries been a mechanism to try to seek a devaluation. As we've said in the past, there's very little New Zealand can do about that," Key said. 
"I think it makes sense for the G20 ministers to affirm that everybody embarking on a programme of trying to devalue their currency doesn't make sense," he said.
"While there is impact on exporters and that is unquestionably correct for exporters in US dolllars, New Zealand consumers are much wealtheir as a result of a higher exchange rate. NZ consumers are paying less for virtually all imported goods as a result of the high exchange rate," he said.
"The Reserve Bank has a lot less pressure on the system because there is very low levels of imported inflation. A lot of New Zealand businesses are now importing equipment that's now being paid for at much lower prices. New Zealand is much more competitive as a place because of a higher exchange rate.
"We weren't fabulously successful at 40 US cents in the dollar. Yes there's some pressure there. The government has said on numerous occasions that a slightly lower New Zealand/US exchange rate would be beneficial, but I think we should be careful what we wish for."
(Updated with quotes/charts)
No chart with that title exists.