US payroll data downright awful with headline number under-shooting expectations; NZ$/US$ swept higher as US$ sold off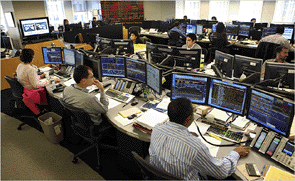 by Mike Jones
NZ Dollar
Along with the rest of the major currencies, the NZD/USD was swept higher by a retreating USD overnight.
Investors spent most of the night holding their breath in anticipation of the September US non-farm payrolls figures. They turned out to be awful. Headline employment undershot expectations by a cool 55k, with a small fall in the unemployment rate doing little to sweeten the pill in traders' eyes.
Indeed, a sizeable gouge has been taken out both the USD and the US yield curve overnight as investors push Fed tapering expectations back to March 2014.
The USD's demise has added just over ½ cent onto the value of the NZD/USD. Interestingly though, the kiwi's gains again stalled around the 0.8530 resistance level. As we noted on Monday, a break through this level would see the NZD/USD set its sights on April's 0.8630 highs. But interest from speculative and leveraged accounts to sell rallys above 0.8500 seems to keeping the currency's gains in check for now.
The likelihood Fed tapering is delayed until March necessitates a weaker USD view and we'll be shortly revising down our USD profile. This won't affect our year-end NZD/USD forecast (which remains at 0.8400), but higher AUD/USD forecasts will probably see our NZD/AUD forecasts nudged down a touch.
For today, local importer selling may see the NZD/USD drift a little lower. However, key direction on the day will come from Australian CPI figures to be released at 1:30pm (NZT). A 0.8% quarterly gain is expected.
We think a significant downside surprise will be needed to put a RBA rate cut firmly back on the agenda and knock the AUD/USD and NZD/USD markedly lower.
------------------------------------------------------------------------------------------------------------------
To subscribe to our free daily Currency Rate Sheet and News email, enter your email address here.
------------------------------------------------------------------------------------------------------------------
Majors
Global equity markets are 0.4-0.9% higher, gold is up almost 2%, and US bond yields and the USD have been slammed (DXY down 0.7%). You guessed it – the September non-farm payrolls report was a shocker.
September's headline employment gain of 126k was far below the 180k expected. There were some encouraging elements: the unemployment rate edged down to 7.2% (7.3% expected) and revisions to the previous two months of data boosted jobs by a net 9k.  Still, the overall tone of the report was very downbeat.
As you would expect, US bond yields and the greenback were thumped in the wake of the payrolls data as all manner of analysts and investors pushed Fed tapering expectations back into 2014. 10-year yields are close to 10bps lower around 2.51%. In currency markets, the USD was again sold with gay abandon; all the major currencies have jumped overnight.
The CHF (+0.9%) and EUR (+0.8% to 2-year highs above 1.3780) outperformed, while CAD and JPY (both +0.15%) have tended to lag the moves. 
March appears to be shaping up as the new consensus for the Fed to begin tapering. We will also shift our formal forecast to March. This reflects not only the weakening trend in US employment growth (the Fed has tended to place more weigh on employment than unemployment of late), but also ongoing fiscal uncertainty and the likelihood October's employment report is another weak one thanks to the government shutdown (some rebound likely in November). Recall the Fed needs "clear evidence of a sustained improvement in the labor market" to taper. The chances of achieving this in 2013 appear slim.
The upshot is that the USD is likely to remain heavy over the remainder of 2013 as US bond yields struggle to get anywhere near their 3% September highs. We are reassessing our forecasts now, but it's safe to assume we'll come out with a lower USD profile and a stronger track for the EUR, AUD and JPY. 
Other news:
*US labour force participation rate holds steady at 63.2% in September.
*Average US hourly earnings 2.1%y/y as expected.
*US Richmond Fed index +1 in October from 0 in September.