Bill English takes aim at central banks for overcooking their responses to COVID-19 in fear of repeating mistakes made during the Global Financial Crisis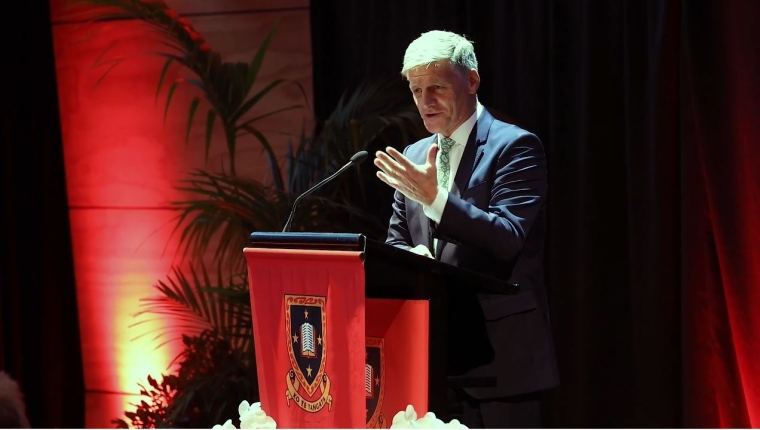 By Jenée Tibshraeny
Former National Party Prime Minister and Finance Minister Bill English is taking aim at central banks for overcooking their responses to COVID-19.
Speaking to interest.co.nz in an exclusive interview, after delivering a strongly-worded off-the-record speech to those at a Waikato University economics conference, English criticised governments for being too reliant on central banks.
He believed central banks, including the Reserve Bank of New Zealand (RBNZ), risked overcompensating for doing what they believed was too little following the 2008 Global Financial Crisis.
"They're trying not to do what happened last time in 2009, but it's a different sort of recession," English, who was Finance Minister in 2009, said.
"The risk is that in correcting what they believe was a mistake last time, they make more mistakes this time."
English maintained there were "real risks" associated with central banks' "act big" approach. 
"Up to now they've talked as if there isn't much risk in it. But actually, there will be consequences," he said.
The RBNZ's Monetary Policy Committee has been clear from the onset of COVID-19 it's taking a "least regrets" approach. It believes it's easier to cool an over-heated economy, than to try to fire up a frozen one.
In addition to cutting the Official Cash Rate to 0.25%, the Committee has launched New Zealand's first ever quantitative easing or Large-Scale Asset Purchase Programme, worth up to $100 billion, and made up to $28 billion of cheap loans available to retail banks through its Funding for Lending Programme.
Together, these two programmes, which effectively see money created, are worth more than a third of New Zealand's annual Gross Domestic Product (GDP).
Central banks de-risking investments
English said markets were becoming too reliant on central banks for underpinning good returns.
"You get some stress when either party doesn't behave in ways the other one has come to expect," English said, referring to the current situation where markets are pushing bond yields up by betting on higher inflation, all the while central banks are trying to keep yields down to ensure financial conditions remain loose and stimulatory.
English maintained the key issue was whether central banks had a "path to correction" to mitigate the consequences of their "mistakes".
"Central banks have to make judgements that aren't always going to be completely predictable, but they've got to pay close attention to what's actually happening and less to what happened in 2010," English said.
"The markets have to get used to the idea that part of the correction is some volatility."
More targets = more trade-offs = less predictability
Asked whether he believed Finance Minister Grant Robertson requiring the Monetary Policy Committee to meet an employment, as well as an inflation target, contributed to its said over-activeness, English said: "It's part of the general trend towards the belief that central banks can achieve almost anything.
"I'm not a fan of giving central banks several targets… It makes their job pretty difficult and it makes it harder to predict how they'll behave… It sort of washes into the political issues when you're dealing with inflation and employment and housing."
As of March 1, Robertson is requiring the RBNZ to "assess" the impact its monetary policy settings have on the Government's housing policy. The RBNZ has been clear this won't change the way it sets monetary policy.
The RBNZ has been more forthcoming of a directive also issued by Robertson for it to have regard for the Government's housing policy when carrying out its job maintaining financial stability/regulating banks. 
"Sometimes politicians can get a bit too reliant on central banks," English said.
"There are some things they [central banks] can do, and some things they've done pretty well. Either they or the politicians are expecting them to achieve more and more objectives - whether it's now moving into climate change - it creates uncertainty.
"Central banks around the world now face a very complex set of trade-offs to deal with and it makes it harder to predict what they're going to do."
Asked about whether the RBNZ's social licence to operate risked being eroded, as independent economist Cameron Bagrie has suggested, English said the term was a bit overused. 
"It has become code for a wider and wider view of their [central banks'] influence," he said.
"They have a legislated task and that's what they should carry out and it's pretty challenging."
Government debt 'uncomfortably high'
So if central banks play a smaller role in the economic response to COVID-19, should governments play a larger one - including by issuing more debt?
In true National Party spirit, English said no, raising concerns over New Zealand experiencing one of the largest increases in debt in the OECD.
It's "uncomfortably high" compared to where we want it to be, English said.
Net core Crown debt sat at 31.3% of GDP as at January 31. While this is a decent increase from pre-COVID, when it fell below Robertson's 20% target, it's low by international standards.
Credit rating agency S&P Global Ratings recently upgraded NZ's foreign currency credit rating to AA+ from AA, and its local currency rating to AAA from AA+, making NZ the first developed country with investment-grade debt to receive a sovereign credit rating upgrade since COVID-19 hit.
"I think the New Zealand public likes to see a government being careful about debt," English said.
"They accept that you need to have some for good reasons. They know it's a buffer for tougher times, so they'd expect to see a focus now on reducing the debt…
"[The Government seems] to have a zero-risk approach towards managing COVID and that's a hard place to get out of - either for the impact on the economy or on debt."
English said it was important for the Government to provide more clarity on its COVID-19 strategy.
*This article was first published in our email for paying subscribers. See here for more details and how to subscribe.