Kiwibank CEO urges would-be 1st home buyers to take the plunge so long as they can afford to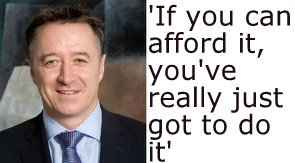 By Gareth Vaughan
New Kiwibank chief executive Paul Brock is urging potential first home buyers not to be spooked and to go out and buy, so long as they can afford to.
Brock told interest.co.nz that purchasing a first home was "almost a rite of passage for New Zealanders" and that potential buyers shouldn't be put off by concerns that house prices will fall, interest rates will rise or by a weak economy.
"I think at the end of the day there's no right or wrong time to get into the (housing) market," Brock said.
"The key is actually whether customers themselves can actually afford it, afford the loan. And that should be the primary driver."
Brock, who recently replaced Sam Knowles as Kiwibank's CEO, said he would be concerned if people were being put off home ownership. He noted the overall housing market had slowed down "quite a lot" and, although he didn't have the data at his fingertips, there was a feeling that first home buyers might be stepping out of the market.
"That's a bit of a concern really for New Zealand. From my point of view home ownership is really good," said Brock.
"It's one of those things that's both good for the individual to get started towards financial security, I think it's good for the country and it's also good for the community that people are owning their own homes."
"In a way it's almost that rite of passage for New Zealanders, the opportunity to get started and in many cases it is the first step towards financial security," Brock added.
"Making that step is really, really important. So I would be concerned if people are being put off by views on property prices, or views on interest rates."
Kiwibank's strong growth slows
The state owned bank's most recent General Disclosure Statement shows Kiwibank's mortgage book rose by about NZ$307 million to NZ$9.6 billion at June 30. The June quarter saw Kiwibank record its slowest mortgage growth since the June 2008 quarter when it wrote about NZ$261.7 million worth of new business.
But although Westpac's housing loans rose more in the June quarter, by NZ$365 million, Kiwibank's mortgage lending growth has been spectacular over the past two years as the bank has offered discounted fixed mortgage rates and variable rates, as it has outstripped mortgage book growth from the big four Australian owned banks ASB, ANZ, BNZ and Westpac. See all bank mortgage rates here.
Since the June 2008 quarter, Kiwibank's residential mortgage book has grown by about NZ$4.7 billion. However, Brock acknowledged growth had slowed in recent months saying it was a demand driven slowdown.
"The market has slowed down a bit and that's really driven by the economy," Brock said.
"But at the end of the day what Kiwibank is all about is, and we've been about this all the way through the global financial crisis, is continuing to stick to our principles and making sure that we do continue to lend. And we have continued to do that all the way through."
Kiwibank has continued to lend more than 80% of a house purchase price to some customers' right through the global financial crisis, he said.
The most recent monthly figures from the Real Estate Institute of New Zealand (REINZ) showed 4,287 properties were sold in August, down on the record low July volumes of 4,411 and down 27% from 5,878 in August 2009. REINZ said the median house price in August was NZ$350,000, up from NZ$349,000 in July and above NZ$346,750 a year ago. REINZ's September sales figures are due out this Thursday.
And Quotable Value's September report showed property values in the three months to September were down 5.3% from the November 2007 peak and down 1.4% from March this year, but up 2.0% from this time last year.
'Daunting experience'
Brock said buying your first home could be a daunting experience but it didn't necessarily need to be. Potential first home buyers should get in touch with their bank , find out what steps they needed to take and ascertain what they could afford.
"And then they can go off and look at what sort of properties meet that sort of criteria."
Various issues such as concerns over falling house prices, taking on debt and lingering economic uncertainty and a lack of confidence were spooking possible buyers.
"I think that the reality is it's pretty easy to spook people who are just trying to get started on what can be seen as quite a daunting exercise," said Brock.
"But I'd reiterate, there's no right or wrong time. You don't sit there and wait for the right time. What you do is you figure out whether you can afford it and then you get in there and talk to your bank and get started."
"If you can afford it you've really just got to do it."