Value of mortgages on floating rates heads towards record high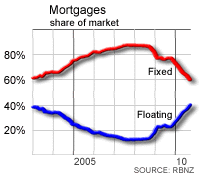 The value of mortgages on floating, as opposed to fixed, rates looks set to reach its highest level since Reserve Bank records began.
Reserve Bank data shows as of September 40.3%, or NZ$66.9 billion worth, of mortgages were floating.
That's the first time the percentage of floating mortgages has been over 40% since October 2002. The highest rate on record is 43.1% in January 2000. The Reserve Bank records go back to June 1998.
September was also the first time the value of fixed term mortgages has fallen under NZ$100 billion since June 2006, coming in at NZ$99.2 billion.
And of the fixed mortgage total, NZ$53.6 billion worth, or 54%, had less than a year to run suggesting a continued rise in the number of borrowers shifting to cheaper floating rates with the Reserve Bank not expected to hike the Official Cash Rate from 3% until March next year.
The major banks are currently advertising floating mortgages rates priced from 6.09%. The lowest one-year fixed rate on offer is 6.45% and lowest two-year 6.68%. Six month fixed rates start at 6.25%.
These figures exclude HSBC which advertises a 6.05% floating rate, 5.49% six month fixed rate, 5.99% one year rate and 6.49% two year rate. However, the catch to HSBC's low rates is customers' must have mortgages worth NZ$500,000 or savings of NZ$100,000 to qualify for a loan. See all bank mortgage rates here.
ANZ, the country's biggest bank, said in its annual results last week that fixed rate loans now comprise 63% of its mortgage book versus 88% two years ago.
And as ANZ's economists put it this week, with about 72% of total mortgage debt of NZ$166.8 billion at maturities of one year or less, the Reserve Bank currently has "considerable" monetary policy traction.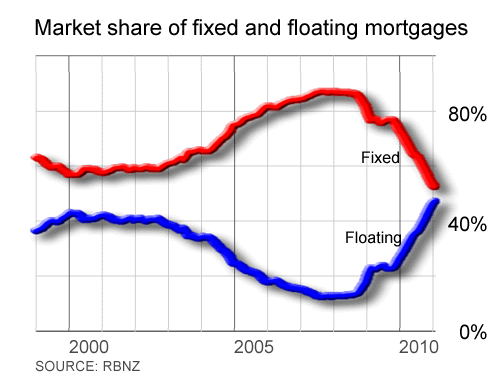 * This article was first published in our email for paid subscribers earlier today.See here for more details and to subscribe.