Finance Minister warns Auckland rents and rising house prices a concern for Government; says RBNZ has tools to address interest-only loans to landlords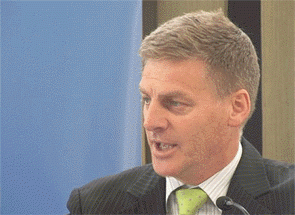 By Bernard Hickey
Finance Minister Bill English has warned he is concerned about the fiscal and wider economic risks from an acceleration in rents and house prices in Auckland.
He also said the Reserve Bank had the tools to address any build-up in interest-only loans by rental property investors.
He was commenting as economists have said the Reserve Bank is preparing tougher capital controls aimed at rental property investors that could include a crack-down on interest-only loans.
"The bank has got a responsibility for financial stability and if they think there's excessive risk building up relating to any sort of loan then they're in a position where they can take action on it," English told reporters in Parliament.
"If there's a real build up in risk there, then that should be properly priced through interest rates and if the bank thinks it's under priced then it has the capacity to take action," he said.
"In a rapidly rising housing market in Auckland there must be debt accumulating in some places where it presents greater risk."
English said he was also concerned by recent signs of an acceleration in rents in Auckland, given the Government spends around NZ$2 billion a year on income related rents and accommodation supplements, which means more than half of all rental properties are subsidised by the Government. Any increase in rents risks increasing those Government costs.
Trade Me reported last month that rents on its listings for Auckland rose 6.7% in January from a year ago. MBIE figures on from tenancy bonds found weekly median rents in Manukau and Waitakere rose by 8.43% and 7.90% over the year to February 28.
"Yes. the Government is very exposed to the property market, both through rising rents and also through any buildup in price that might end badly with a drop in the price because we're the largest landlord in the country," English said when asked if he was concerned about rising Auckland rents.
"So yes we're paying a good deal of attention to it," he said.
The Government has flagged fresh measures in recent weeks to try to boost housing supply in Auckland, including Housing and Construction Minister Nick Smith suggesting fresh regulatory intervention in Auckland and English announcing plans to ramp up the joint Government/Auckland Council Tamaki Re-Development Company project to intensify state and affordable housing in Glen Innes.