Smith says Govt planning new regulatory intervention in Auckland; says tough decisions needed on Heritage overlays restricting supply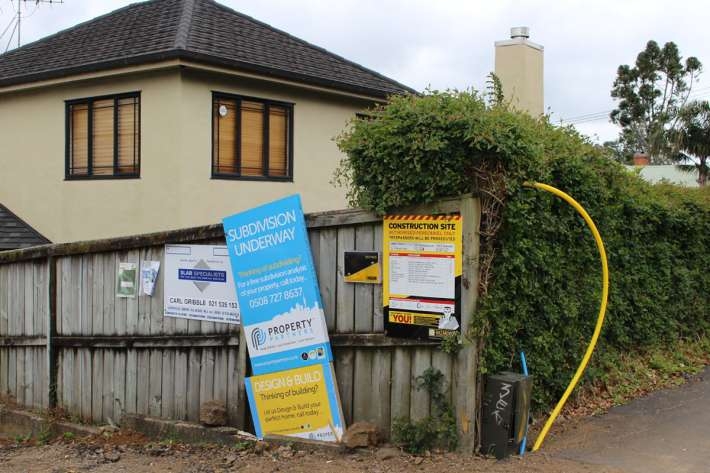 By Bernard Hickey
Building and Housing Minister Nick Smith has flagged new unspecified regulatory interventions in Auckland's housing market to ramp up supply.
Moving to address growing concerns from the Reserve Bank and others that the supply response to Auckland's resurgent house price inflation is insufficient to cope with record high net migration, Smith signalled new measures at a regular media briefing late on Wednesday with Mayor Len Brown on the progress on the Auckland Housing Accord.
"What we see from this first quarter report is just ahead of the pace on year two, but we're not underestimating the degree to which we're going to have to continue to pedal very hard right through both Council and Government operations to keep that momentum going," Smith said.
Smith said the Government's HomeStart scheme for subsidising first home buyers of new homes starting on April 1 would create tens of thousands of new buyers in the Auckland market looking for homes costing less than NZ$550,000.
"We still have a job to do to convince the residential construction industry that there is demand and need for new homes in that more affordable price bracket. The Government is working with the Council on other additional initiatives in the city to make sure that we meet these targets, and we're looking forward to making announcements on those in the next month or two," he said.
Smith declined to spell out what was being planned.
"There's discussions that we need to have with the council and with other parties and it's not appropriate for those to be in the public arena at this stage. The work that's going on -- the Housing Project Office, the Accord -- a lot is going well, but I'm not saying to the people of Auckland that's all we're doing. We think more is required and we're planning to do more, and when I'm in position to announce the 'more' that we're doing, I'll be more than happy to share it with you," Smith said.
Smith said the Government was not considering fresh capital investment of its own to boost housing supply in Auckland.  Bill English said last week the Government was preparing new measures to ramp up activity at the Tamaki Redevelopment Company, including potential extra capital investment.
"No. The Government is not contemplating further specific investment, but there are other regulatory interventions that we think are going to be required to ensure that we keep the pace of growth in residential housing in Auckland, and we'll be making announcements on those when we're in a position to do so," Smith said.
Sympathy with Wheeler
Brown and Smith were also asked about Graeme Wheeler's comments to the Finance and Expenditure Committee last week about the need to loosen height restrictions and other anti-densification measures to increase the number of homes built closer to the CBD.
Brown said he would welcome taking Wheeler on a tour of new apartment developments in the CBD and said more intense developments around transport nodes further away from the city were substantial. However, he also said the Unitary Plan, which had earlier densification measures watered down in 2013 after a revolt by home-owners in the 'heritage' areas, was reviewed every six to seven years.
Smith said he agreed with Wheeler that more needed to be done and the bank's concerns were being addressed as part of an Independent Panel's assessment of the Unitary Plan.
"If you look at the Unitary Plan and the process that has been agreed with the Auckland Council. It's currently before an independent panel. My own Ministry has made submissions consistent with the concerns of the Reserve Bank Governor, particularly around the Heritage overlays," Smith said.
"That's an issue that the Panel will work through and provide recommendations back to Len's Council and is a work in progress. I don't want you to take that the Reserve Bank's comments are being ignored. They are constructive and are part of the things that we have to work through," he said.
"In 2017 that Unitary Plan process will be complete and the sort of issues that the Reserve Bank Governor is raising around Heritage and landscape overlays, and the potential negative effect on the capacity to be able to build more housing in the areas around the CBD is going to require some tough calls by both Government and the people of Auckland."
Council PPPs on housing?
Brown said Auckland ratepayers would not support investing more capital in building houses, but the Council could work with others to see affordable homes built.
"One of the things that we are focusing on -- aside from the work we're doing in the housing accord -- is also we're looking to work with the private sector and the third sector -- the likes of the Housing Foundation -- in leveraging our land as much as we can and we're thinking in particular of the housing for the elderly villages that we own -- 68 of across the region," Brown said, adding the Council was looking for partnerships with others.
"The ratepayers of Auckland will not be looking to back the build itself, but we certainly have land and the ability to engage with those who have the capital and the capability to build upon it. We'll be looking to make a contribution," Brown said.
Smith also referred to the use of substantial Government and Council land holdings in Auckland.
"Government and Council are both squeezing the lemon pretty hard looking at our own land holdings through the city of Auckland as to where there are housing opportunities, and there's more we can both do in that space," Smith said.
Brown said Barfoot figures on Wednesday showed a pickup in sales of properties for less than NZ$500,000.
"That reflects the fact that we've absolutely got the hammer down on potential developments with a price tag under that figure,"
Code compliance non-compliance
Smith said there had been 529 building consents issued in the Special Housing Areas as at December 31, but he could not say how many houses had been built, given problems monitoring the number of houses to have Code Compliance Certificates granted.
"There is a large level of non-compliance with getting Code Compliance Certificates. We've had advice that as many as 20-30% are not finally completed to the point they get a Code Compliance Certificate. There are Building Act changes that the Government is working on to change that culture and improve that," Smith said.
Without those changes, data around the number of houses completed would be uninformative, he said.
Smith also suggested the Government was working to increase the number of migrants with building skills to help ramp up construction "to ensure we get best price."