ASB, Kiwibank & ANZ fast out of the blocks announcing cuts in response to the RBNZ OCR reduction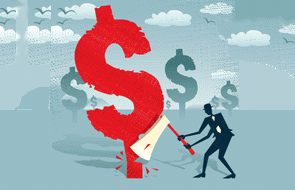 ASB, Kiwibank, ANZ and the Co-operative Bank have announced floating rate mortgage cuts.
These come quickly following the Reserve Bank's 25 basis points cut to the Official Cash Rate (OCR), dropping it to 3.25%.
ASB was first out of the blocks, just ahead of Kiwibank, cutting its variable home loan and Orbit home loan rates by 25 basis points to 6.50% from 6.75%, effective 8am Friday 12 June (tomorrow) for new customers, and 8am Friday 19 June for existing customers. ASB said other lending and deposit rates are currently under review.
Kiwibank matched the OCR cut, reducing its floating mortgages rates - variable and revolving - to 6.40% from 6.65%. The reduction kicks in immediately for new customers and in two weeks for existing customers.
ANZ is cutting the interest rates on its floating and flexible home loans by 25 basis points to 6.49% for floating loans, and 6.60% for flexible loans. The new rates will take effect for new floating loan customers from Monday 15 June, and for all existing floating rate and all flexible loan customers from Monday 29 June. 
ANZ estimated its new, lower rates will reduce weekly payments on a $250,000 floating home loan by about $10. ANZ said it won't be reducing fixed home loan and deposit interest rates, but these will be "kept under review."
The Co-operative Bank said it too was cutting its floating home loan rate by 25 basis points, in its case to 6.45%. The change is effective from Monday for new lending, with existing floating rate customers to be contacted over the next week.
Chief Executive Bruce McLachlan said the Co-operative Bank had started reviewing all of its other lending and deposit rates.
Other banks are expected to follow and cut their floating mortgage rates.
The new ASB, Kiwibank, ANZ and Co-operative Bank variable rates are reflected in our table below.
This page will be updated as new details come in.
See all banks' carded, or advertised, home loan rates here.
The current non-rate incentive offers are here.
This is how mortgage rates from the banks compare at Thursday, June 11, 2015:
| | | | | | | |
| --- | --- | --- | --- | --- | --- | --- |
| below 80% LVR | Floating | 1 yr | 2 yrs | 3 yrs | 4 yrs | 5 yrs |
|   |   |   |   |   |   |   |
| | 6.49% | 5.59% | 5.39% | 5.59% | 5.75% | 5.79% |
| | 6.50% | 5.35% | 5.39% | 5.39% | 5.99% | 5.65% |
| | 6.74% | 5.35% | 5.39% | 5.49% | 5.65% | 5.75% |
| | 6.40% | 5.39% | 5.39% | 5.39% | 5.99% | 5.60% |
| | 6.59% | 5.25% | 5.39% | 5.39% | 5.75% | 5.79% |
|   |   |   |   |   |   |   |
| | 6.45% | 5.29% | 5.39% | 5.49% | 5.69% | 5.69% |
| | 6.84% | 5.20% | 5.30% | 5.40% | 5.50% | 5.60% |
| SBS Bank | 6.65% | 5.59% | 5.35% | 5.35% |   | 5.35% |
| | 6.74% | 5.55% | 5.29% | 5.40% | 6.40% | 5.85% |
--------------------------------------------------------------
Mortgage choices involve making a significant financial decision so it often pays to get professional advice. An AMP360 mortgage broker can be contacted by following this link »
--------------------------------------------------------------