Increasing use of interest-only loans in NZ could be 'particularly problematic' if house prices fall, S&P says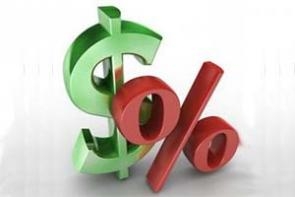 Gareth Vaughan
The growing use of interest-only loans by New Zealand borrowers could prove "particularly problematic" if house prices fall, S&P Global Ratings says.
In a report on the risks of rising house prices for New Zealand banks, the credit rating agency notes imbalances are continuing to build. These imbalances include the increasing use of interest-only loans, which account for 40% of housing loan flows through 30% of owner-occupier loans, and 55% of investor loans over the past year against overall loan stock of 28%.
S&P points out interest-only loans are unlikely to be limited by the Reserve Bank's incoming, beefed up high loan-to-value ratio restrictions on banks' residential mortgage lending.
"The increasing use of interest-only loans could prove particularly problematic if house prices fall, most notably given the level of household wealth tied up in residential housing - the reverse event of rising house prices and related 'wealth effect'," S&P says.
The Reserve Bank recently lifted the lid on the extent of interest-only borrowing, with new official figures revealing around 40% of new mortgages by value are being taken out on interest-only terms.
Regulators in Australia became concerned when interest-only loans hit more than 40% of new lending across the ditch. In December 2014 the Australian Prudential Regulation Authority warned lenders it was "dialling up the intensity" of its supervision to reinforce sound residential mortgage lending practices. And the Australian Securities and Investments Commission announced it would "conduct a surveillance" into the provision of interest-only loans.
Here's a detailed look at interest-only lending as offered by New Zealand banks.
High LVRs fall as other imbalances build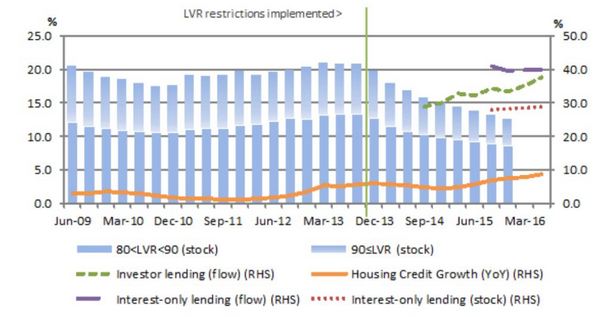 The Reserve Bank's challenge
Meanwhile, S&P says that while some indicators of financial stability have improved since the Reserve Bank embarked on its macro-prudential intervention in 2013 with the introduction of the LVR restrictions, their effect has been narrow. This is because housing-related imbalances continue to build, highlighting the challenge facing the regulator as cyclical and structural impediments, mostly out of the Reserve Bank's control, remain unaddressed, S&P says.
"Against a backdrop of falling interest rates (which appear to have further to fall), strong net migration and thus far insufficient supply response, particularly in Auckland a city that accounts for around 50% of permanent (net) migration flow, the new restrictions can only be realistically expected to deliver a narrow improvement to financial stability, while the aforementioned issues - including the favourable tax regime for investing in housing debt - remain largely unaddressed," S&P says. 
"It's probably also too early to determine what impact Auckland Council's Unitary Plan will have on housing supply in the longer run (400,000 new homes over the next 30 years appears a little hopeful given the average over the last 25 years is around 7,500 per year), although it does provide some optimism that supply constraints are being addressed."
"We also believe it is increasingly likely some form of debt-to-income measures will be introduced, in a similar capacity to the minimum serviceability requirements introduced in Australia more recently. These could prove effective in shoring up financial stability across the board as wage growth remains subdued and interest rates remain very low," says S&P.
*This article was first published in our email for paying subscribers. See here for more details and how to subscribe.