We asked eight of the big banks whether they provide interest-only loans for residential mortgages - and they all do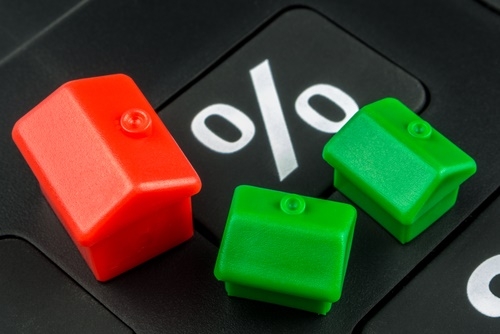 By David Hargreaves
Everybody's doing it to some extent, so it seems.
The 'everybody' are the banks and the 'it' in this case is interest-only lending for residential mortgage customers.
The Reserve Bank recently lifted the lid on the extent of interest-only borrowing in this country, with new official figures revealing that around 40% of new mortgages by value are being taken out on interest-only terms.
The RBNZ has been collecting the information for over a year but has not previously published it.
The figures for May show that $2.996 billion worth of interest-only loans were taken out, which represented about 41.1% of the $7.287 billion worth of mortgages advanced.
Regulators in Australia became concerned when interest-only loans hit more than 40% of new lending across the ditch.
In December 2014 The Australian Prudential Regulation Authority (APRA) warned lenders it was "dialling up the intensity" of its supervision to reinforce sound residential mortgage lending practices. And the Australian Securities and Investments Commission (ASIC) said then it would "conduct a surveillance" into the provision of interest-only loans.
The RBNZ said that in terms of the whole country, in May 2016, over half of new lending for investor purposes was on interest-only terms. The RBNZ said these proportions have been fairly steady over time. "Only 1% of interest-only lending for investor purposes is above 80% LVR and this has been declining over time," the RBNZ said. 
The RBNZ says interest-only loans are defined as having no scheduled repayments. This includes loans where borrowers independently choose to repay principal such as revolving credit loans which have a fixed limit. 
The RBNZ said in May 2016, almost 60% of all new mortgage lending was on principal-and-interest payment terms, while 40% was on interest-only payment terms.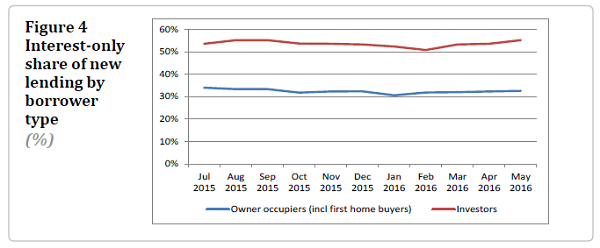 Westpac NZ last week announced it was reducing its interest only lending term from 15 years to a maximum of five years "as investors continue to dominate the housing market".
Simon Power, GM Consumer Bank and Wealth, said the reduced term for interest only home loans was to provide customers with a check point at the end of the interest only period to assess if they were still comfortable with and able to meet their obligations.
"With the way market conditions are we see this as a prudent and timely move. The last thing we want is for customers to overstretch and get into difficulty while interest rates are at historic lows," Mr Power said. "This gives the customer the opportunity to reassess their needs and financial situation." 
Intrigued as to what the wider market situation was, interest.co.nz approached eight big banks to see what their approach was to interest-only lending.
We asked them all the same questions, specifically:
How widely is interest-only borrowing available to your customers?

What is the maximum term you offer interest-only for?

What is the requirement regarding repayment/renegotiation of the loan at the end of the term?

Are different terms/deals available depending on whether you are an owner-occupier or an investor?

Could you outline those differences/terms please?  
The response is that they all do interest-only to at least some extent and mostly on similar terms and conditions. Westpac's previous 15 year limit very much made it the 'market leader' in terms of length of interest-only. Now that title goes to the biggest bank, ANZ, with 10 years. The BNZ says its general maximum is five years, though "under special circumstances, by exception" it might too allow up to 10 years, while ASB says "in general terms" it's maximum is five years. This suggests too that maybe if you ask nicely you might be able to get it for longer.
This table Summarises responses of eight banks to questions on interest-only residential loan availability

| | | |
| --- | --- | --- |
| Bank | Availability | Max Term |
| ANZ | Yes | 10 years |
| ASB | Yes | 'in general terms' 5 years |
| BNZ | Yes | 'in special circumstances' up to 10 years |
| Co-op Bank | Yes | 5 years |
| Kiwibank | Yes | 5 years |
| SBS Bank | Yes | 5 years |
| TSB Bank | Yes | 3 years |
| Westpac | Yes | 5 years (recent change from 15 years) |
Banks can be fairly coy about how much of respective types of lending they do,although with the RBNZ collecting increasing amounts of data from the banks these days, more and more industry-wide information is available.
We know for example, based on those new figures from the RBNZ, that while lending on interest-only terms is running at about 40% of new lending, as far as banks' total outstanding mortgage lending is concerned, it as of May made up about $60.8 billion of the $213.7 billion outstanding - that's about 28.5%.
Volunteering information
In responding to us, just two banks volunteered information about the extent of their interest-only lending.
BNZ said its proportion of interest-only lending was "significantly lower" than the RBNZ's stated 41% for the whole market in May, while Co-op Bank said currently interest-only lending made up just 10% of it's mortgage portfolio and this figure included revolving credit facilities.
SBS Bank said the "majority" of its borrowers were on principal and interest payments. 
"In the current low interest rate environment, residential borrowers are generally taking advantage of low interest rates by increasing their principal repayments to reduce the term of their borrowing.  Interest only borrowing is more widely used by borrowers that are able to claim interest costs as a deductible expense for taxation purposes, such as property investors," SBS said.
Different offers and terms?
We wondered whether banks were more inclined to offer interest-only terms to property investors, rather than owner-occupiers - but they say not and that it's equally available and on the same terms.
Co-op Bank said: "No the terms are not different however owner-occupied tends to be for the period of a construction loan before reverting to full principal and interest or bridging finance period."
ASB said it considers requests for interest-only repayments on a case by case basis taking into account a range of factors, the most important being that customers can afford their loan repayments comfortably on a principal and interest basis.
"Where this is the case, interest-only repayments are an option available to any of our home loan customers based on their individual circumstances and reasons for wanting interest-only repayments."
TSB Bank said most of its interest-only activity relates to investment situations.
"In these cases the interest only term will be for the maximum period of 3 years.  If the facility remains within current credit criteria and there have been no repayment issues we will consider extending the period of the interest only facility.
"The majority of owner- occupied interest only periods would be for specific purposes and limited periods of time on a case by case basis.
"In all situations, as required by the responsible lending code, we would have to consider whether the loan was in the best interest of the customer, and whether there was a workable exit arrangement for clearing the debt."
What about at the end?
Which does bring us neatly to the question of what happens at the end of the interest-only period. Problems have been caused in places like the UK where customers have been required to repay loans at the end of their interest-only period and not been able to, and then not been able to refinance.
According to the answers we got, the majority of the banks' interest-only loans here simply switch to principal and interest repayment terms for whatever the original term was of the loan.
ASB said it's considered on a case-by-case basis, taking into account the customer's particular circumstances at the time and subject to normal lending criteria. "This includes ensuring that customers can continue to comfortably afford their loan repayments on a principal and interest basis." Westpac also said its decision on what happens at the end of the interest-only period is "case-by-case", or "customer-specific".
BNZ said: "At the end of a term, say five years, a customer's loan will automatically roll back to a principal and interest repayment structure. If the loan was originally for a 25 year term, the payments are recalculated and spread out over the remaining 20 years.
'Careful consideration'
"Any extension to an interest-only loan is carefully considered in a conversation with customers on their specific needs and circumstances. We calculate all interest-only home loans on the basis a customer can service both the principal and interest through the life of the loan."
Another set of monthly interest-only figures are due out from the Reserve Bank before the end of this month. Doubtless the central bank will be watching closely for any marked upward blip in the figures.
Reining in interest-only lending would be presumably one measure the RBNZ could consider to rein-in the fast rising house market. There's no suggestion at this point though that such a move is among the macro-prudential measures currently under urgent consideration.
*This article first appeared in our email for paying subscribers early on Tuesday morning. See here for more details and how to subscribe.