Jenée Tibshraeny's reading of the RBNZ's Monetary Policy Statement: 'Yeah there's coronavirus, but that whopper August interest rate cut is still working its magic so there's no need to panic - yet'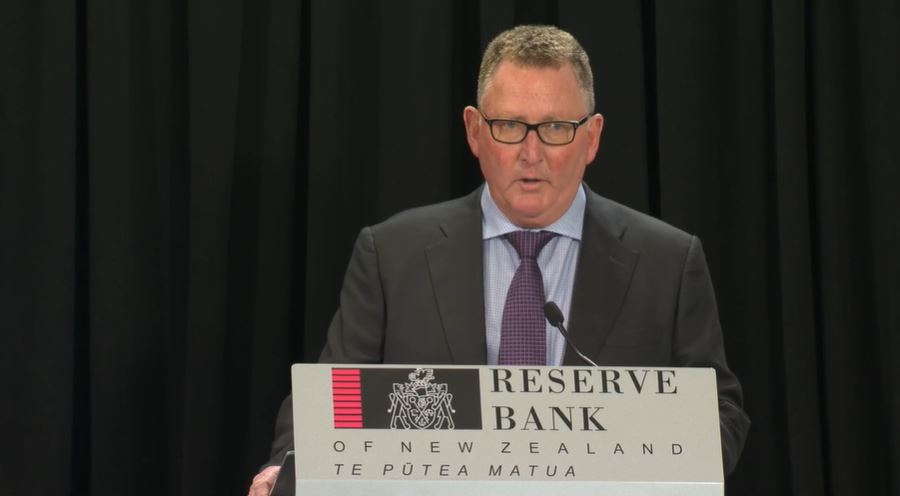 By Jenée Tibshraeny
The Reserve Bank (RBNZ) appears confident its shock 50-basis point Official Cash Rate (OCR) cut of August 2019 is working its magic - rain, hail, shine… or coronavirus.
The impression it gave in its quarterly Monetary Policy Statement and accompanying press conference on Wednesday, was that it did the heavy lifting last year, so has the luxury of sitting back and enjoying the fruits of its labour.
Sure there are storm clouds (in the form of a pandemic) on the horizon, which could bring either drizzle or a hurricane. The RBNZ is ready to respond, should it need to, by cutting interest rates.
But with the OCR at a record low 1%, it doesn't have a whole lot of ammunition to take out an insurance policy against coronavirus. 
So for now, it's patting itself on the back for getting the economy to a comfortable position.
Orr spoke, Robertson listened
Governor Adrian Orr didn't hold back in August when he told everyone to make the most of the low interest rate environment and "go and spend".
Finance Minister Grant Robertson responded by in December announcing an extra $12 billion would be spent on infrastructure. Robertson last month detailed the transport projects $6.8 billion of this will go towards.
Orr welcomed the fiscal stimulus, which both he and his international counterparts had been calling for, characterising it as "significant".
The RBNZ did however note there was a risk government projects could crowd out private investment.
It also said: "Greater competition for resources may increase the costs of some inputs, such as wages in the construction sector and prices for materials and equipment.
"This impact may be particularly significant given the current tight labour market and busy construction sector."
While Treasury forecasts $8.1 billion will be spent between June 2020 and June 2024, the RBNZ believed there is a risk the Government doesn't get the money out the door as quickly as planned.
But all-in-all, Orr was pleased, saying: "I certainly wouldn't want to appear ungrateful."
Did someone mention house prices rises?
Households also responded to the RBNZ making it cheaper to borrow.
Following a soft patch in early 2019, annual house price inflation picked up to nearly 7% in December, according to the REINZ House Price Index.
The RBNZ expects house price inflation to peak at 7.7% in June - a stronger pick-up than forecast in November, when it saw house price inflation hitting a high of 5.7% in June.
And we all know what happens when New Zealand's $1.2 trillion housing stock looks to become more valuable… Homeowners have more equity, borrow more, spend more and boost the economy (never mind the poor renters).
The RBNZ isn't at this stage concerned mortgage lending and household borrowing levels pose risks to the financial system. 
With immigration expected to decline and building activity to ramp up, the RBNZ sees house price growth petering off towards the end of 2020.
Businesses haven't taken the cue to spend quite to the same extent.
Business investment was revised up in September's GDP data release, but generally slower GDP growth is weighing on confidence. Business investment is expected to decline as a share of GDP.
What about coronavirus?
The RBNZ has taken a glass half full view of coronavirus.
It only expects the virus to impact GDP growth in the March quarter, so has shaved 0.3 percentage points off its growth projection for the quarter. Rather than growth of 0.7%, the RBNZ forecasts growth of 0.4%.
Yet in the June, September and December quarters, the RBNZ sees growth picking right up to 0.9%. In November, it forecast slower growth of 0.7%, 0.7% and 0.6% in the second, third and fourth quarters of 2020.  
The RBNZ made its call based on the assumption that coronavirus starts becoming contained by the end of February and that travel disruptions gradually ease from March. This is clearly at the best case scenario end of the spectrum.
However ANZ economists made a good point, which echoed a comment Orr made: "It's actually the exchange rate, rather than interest rates, that is the most important adjustment mechanism for this kind of global shock that hits exporters hardest.
"There's no reason to think the NZD won't do its job, and move broadly together with our commodity prices, wherever they may head.
"We tend to take the NZD for granted, and it can never please all the people all the time, but it's an absolutely crucial adjustment mechanism, particularly when the OCR is nearing rock bottom."
The RBNZ changed its OCR track a little from November. It no longer sees an OCR cut on the horizon, but rather has a rise pencilled in for 2021.
Coronavirus or the numerous other headwinds facing the economy could still worsen, requiring the RBNZ to cut the OCR. 
"Monetary policy has time to adjust if needed as more information becomes available," the RBNZ said.
Until then, Orr will be putting his feet up and enjoying a beverage - the glass at least half full.