Jenée Tibshraeny on the distractions and fear of freaking people out that have led to a dearth of policy being put on the table two months out from the election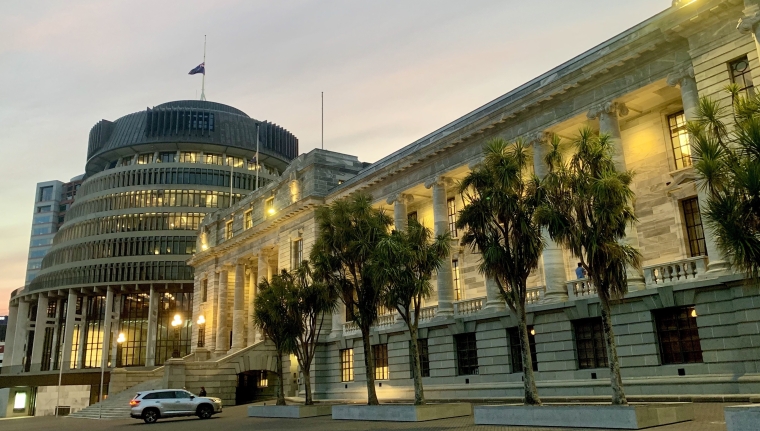 By Jenée Tibshraeny
Those of us holding our breaths for the most important pre-election "contest of ideas" of our lives are starting to go blue in the face.
The Greens and ACT are putting some new ideas on the table, but are struggling to get air time as National is, um… distracted at least, imploding at worst.
Labour is keeping a low profile, as National shoots itself in the foot on a daily basis. It's taking the higher road, saying it's too busy governing to worry about campaigning, and will only start releasing policy after its conference on August 8.
New Zealand First has dug up its 2017 campaign strategy, but added the 'Bad Boys of Brexit' to the mix.
The key point is, New Zealand First and the two major parties in particular are too afraid of alienating voters by tackling the issues facing the country in this new Covid era.
They'd rather not conjure up fear that naturally accompanies discussion around whether we want to be tracked by the Government, have our borders closed for years, or change our tax system to prepare for asset bubbles created by quantitative easing.
Politicians would rather keep their campaigns positive, pretend we're in a "post-Covid" era, and retreat to their tried and tested policies and styles of politicking.
Creating policy in response to a pandemic and recession is of course a mammoth task - especially for broad-base parties like National and Labour. What's more, the situation with the virus is evolving, making it difficult to look too far ahead. Parties would be foolish to set too much in stone, when they need to be agile.
Venturing into new territory where political lines are blurry
Whether to charge returning New Zealanders for staying in managed isolation encapsulates these challenges. Political parties are venturing into new territory by creating policy in this area, which could backfire.
Labour saying it supports National's call to charge returnees has ended up alienating voters from both camps.
The concept of paying your way fits in more with right-wing than left-wing ideology. But from a moral perspective, disincentivising people from hindering the collective effort to keep people safe, is a more left-wing concept.
Contrary to this, ensuring there are no obstructions for people to exercise their human rights to return home fits in with the humanitarian left. But wait a minute, honouring individual liberties is inherently right…
You see where this is going. There are no natural homes on the political spectrum for some of the policies that need to be created in the Covid era.
Nonetheless, the work needs to be done by political parties. The discussion needs to be had. The public deserves to know what it's voting for.
The actual issues
The election is only two months away and bar the Greens' James Shaw, there is still no acknowledgement of the fact that lobbing upward of $60 billion into the economy via the Reserve Bank's quantitative easing programme will have consequences. This stimulus, which is filtering through the banking system, will benefit the owners of (already inflated) assets, more than it will the rest of society. Just look at the way property and equity markets rebounded after the 2008 Global Financial Crisis; all the while CPI inflation remained stubbornly low.
Politicians need to stop saying this is a matter for the Reserve Bank to deal with and consider whether they can mitigate the side-effects of the monetary policy response.
What's more, no one's talking about the real prospect of there being community transmission of Covid-19 in the world for the foreseeable future, if not indefinitely.
Will we only open our borders to a country that is free of community transmission and has good health and contact tracing capabilities?
What about international students and critical workers? Should we not be scaling up managed isolation capacity to accommodate for more of these people? As Covid-19 gets worse globally, New Zealand's Covid-free status will become more valuable. How can we both maintain this status and capitalise on it? We surely can't keep foreigners out forever.
As for contact tracing, do people need to get their heads around the fact the Government may need to access the same information the big four tech companies do? Or do we keep closed off to the world for several years and enjoy our liberties domestically?
What's more, no one's talking about how the prospect of having more social distancing in the future will affect urban design, commercial property, public transport, productivity and mental health.
Tried and tested vs. new and risky
New Zealand First's "new" policy of restricting annual net migration to 15,000 is looking rather ridiculous against this backdrop.
Meanwhile, the "tough on crime" and the, "the left is bad with money and will drown you in tax" attack lines are tired, even though they remain highly effective.
ACT should be credited for evolving its thinking, with a policy to introduce an employment insurance scheme whereby someone who loses their job can claim up to 55% of their average weekly earnings over the previous 52 (or fewer) weeks, up to $60,000 a year.
The Greens too want the country's richest 7% to pay more tax to ensure beneficiaries, students, and some part-time workers have a more dignified income.
Whether one agrees with these policies or not, ACT and the Greens at least acknowledge people face a period of heightened job insecurity.  
Collins has put the personality into politics
Coming back to the major parties, having Judith Collins as Opposition leader, who like Prime Minister Jacinda Ardern is an intriguing personality, risks seeing policy discussion further diluted.
Sure, the proliferation of social media has been elevating personality politics for years.
But the interest in these two women is huge. As Josh Van Veen from the Democracy Project put it, they are "as much cultural icons as they are political leaders".
"Each represents a different side of the New Zealand character, embodying certain values and traits that we see in ourselves," Van Veen said in a comment piece.
"Understood another way, the perennial conflict between Labour and National is a permanent struggle to define the experiences of the "ordinary New Zealander". Both parties claim to stand for fairness and decency. What this means will depend entirely on who you are. For Labour, fairness is free tertiary education and comprehensive welfare. For National, the ideal is self-reliance."
Collins has cleverly avoided personally attacking Ardern, stressing the strength of the "team" that is the National Party.
But being someone to so colourfully encapsulate the ideals that resonate with a large portion of society, the spotlight will remain on her. Her handling of the Andrew Falloon sex text saga will be front page news for some days.
The challenge for National will be seeing if it can pull itself together (following six MPs announcing their resignations in a matter of weeks) and challenge Labour to detail what it stands for and how it will execute this.
In the absence of this, Labour will continue keeping its successful health response to Covid-19 centre stage, treating the election as an inconvenience to its God-given right to govern.
As members of the public, the onus is on us to ensure we don't bury our heads in the sand, ignoring the existence of Covid-19 as we attend gigs and sports matches again. We need to demand a realistic contest of ideas from our leaders.