Jenée Tibshraeny on the billion dollars a bank has just borrowed from the RBNZ, the Chris Liddell saga, banks writing riskier mortgages and cafés closing during peak season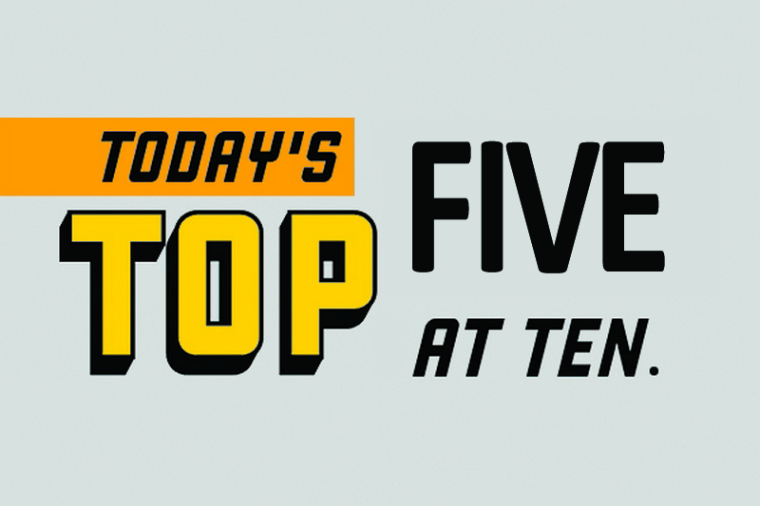 Today's Top 5 is a collection of titbits collated by interest.co.nz's Jenée Tibshraeny.
See all previous Top 5s here.
1. Bank makes flippin' big FLP drawn down
A substantial second drawdown from the Reserve Bank's (RBNZ) Funding for Lending Programme (FLP) has now been made. A New Zealand-registered bank on December 21 borrowed $1 billion from the RBNZ.
This followed the first drawdown via the programme of $40 million on December 11.
With the RBNZ committing to lending up to around $28 billion to retail banks via the programme over two years from December 2020, this leaves just under $27 billion for them to tap into.
The reason the RBNZ is effectively printing money and on-lending it to banks at a low cost (the Official Cash Rate, which is currently 0.25%) is that it hopes this will help banks reduce their lending rates. Lower interest rates are supposed to be stimulatory, helping boost inflation and employment in line with the RBNZ's monetary policy mandate.
The RBNZ doesn't name the banks that borrow funds via the scheme. But because the amount banks can initially draw down is capped at 4% of the value of what the RBNZ calls their "eligible loans", interest.co.nz suspects only the Australian-owned banks - ANZ, ASB, BNZ and Westpac - would be large enough to be qualify for $1 billion.  
These banks wouldn't say whether they drew down the $1 billion.
Banks will likely start drawing down more from the FLP as their other sources of funding reach maturity.
2. Reputation management fail?
An interesting sub-plot to the chaos ensuing in America is the politicking around kiwi millionaire and White House deputy chief, Chris Liddell.
Having largely stayed out of the eye of the New Zealand public during his time as one of US President Donald Trump's right-hand people, Liddell chose to respond to a couple of media inquiries he received last week in the midst of riots at the US Capitol.
He also engaged a public relations (PR) agency to put him in touch with right-wing PR consultant, Matthew Hooton, who'd written a critical piece about him in the NZ Herald.
Hooton claimed he was contacted before the Capitol had even been fully cleared - noting it was odd Liddell appeared to be prioritising interviews at that time. 
The timing of Liddell, who's in the running for OECD general-secretary, surfacing to do some reputation management is in many ways more interesting than the comments he made as such.  
Newsroom Pro managing editor, Jonathan Milne, who interviewed Liddell, wrote: "No doubt Liddell feels the sting of New Zealand's refusal to offer him any government or public backing in his OECD bid, when 10 other countries are backing him.
"He may also be pained by the notion that much of his home country is disgusted with the actions of the administration he has served in for the past four years…
"It seems likely that his approach to Hooton – along with the time he's given to New Zealand journalists who have approached him for answers – indicates he's not ready to burn his bridges with New Zealand. It's a long way from Matamata to Washington DC – but Liddell clearly hopes to one day find a path back again."
One has to wonder whether Liddell - a risk management professional - has mismanaged his personal situation.
The judgement he exercised deciding to work for Trump aside, it might've been better for him to continue trying to remain under the radar while the inevitable happens under the administration he's served.
His attempts to salvage himself from the wreck that's seen more people than necessary lose their lives to Covid-19, and people from across the political spectrum flock to the streets in exasperation over being economically and socially excluded, look desperate and shamelessly self-serving.
Back home, National should be pleased Parliament is still in recess, as the spotlight would otherwise fall on it more heavily over its endorsement of Liddell for the top OECD job.
3. Changes in mortgage lending across NZ major banks compared
ANZ NZ made headlines in December when it got ahead of its regulator and announced it would require most residential property investors to have 40% deposits.
It said it would impose this loan-to-value ratio (LVR) restriction on itself immediately, before the RBNZ proposes requiring most investors to have 30% deposits (and most owner-occupiers 20% deposits) from March 2021.
But, by just how much had the country's biggest bank filled its boots before positioning itself as a responsible corporate citizen?
ANZ's disclosure statement for the year to September 30, 2020 shows the size of its mortgage book increased by 6.8% from 2019 to $96 billion.
BNZ's loan book increased the least (5.1%), and Kiwibank's the most (7.4%) - noting the Kiwibank data is for the year to June.
All the major banks dished out higher portions of mortgages to borrowers with 10-20% deposits (LVRs of 80-90%). However only ANZ and Kiwibank sold higher portions of mortgages to borrowers with deposits of less than 10%.
 
Portion of mortgages with high LVRs
Annual increase in total mortgage lending
 
80-90%
90%+
 
For year to Sep
2020
2019
2020
2019
2020
ANZ
4.4%
3.8%
1.8%
1.6%
6.8%
BNZ
4.8%
4.5%
3.4%
4.0%
5.1%
Westpac
5.1%
4.9%
2.3%
3.0%
7.2%
 
 
 
 
 
 
For year to Jun
2020
2019
2020
2019
2020
ASB
5.7%
5.1%
2.2%
2.2%
6.5%
Kiwibank
7.9%
7.5%
1.5%
1.3%
7.4%
While it's interesting to compare these figures, it's worth noting the amount of risk ANZ, ASB, BNZ and Westpac are taking on is also to some extent determined by their Australian regulator.
4. The 2020 rush to become a real estate agent
The number of people applying to become licensed real estate salespeople, branch managers and agents between July and September 2020 surged by 42% compared to the same period in 2019, according to the Real Estate Authority.
In its briefing to the incoming government minister, dated November 23, the Authority said the number of new applicants during this three-month period reached 601.
More people were of course losing their jobs and seeking new opportunities during this time, all the while house prices began their steady incline.
But the Authority said it also had a number of suspended licensees, so anticipated the overall licence numbers to reduce to 14,500.
5. An anecdote to end…
It was surprising to see a few cafés at beautiful coastal locations closed around the summer holiday period.
Of particular note were the couple of cafés near the Fitzroy surf club in New Plymouth - shut when we were there a few days before Christmas, and one or two cafes at Mt Maunganui's main beach - closed during a visit a few days after Christmas.
One would've thought these were prime times for these businesses to keep the doors open, particularly given the year they've had with Covid-19.
An excellent café (The Federal Store) - a couple of streets back from the beach in New Plymouth - was pumping when we made our way there instead.
A few unsubstantiated theories:
Business had been down and without international tourists it wasn't worth opening, perhaps particularly in the cases of Mt Maunganui cafés catering to cruise ship visitors, not locals.
Business had been good enough during the year, the wage subsidy was helpful and the owners just wanted a holiday;
It was a struggle to find suitable seasonal staff, particularly with the lack of immigrants.
Interested in your thoughts and observations.