Jenée Tibshraeny argues the Government can't ignore inequality bubbling away, with the poor to pay the price for making the wealthy wealthier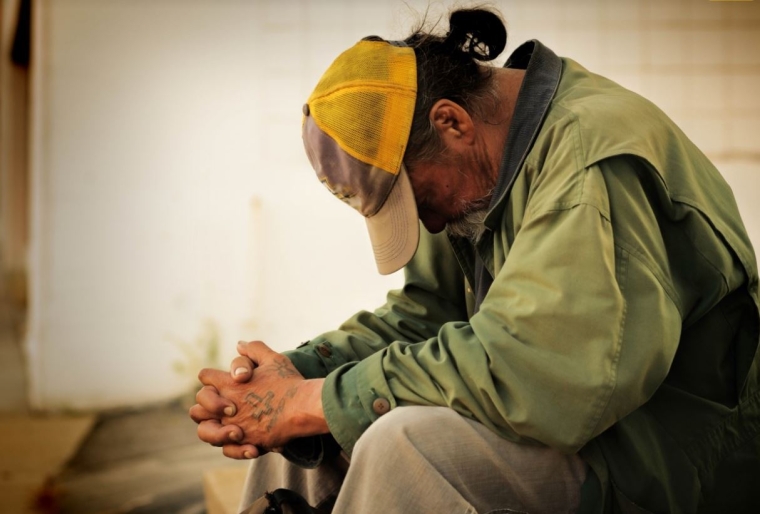 By Jenée Tibshraeny
The Labour Party sailed through election 2020 on the back of a successful emergency response to COVID-19.
It employed a, "Let's keep as much of middle New Zealand safe and confident as possible" approach, and it worked.
While gunning for the majority is what any popular centrist party would do, the country's major parties can't keep ignoring those at the margins.
The "losers" of the Reserve Bank's (RBNZ) moves to slash interest rates and flood financial markets with liquidity, risk again being the losers of inflation caused by this seismic experiment.
The low income-earners, beneficiaries and assetless elderly, who didn't benefit from the availability of cheap credit and asset price inflation, will now be hit disproportionately hard by rising consumer inflation.
Someone without disposable income is going to feel the effects of rising food and fuel prices more than someone with disposable income.
Indeed, Statistics New Zealand's Household Living Costs Price Index for the June quarter shows annual inflation experienced by beneficiaries was 3%, whereas inflation experienced across all households was only 2.5%. Inflation experienced by super-annuitants was also higher at 2.8%, and Maori 2.6%.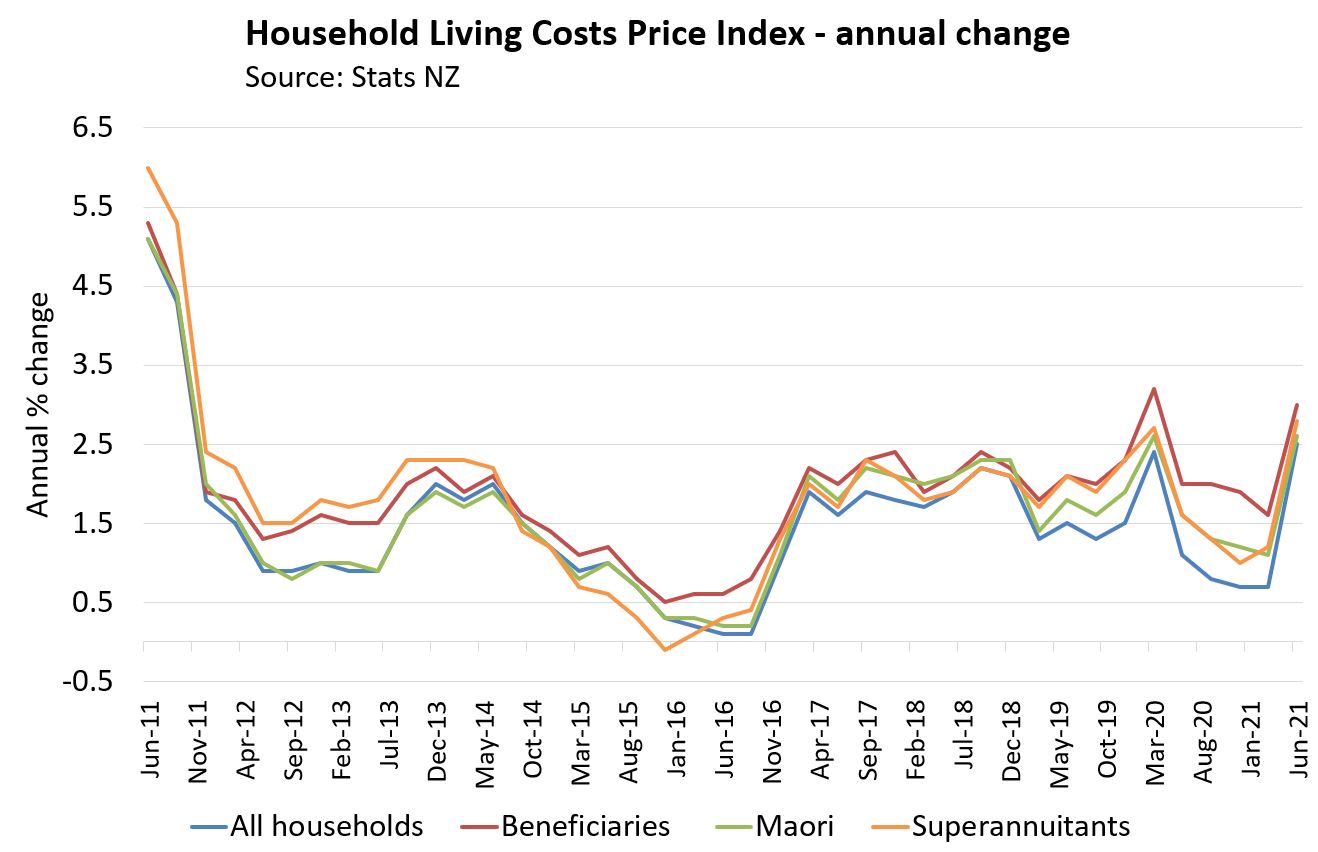 An off-kilter starting point
Sure, higher inflation has always hit these groups hardest, but the increases we could face - temporarily at least - are expected to be at levels higher than experienced in recent years.
You could argue interest rates are designed to go up and down, and the Government shouldn't have to respond to every movement.
However, the stakes are now higher.
The economy is off kilter. There are more beneficiaries and people on the public housing wait list than pre-COVID-19. Housing costs are irreversibly astronomic.
The same people that suffered getting us to this point, risk suffering getting us back to something more balanced or sustainable.
Finance Minister Grant Robertson might argue low interest rates have benefited the majority of New Zealanders by keeping them employed and boosting the values of their houses. Correct. The RBNZ can say it achieved its monetary policy mandate and has always warned the tools at its disposal are blunt.
Some in government didn't understand monetary policy ahead of the 2020 election. Others saw no political value in responding to its side-effects.
But, ignoring the side-effects of the looming tightening of monetary policy risks exacerbating existing inequality.
A homeowner might be pleased the value of their house has gone up 30% in a year. But their warmth towards Robertson might fade if gang members get housed in the motel in their neighbourhood, or they end up helping their kids with a deposit on a house in a cheaper town, only to see them less.
New mortgage debt issued in 2020/21 50% higher than in 2019/20
If altruism or the fear of how rising inequality might affect 'middle New Zealand' don't prompt the Government to pay more attention to monetary policy than it did last year, the increase in mortgage debt should.
The value of new mortgages provided by banks increased by a whopping 50% from the year to June 2020 to the year to June 2021 - driven largely by an uptick in borrowing by investors (67% increase from 2019/20 to 2020/21).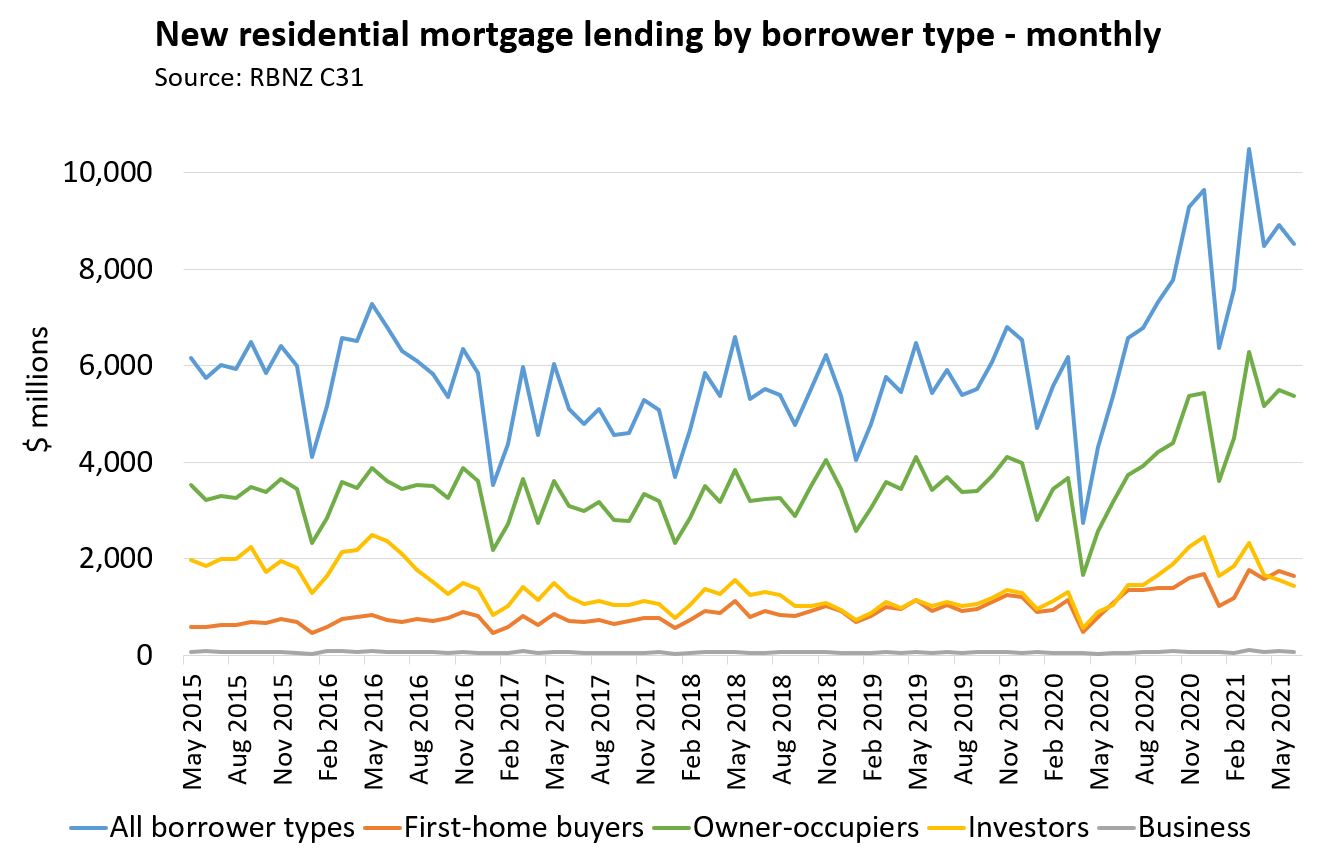 Banks wrote nearly $98 billion of new mortgages in the year to June 2021, according to the RBNZ. 
The value of New Zealand's mortgage debt sat at $315 billion at the end of May.
Borrowers, who took out large mortgages to buy increasingly expensive properties, will feel the pinch of higher mortgage rates.
But the increase will be broader than that, with around 80% of mortgages up for refixing within the next six to 12 months, according to Kiwibank economists.
Of course, debt servicing costs will be rising from extremely low levels.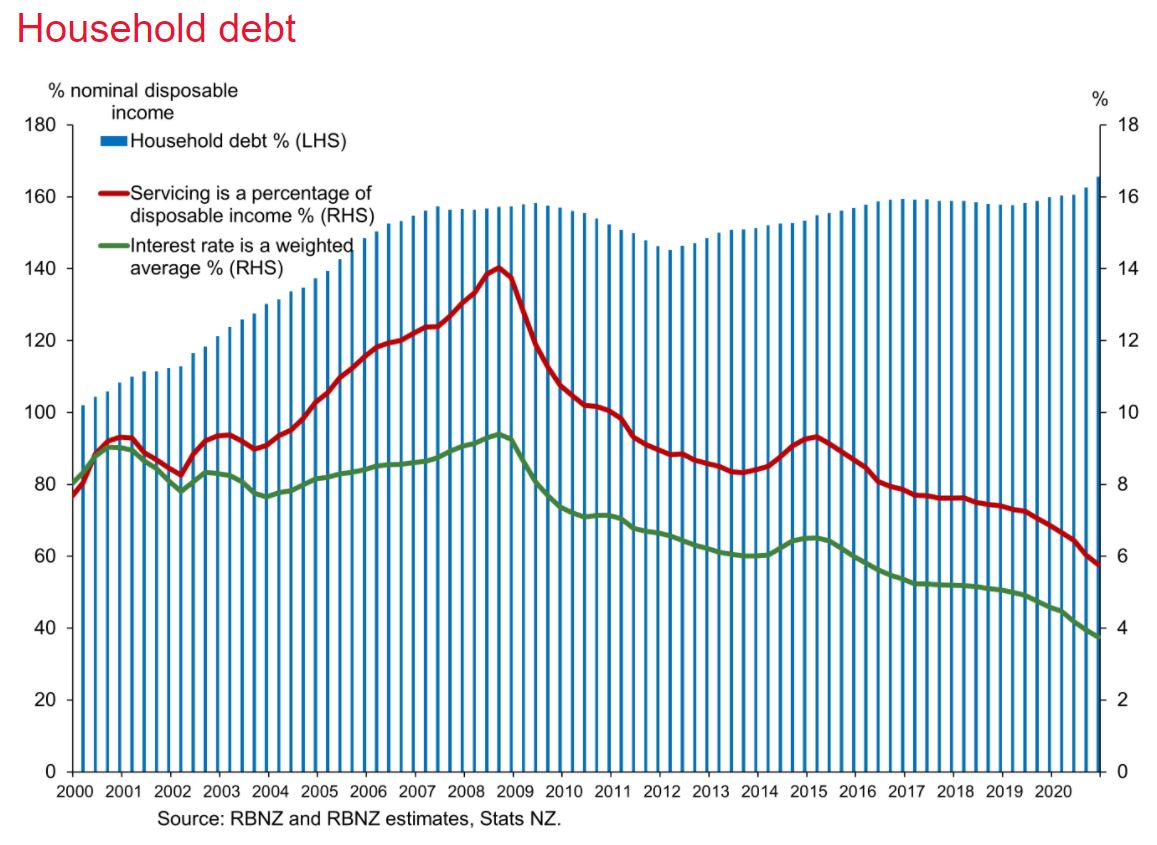 Just how high inflation and mortgage rates will go ahead of the 2023 election is the multi-billion dollar question.
While inflation and higher interest rates will hurt the already bruised and battered, it might be the impact on the masses that catches politicians' attentions and prompts a response to rising inequality.
---
Like what you've read? Support our journalists. Find out how.
---
Policy options
There is no quick fix or obvious politically palatable policy solution beyond making the raft of improvements required to get more houses built.
The structural economic change Robertson is getting advice on is the introduction of a social insurance scheme.
This would see someone who loses their job receive a benefit equivalent to x percent of their income - up to set maximum - for a limited period of time, rather than going straight into the regular welfare system.
The likes of the Child Poverty Action Group and Auckland University Retirement Policy and Research Centre director, Susan St John, are opposed to it, arguing it'll serve middle to high-income earners.
The removal of interest deductibility and extension of the bright-line test are also designed to disincentivise residential property investment. But the effects of these changes on housing costs are yet to be seen.
National's solution is to stop trying to reduce demand for housing, and to focus solely on increasing supply.
The Greens, ACT, and TOP have more in common than one would think, arguing for structural tax and welfare reform.
Libertarians want central banks and governments to back off - stop manipulating the economy, let firms fail and let capital be directed to where it's most efficient.
Social liberals and progressives want governments to do more, and central bankers with blunt instruments to do less to support people and the economy.
While Labour's social insurance policy might woo "hard working mums and dads" come election 2023, it's those at the margins, who the minor parties are more attuned to, that Labour and National need to be mindful of.
Inequality erodes social cohesion, which can unravel quickly during times of uncertainty - eventually to the detriment of even those coveted centrist swing voters.