The big banks have nearly 25% of their mortgage books paying interest only. Gareth Vaughan asks whether this is good for financial stability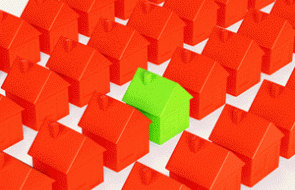 By Gareth Vaughan
This Wednesday we'll get a detailed review of the Reserve Bank enforced restrictions on banks' high loan-to-value ratio (LVR) residential mortgage lending, - from the Reserve Bank.
The review will come in the Reserve Bank's bi-annual Financial Stability Report.
As the Reserve Bank contemplates potentially easing the hand brake and letting banks do a bit more high LVR lending than the 10% of their new home loan flows they're currently limited to, Governor Graeme Wheeler and his team may wish to contemplate whether another type of lending warrants similar treatment to the high LVR stuff.
I'm talking about interest only home loans, where borrowers pay only the interest owing each fortnight or month, but nothing off the principal. The recent annual result from the ANZ group disclosed 22% of ANZ NZ's home loan portfolio was paying interest only. BNZ's parent National Australia Bank disclosed a remarkably similar figure of 22.4% for its New Zealand portfolio.
Meanwhile, a Westpac NZ spokeswoman told me last week about a quarter of her bank's portfolio is interest only, and a Kiwibank spokesman put his bank's at 10% to 12%.
An ASB spokeswoman would only say; "Unfortunately, ASB is unable to release interest only figures relating to its home loan portfolio to the public domain at this time."
Based on these figures from the biggest five mortgage lenders, a rough - and probably conservative - estimate could be that the equivalent of 20% of New Zealanders' $194.521 billion of home loans are paying interest only. That's $38.9 billion worth. A figure of 25% gives about $48.6 billion.
On the eve of the introduction of the LVR restrictions, 23.8% of ASB's home loan book was at LVRs exceeding 80%. ANZ was at 22.8%, Westpac 22.8%, Kiwibank 18.8% and BNZ 15.2%. Percentage wise, some of those figures are remarkably similar to the interest only portion of some of those banks' home loan books now. (A year of LVR restrictions has seen ASB's high LVR loans reduced to 20.31% of its total).
What we don't know is how many mortgages are currently being written as interest only loans. Apparently they're running at about 30% of new lending in Australia. In New Zealand, as reported by the Sunday Star-Times yesterday, we know Westpac is now offering 30-year interest only mortgages targeted primarily at property investors, suggesting this will be an area of growing interest (no pun intended) among at least some of our other banks too.
'Preferable for people who aren't averse to risk'
But do high volumes of interest only loans pose similar threats to the stability of the financial system as high LVR loans?
Interest only loans can be helpful. As the Kiwibank spokesman put it; "It can help people get through temporary periods of financial hardship."
Of its 30-year interest only loan offer Westpac says such loans keep repayments to a minimum, and help maximise cash flow which the borrower can use to help pay off their own home first. The optional 30-year term means borrowers don't need to worry about the cost and hassle of renewing their loan again in five to 10 years like they do with other banks, Westpac adds. And borrowers can restructure the loan to start paying off the principal whenever they're ready too.
 "Interest-only loans are often used by people who are saving for their next cash deposit, and who are confident in the long-term capital gains of their property - expecting that the sale of their property will take care of their loan principal," says Westpac. But it also warns; "This approach does involve risk so it might be preferable for people who aren't averse to that."
An obvious downside is if you borrow $300,000 and pay interest only for say, five years, in five years time you'll still owe $300,000. And you'll have to pay that $300,000 back at some point. What if the value of your property falls rather than rises? Here's one example of this happening in Australia.
Similar dangers to high LVR lending in bulk?
So as Graeme Wheeler, his deputy Grant Spencer and their team put the final touches on their LVR restrictions review, they ought to pause and consider the interest only scenario too. Below is a reminder of what Wheeler said in his August 20 speech last year announcing the introduction of the LVR restrictions.
"High LVR lending, as reflected in mortgage lending to borrowers with less than a 20% deposit, has constituted around 30% of new mortgage lending in recent months – up from 23% in late 2011. This high LVR lending is a significant factor behind the buoyant housing demand in some regions."
"These (LVR restrictions) are designed to help slow the rate of housing-related credit growth and house price inflation, thereby reducing the risk of a substantial downward correction in house prices that would damage the financial sector and the broader economy," said Wheeler.
Does strong growth of interest only lending not create similar dangers?
A spokesman says the Reserve Bank has been collecting data on bank interest only loans for a few months and plans to start publishing this sometime next year. Some thorough analysis of this, potentially leading to restrictions on banks' interest only home lending, may be called for.
This story was first published in our email for paying subscribers early on Monday morning. See here for more details and how to subscribe.