David Hargreaves tries to make sense out of the Government's plans to shift more social housing into the hands of community providers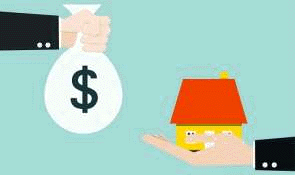 By David Hargreaves
Wading through the information currently available on the Government's proposed social housing reform programme is a surprisingly unrewarding experience.
In terms of information so far we've received quite a lot of fluff and very little meat.
At the heart of the programme and amid all the politically-correct talk about "a strong housing system that creates a pipeline to independence for tenants and supports them when they are at their most vulnerable" is the plan to sell between 1000 and 2000 state houses this year and possibly 8000 within three years.
The plan may obviously have a big impact on those either in or planning to be in social housing - but the much broader issue is the impact it might have on the overall housing market.
While there's a fair amount of printed material on the table about the plan, what we've seen so far probably raises more questions than it answers. And I do have big concerns that as this process continues we may remain short on vital details.
Prime Minister John Key gave some broad brush statements of intention in a speech at the back end of January, followed up on the same day with a joint announcement from Key and Social Housing Minister Paula Bennett and another statement from Bennett and Deputy Prime Minister Bill English.
Then there was some information on social housing numbers and a question and answer paper.  Additionally there's also a series of Cabinet papers, with this one in my view, providing the best summary, while there's also this "engagement presentation" outlining some of the proposed steps. And finally we have this timetable from the Government:
February-March: public engagement on social housing transactions

Late March-early April: selection of specific transactions

April: Information release about Ministry of Social Development's social housing purchasing intentions

April-May: regional consultation on specific transactions – "this is where we talk to you about your rights and interests"

July: market sounding – testing regional interest

September: Expressions of interest

Late 2015-mid 2016: request for proposals→preferred bidders identified

November 2015: Cabinet review of progress and next steps announced
The Government's been at pains to deny that this is an "an asset sale", having told us that the asset sales programme would officially end with the 49% sale and sharemarket listing last year of power company Genesis Energy. But of course that's what it is - a sale by the Crown of a large quantity of state assets.
Multi-million dollar question
The multi-million dollar question is how much the Government might, on our behalf, expect to collect for the sale. If you stagger your way through all the material so far produced by the government machine you will find nothing so vulgar as suggested dollars and cents estimates.
What we do know is that, very roughly, Housing New Zealand currently owns around 65,000 houses (about half of which are in Auckland), with a value put on the portfolio of $18.7 billion, which is quite a lot of money. Below shows where the houses are at the moment and where the perceived need in the next 10 years is.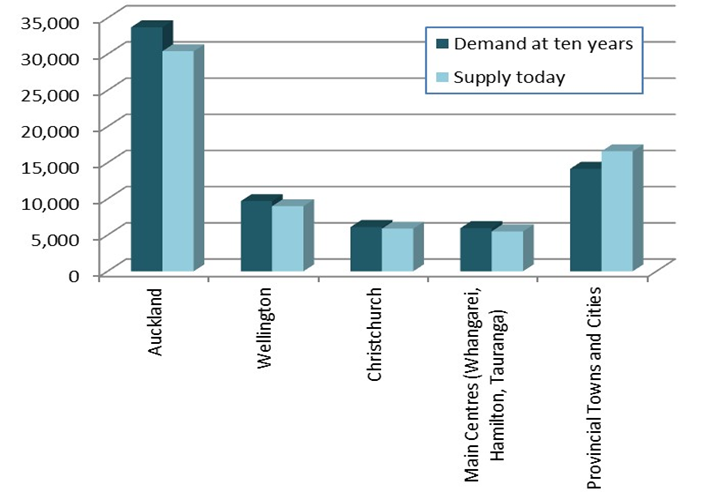 If you apply some very basic logic that says 2000 houses is a shade over 3% of the portfolio and that therefore a sale could get around 3% of that $18.7 billion, then you would be talking about in the region of $575 million being tipped into the Government coffers.
Where will they be sold?
But that's a reasonably arbitrary approach. It would depend on where the houses are to be sold. To this point the Government's been pretty coy. It's clear that the plan is to sharply reduce the number of state houses in some regional areas - but given that this is reasonably politically-loaded stuff, we are not being told where at the moment, to the point of having all reference to regions wiped out of the Cabinet papers that have been released.
However, it won't be all about the regions, because the official word is that the Government will "also sell some properties in areas of high demand". They don't say "Auckland", but they clearly mean Auckland.
My ears immediately pricked up at the PM's suggestion of proceeds being used for housing and "other capital projects".  In his January speech he said, specifically, this: "Initially, we will free up capital from these sales, which we'll use for housing and other capital projects needed across government."
Where's the money going?
The question is: If we currently have a shortage of housing in Auckland that's as bad as the likes of the Reserve Bank are telling us, and that the RBNZ's concerned, and that the Government's apparently concerned, why aren't ALL of the proceeds from the state housing sales going back into initiatives to ensure that the perceived supply shortages, particularly in Auckland, are resolved?
The Government on the one hand is apparently trying to give us the idea that everything it is doing is about improving housing, and it's definitely not about making money - yet it will, it seems happily syphon money from housing off into other investments. Strange to say the least. Let's hope it changes its mind on that one.
But it is difficult, I think, for the Government to say this is all about "social housing reform" and not about just good old asset sales and reaping cash returns when it is planning to redistribute at least part of the booty for general Crown expenditure.
Who buys?
The other problem in trying to work out how much the Government might get for sale of these assets is that we are not sure about the potential buyers' ability to pay. And this is where it gets real interesting in my view.
At the moment there are apparently 38 registered community housing providers - this includes such organisations as the Salvation Army and local iwi.
Here's John Key again on the sale of houses: "We're very conscious that the sale of properties has to work for taxpayers. We're looking to get a fair and reasonable price for these properties, bearing in mind they're being sold as ongoing social houses with high-need tenants.
"We're not selling them as private homes or rentals. So we might not get the book value of the properties. But that's only because, under accounting rules, the value of houses in the Government's books is based on a theoretical sale in the open market. And that's not what we're doing." The bold type is mine.
And here's Paula Bennett and Bill English: "Engagement and consultation will begin soon, including with community housing providers and iwi with a view to selling between 1000 and 2000 Housing New Zealand properties over the coming year for use as social housing run by approved community housing providers.
"These providers may buy properties on their own, or they may go into partnership with other organisations lending them money, contributing equity or providing other services. Properties sold as social houses will have to stay in social housing unless the Government agrees otherwise. In addition, a requirement of any sale will be that existing tenants continue to be housed for the duration of their need."
This fascinating asset-go-round chart has been produced to demonstrate how all this might work.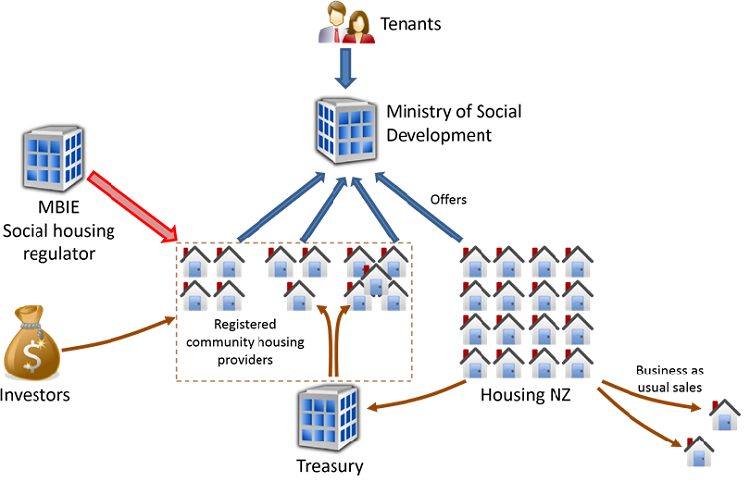 So what will happen?
Well, it all looks as clear as mud so far. Some of these community providers have already made public utterances to the effect that they won't be able to afford buying houses at commercial rates. So, the obvious question is, will the Government assist them into buying these assets and crucially, will it provide ongoing assistance?
There's already in my view the spectre that we will see one or more of these community providers go belly up - and then what? Who picks up the pieces?
There's the obvious potential consequence of people being made homeless, but there's also potential consequences for the housing market as a whole. We could, as the Labour Party's already suggested, see properties on-sold to speculators if the community providers become financially distressed.
The Government's conceded there are "major risks" to its reforms that will need to be managed "carefully". This includes ensuring that the community providers are financially sustainable as they expand their coverage.
As stated in the released Cabinet papers: "...If one of them [community providers] were to become financially distressed, this could present risks to ongoing tenancies and financial risks to the Crown." For "Crown" read "taxpayer".
Of course, as the Government suggests, what we may see happen is that the providers go into partnership with other entities - but those other entities would need to see financial returns in order to be attracted to get involved.
Joint ventures
The Government's promising that existing tenants of properties sold have to continue being housed - but note that the obligation doesn't mean they have to be housed on the existing site. So, you could see a, for example, Fletcher Building, getting alongside a community provider to buy then redevelop a site (noting that a fair few state houses are on very big sections with room for much more than one house), with the tenants being rehoused elsewhere.
But it does sound a bit messy and you wonder how such arrangements would work out in practice. Will the Government retain any control on what happens to land after a sale is completed?
My big concern is that we would see some fairly sizable sections and perhaps whole areas in Auckland find their way into the hands of land-bankers who would then sit on the land  - without developing it - and wait for it to go up in value.
Such behaviour would of course aggravate Auckland's perceived, already-severe, shortage of housing and would run counter to what the Government's trying to achieve in Auckland.
Key questions
The key questions that come out of all this, for me, so far are:
How will the Government be able to guarantee a good price for the houses (and return for the taxpayer), given that the proposal is to sell them to community providers that may or may not be financially equipped to buy them?
How will the funds gathered from the house sales be used, and how much of this will be dedicated back to resolving housing shortages?
How will the Government ensure the ongoing viability of the community providers in a way that doesn't end up costing us a lot of money?
How will the Government ensure that these properties sold don't end up in the hands of land-bankers who only further crimp the supply of houses, particularly in Auckland?
It is still fairly early days yet.
But I'm not encouraged thus far by the lack of truly helpful information on how this is all going to pan out.
What I would certainly want to see from this process is prompt redevelopment of many of the sections sold and delivery of more new houses, preferably affordable ones.
I don't so far see evidence that this will what we get.
Too early to judge yet, but I'm not hopeful. I shall be following developments and the Government's public utterances with interest.