David Hargreaves says it is time to stop pretending that the Auckland housing demand problem can be fixed by nationally-focused initiatives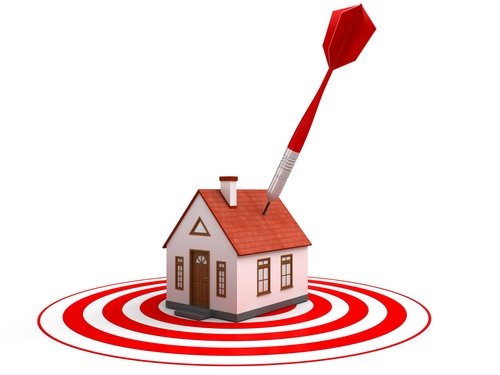 By David Hargreaves
It is time to call a spade a spade, or in  fact, an Auckland housing problem an Auckland housing problem.
New Zealand doesn't have a housing problem. Auckland does. So, why should the entire NZ housing market be treated for a condition that only exists in Auckland?
You don't generally try to fix a cut on your finger by wrapping your entire body in bandages.  No, you treat the directly affected area.
Auckland has a perceived problem of a shortage of housing. So, fair enough, this problem is being directly targeted. The Government and the Auckland Council are working hard at resolving the supply shortage through such initiatives as the Auckland Housing Accord.
But it is not all about supply - much as some would like to simplistically say it is.
We know that advice the Government has received from the Ministry of Business, Innovation & Employment suggests even with the current housing supply initiatives "...demand is forecast to exceed supply in Auckland for at least the next decade", according to officials.
So, the immediate problem that needs tackling is demand, yes, that's right, DEMAND - till the supply can catch up.
But that's where I reckon the trouble is. While the supply problem is being tackled on an Auckland-basis, the demand issue is being tacked through nationally-focused initiatives, such as the Reserve Bank's 'speed limits' on high loan to value ratio lending introduced in 2013 and with more measures likely on the horizon.
The applied logic seems to be that if you constrain demand for housing in the whole country then this will have an impact on Auckland. And presumably it will...eventually. But it is a sledge-hammer to crack a walnut, isn't it? The blunt instrument approach. Auckland may eventually be tamed. But what happens across the rest of the country - where you are squeezing a demand problem that doesn't exist? Unintended consequences, and all that.
It would actually just be plain unfair if people in regional NZ, or you can broaden that and say non-Auckland NZ, saw house values (which are in general much lower than Auckland's anyway) pushed down because of nationally-focused initiatives that are really trying to fix an Auckland problem and are hammering the rest of the country in a kind of incidental way.
There have been public calls for the Auckland housing demand problem to be tackled in an Auckland-specific way. There were certainly calls for regional targeting at the time the RBNZ introduced the LVRs measure - which is of course nationwide..
At that time the RBNZ said the use of targeted restrictions was not being contemplated. "Geographic targeting would be administratively complex, and would require difficult decisions to be made defining 'problem' areas," it said.
The RBNZ has subsequently maintained its opposition to geographic targeting and is planning to nationally focus its intended recategorising of property investors, a move that might well lead sooner rather than later to specific macro-prudential measures being brought against those investors.
I've already said I think the net has been spread too far with these property investor proposals, given that they will affect people with as few as two properties.
But until now I've been prepared to hold fire on the whole question of Auckland-specific targeting because I genuinely believed that the rising house market trend would start to spread outside of Auckland. If that were to be the case then targeting one market in the country would not make much sense.
However, two specific things I've heard in the past week have helped to change my mind. These two things suggest to me that the problem is all about Auckland and it will remain all about Auckland.
First piece of relevant information helping me to make my mind up was the latest Real Estate Institute figures for the month of February. These showed house prices in Auckland up strongly, but elsewhere generally flat.
The best guide to what is happening within the REINZ figures is provided by the institute's "stratified housing price index", which adjusts for some of the variations in the mix that can affect the median price and produces an overall measure of house price inflation.
As can be seen from the table below, prices in New Zealand have actually fallen in the past three months - but risen 6.4%  in Auckland. In the past year the Auckland prices have shot up 15.4% versus just 6.1% for the country as a whole - and remember the New Zealand figure does include the Auckland impact as well and is therefore inflated by that.

So, really we can see that Auckland is roaring along and the rest of the country merely simmering at best. The growing gulf between Auckland and the rest is well depicted by the graph below, also from REINZ, which shows the increasing disparity between Auckland, Christchurch and Wellington.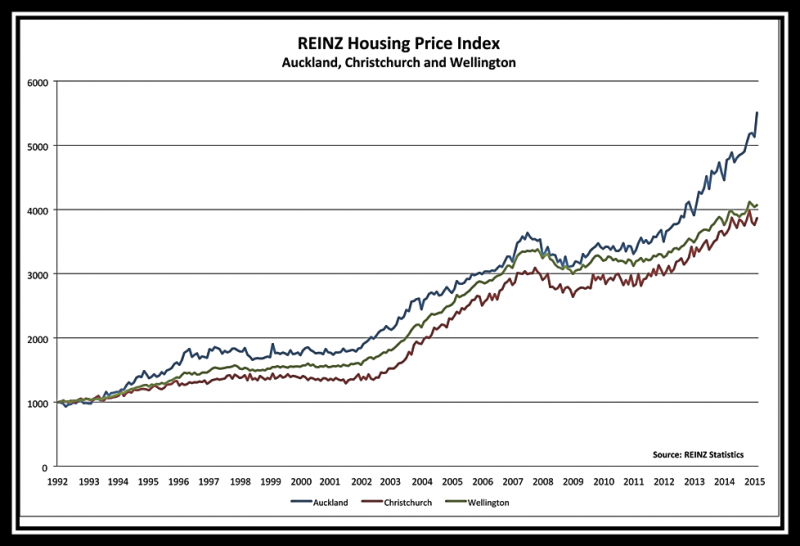 The RBNZ, concerned about financial stability problems that could be caused by any boom and bust cycle, has said it wanted to wait to see how the February-March housing sales statistics panned out before deciding definitively on more specific action on the housing market.
The latest REINZ figures therefore surely demonstrate that there is an overheating housing market problem. But they just as equally assert that the problem is purely with Auckland. The spread into the regions of house price rises in the manner we saw in the early-to-mid-2000s is so far tellingly absent.
The other piece of information that clicked into place for me last week came out of the mouth of RBNZ Governor Graeme Wheeler.
In response to media questions about the level of new buying by housing investors - which cited the information released by the RBNZ showing this running at around 30% - Wheeler came out with figures suggesting that the level of buying by investors is in fact running higher than these figures suggest - at about 40% in Auckland and 35% in the rest of the country.
Curious
We at interest.co.nz were a bit curious about this and asked the RBNZ for some clarification. We were told that Wheeler had been "quoting data about the share of investors in house purchases, which shows that investor purchases currently make up around 35% of residential sales by number, with Auckland currently sitting at 40% by number.
"The data is calculated from sales data that we source from CoreLogic, using algorithms and micro-level sales data to identify multiple property owners and then using that as a proxy for 'investors'. Because the result depends on the algorithm being used to create a proxy for investors, this data is indicative only and we caution against spurious accuracy."
So, that's not all particularly clear. But what it does tell you is that the RBNZ thinks property investors are proportionately buying more houses in Auckland than they are the rest of the country.
Yes, that's right, despite the fact that the Auckland prices are soaring, investors are more attracted to that market than elsewhere. And you can only presume this is because, well, the investors pick that Auckland prices will continue to soar relative to the rest of the country.
Now, of course investors want the best rates of return available, which is why they see Auckland as the best place to be at the moment. To take heat out of the Auckland housing demand equation then, presumably the desired course of action is to make Auckland comparatively less attractive for investors.
But is that what nationwide penalties/restrictions placed on property investors would actually do?
Isn't it actually possible that any macro-prudential measures that are targeted across the whole country - therefore carrying some cost on investment anywhere - might actually encourage investors to target their spending even more in Auckland. They might they look for higher returns to offset the potential penalties applied for them just being investors, anywhere. "Okay, if it will cost me more money to be an investor, I'll invest in Auckland where the returns are higher."
Isn't that outcome at least possible? Couldn't a nationwide clamp on property investment actually drive more investors into the Auckland market?
Dampen Auckland investment
So, regardless of whether the RBNZ and/or Government think it would be administratively tough to implement directly-targeted measures that would dampen property investment in Auckland (and I stress I'm talking about homes bought for investment as opposed to ones being bought to live in), I think it really must be considered.
And one obvious way to do it would be by making the banks hold more capital against mortgages advanced on Auckland investment properties (though I would still have a higher threshold than those with just two properties - I would still favour the original four or five threshold).
Making the banks hold more capital against some Auckland investment mortgages would have the likely impact of driving up the cost of those mortgages - and it might make the banks more reluctant to lend to Auckland property investors. The result theoretically should be some dampening of demand.
Now, the banks would say it would be far too difficult to organise Auckland targeting in such a manner. The property investors would say it would be too difficult. Sometimes you just have to bite the bullet.
It wouldn't be as easy as a blanket serious of measures thrown across the whole country. But I think it could work, while a countrywide measure, I think, could have bad unintended consequences for places not called Auckland.
And if Auckland were to be specifically targeted, just maybe this would then encourage some property investors to invest more in other centres, which I think would be a very virtuous outcome. You could target Auckland - help Auckland - and help the country as a whole.
Of course any measure targeting investors through the banks won't tackle the situation around cashed-up investors who don't need to borrow. We still need to see more useful information about how many of these investors there really are out there. Anecdotally it is a significant issue, but we need more than anecdotes. Once there is more information, perhaps there are measures that could be levelled in that direction too.
It's fair
What I'm suggesting might seem inherently unfair, which is why it would surely meet with strong opposition. But I think the Auckland housing demand problem right at this moment needs to be tackled at source (IE not indirectly through the rest of the country) by measures that will directly take the steam out of the housing-for-investment market in our largest city.
Auckland investors might see it as unfair. But I don't think young Auckland people who want to buy a house to live in but can't get one because they keep getting outbid by investors would see it as unfair.
And who knows, ultimately some investors might be saved from themselves. When somebody as experienced in the Auckland scene as mortgage broker John Bolton starts describing a market where "prices are heading well above fundamentals and increasingly it's a speculative play" then you know we are getting into the very sort of risky environment that the RBNZ is so keen to avoid.