Bernard Hickey argues the RBNZ is failing to hit its current inflation target and either needs a new target or a new way to achieve its current one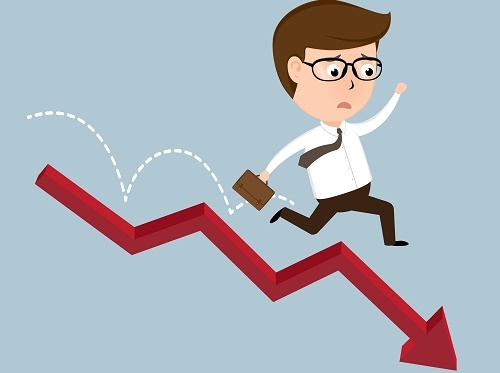 By Bernard Hickey
Performance reviews are never fun and they're often more complicated than they should be.
Right now our pioneering Reserve Bank is having an awkward time explaining to its 'boss', Finance Minister Bill English, why it is missing its one and only economic performance target of keeping annual inflation in the Consumer Price Index (CPI) around 2% over the medium term. It's been over a year since 'headline' inflation has been below the 1% bottom end of the 1-3% target band and it will be more than six years before inflation gets up to the 2% Governor Graeme Wheeler has agreed to focus on.
This performance review is important for all New Zealanders, and not just because millions of borrowers and savers depend on the level of the bank's Official Cash Rate for their levels of disposable income. It is increasingly deciding how wealthy we are because ever lower interest rates are helping to pump up asset values, and house prices in particular. House values rose 22% or NZ$154 billion to NZ$862 billion in the last two years. That's not about wage growth, or even population growth.
It's also important because New Zealand was the first to adopt this style of strict inflation targeting in 1990 and it has since been copied or at least emulated in many other parts of the world. But now that inflation is so low, or actually negative in some places, there are lots of doubts about whether inflation targeting works at the 'bottom end' of the inflation spectrum. Central banks have kept cutting interest rates to zero and below in some cases to try to get inflation back up again. But it's beginning to look like a whole of thrashing of dead horses that is only pumping up asset values to over-valued levels.
So this performance review is turning into quite a piece of performance art in an economic policy sense. Lots of people are watching to see how it turns out, and the early signs are not good.
There has been lots of uncomfortable shifting in seats and long stares out the window over the last couple of weeks during this virtual review because the pressure is mounting.
Firstly, new inflation data showed surprisingly little inflation in the economy last year. Then other central banks signalled even looser monetary policy to try to perk up inflation in their countries. The Bank of Japan and the European Central Bank have promised to do 'whatever it takes' to get inflation back up, including cutting their official deposit rates to negative levels and printing more money to buy Government bonds. This means that by not cutting interest rates, our Reserve Bank is effectively allowing a tightening of monetary policy here through our exchange rate. This hit home the hardest last week when dairy prices fell more than 15% but the exchange rate rose 2 USc to over 66 USc.
Secondly, Governor Wheeler came out all guns blazing with his side of the story on why he was not meeting the target and why he wouldn't automatically cut the Official Cash Rate in a 'mechanistic' way in response, as he said some had called for. He said he wanted to interpret his performance agreement -- the Policy Targets Agreement -- flexibly so he didn't have to cut interest rates. He blamed the oil price slump and he argued that inflation was actually higher than the 'headline' number currently says it is. He pointed to the bank's own measure of 'core' inflation -- a thing called the sectoral factor model which most other economists can't fathom -- as being at 1.6% and close enough to his target to mean he could sit on his hands. He has also wondered aloud about whether more rate cuts would actually benefit the real economy beyond house prices. Effectively, he invented a new set of lower and wider goal posts and suggested using a round ball instead of an oval ball to kick the points.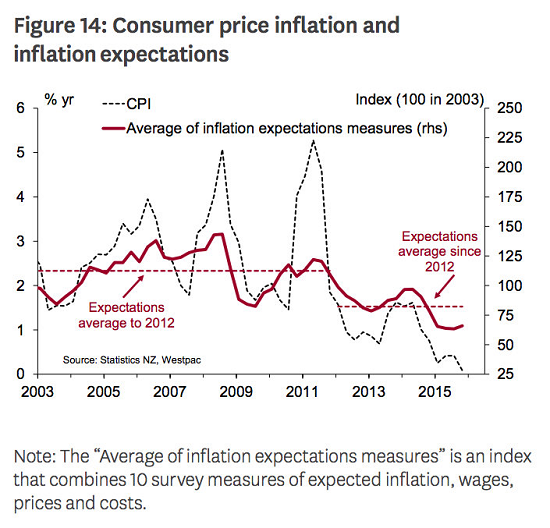 The trouble is New Zealanders don't experience this new goal post -- core inflation. They see prices falling in the shops for four years and falling in many other areas such as telecommunications. Inflation expectations have fallen from 2.5% to 1% over the last four years. Something has changed in the world that means prices keep falling in all sorts of surprising ways. Uber, for example, cut its prices 15% earlier this month and plenty of new apps keep inventing ways to avoid paying much for services that we once had to go to a shop or an office to buy. Globalisation and massive factory over-capacity in China and Europe also keep driving prices down.
For now, the 'boss' is accepting the reasoning given by Governor Wheeler for the lack of both inflation and rate cuts. Minister English said this week he agreed the Governor needed more time and that inflation below 1% was acceptable because businesses and consumers can still get on with their investment and spending decisions without having to worry about inflation. The 'boss' even wondered aloud whether an undershoot was as important as an overshoot.
"The whole framework was devised to bring inflation down," English said. "No one ever thought it would be used to lift inflation, and central banks that have tried to lift inflation have found that pretty difficult," he said.
A few people have started to talk like this. BNZ's Head of research Stephen Toplis even said last week that inflation targeting may now be a "waste of time." Toplis' comments, which he acknowledged were "sacrilegious", highlight how topsy turvy the world has become and how unsustainable the current stand-off is.
Either the Reserve Bank and the Government need to lower the target band to re-establish the credibility of their target agreement or something else needs to give. It may seem academic, but there are real losers in a failure to hit the target. Dairy farmers crying out for the automatic stabilising effect of lower interest rates and a lower currency are crying in vain right now, as are the 259,400 people categorised by Statistics New Zealand as jobless in the December quarter. The economy should be growing faster to employ those people in the classic world of inflation targeting.
Inflation targeting as invented by New Zealand was designed to maximise the economic output of the country in a way that didn't create dangerous inflation. There is no inflation so therefore there is room to stimulate more production and output under this model.
Many argue, although not most other central bankers, that 'flogging the dead horse' with more rate cuts would just pump up house prices in Auckland more. That may be true, but that's what the bank's LVR speed limits and the Government's tax policies are supposed to address. This week the IMF said the Reserve Bank and the Government should be ready to tighten those LVR restrictions and reduce the tax incentives for property investment. That would be one way for Governor Wheeler and Minister English to complete their performance review with a new set of action points. 
---
A version of this article first appeared in the Herald on Sunday. It is here with permission.