David Hargreaves says National is putting short term expediency ahead of the country's future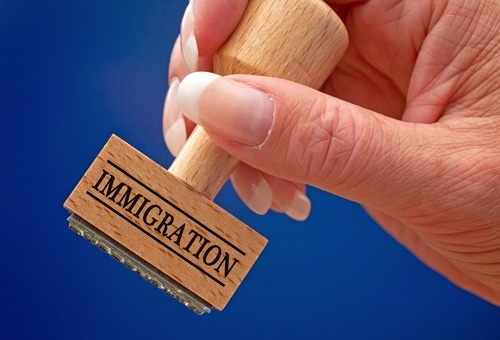 By David Hargreaves
Another month, another record number of immigrants...and another deafening silence from the Government.
As was reported by Statistics New Zealand late last month, this country had a net gain of 65,911 permanent and long term immigrants in the 12 months to January. To put it another way, in the past year we added another Napier, which according to Stats NZ is the 14th largest of NZ's 67 districts.
To put it another way again we added around 1.4% to the population over the last 12 months - just through immigration. Now, as an immigrant myself in this fair land, and of UK origins, I take an interest in the considerable wailing and breast-beating that goes on in Britain over the rate of immigration there. The official UK stats show that net migration has been running at record levels of about 330,000 a year. That's 0.5% of the existing population.
Yes, that's right. The UK is adding migrants at the rate of 0.5% of its population per year, and various people are screaming about it, and yet we are adding 1.4% - and doing what exactly?
Of course, with a population already within touching distance of 65 million, the UK would be in many people's definitions overcrowded. New Zealand with its 4.65 million bouncing around in an area bigger than the UK would definitely not be seen that way. Therefore some might not see validity in comparing our rates of immigration with those of a much more populated country.
But I still think the comparison is well worth making. The UK with an infrastructure already set up for a lot of people, is adding 0.5% of its population in a 12 month period. NZ with very much a small country, small population infrastructure, is bombing another 1.4% on top of its population in a 12 month period. One country is arguably geared up to take people, the other isn't. Adding 1.4% of the population sounds like a lot to me from a small base. And if there are no bad signs of indigestion yet (though house prices are clearly one very uncomfortable rumble), surely you can't keep adding people at that rate without something having to give, sooner rather than later.
At the moment the strong levels of immigration seem to be giving the economy quite a lift (though what detailed statistics there are on that impact might be quite interesting to see - if there are any). In addition the inbound migration surge is also keeping the lid on wage pressures.
Student and work visas
It's quite clear therefore why the Government's very happy with the current situation. Indeed this Government's changes to the rules in 2013 making it more attractive for international students to come here - and which have seen student visa numbers nearly double in the past two years to just under 28,000 in 2015 - have been a big contributor to the surge.
Then there's people coming here on work visas. Nearly 38,000 people came into the country on work visas last year. This is about 7500 more than came into New Zealand on work visas two years ago and is in fact close to double the number that came in just five years ago.
These rising numbers have been largely explained as being about the Christchurch rebuild. But isn't that now starting to wind down? If the rebuild is indeed winding down, why were as many as 3638 people allowed into New Zealand on work visas in January 2016 - the most for a January since Stats NZ started publishing this information in 2003? Go back just to September and October and we saw record numbers of people allowed in for work visas - with over 4300 in each month. If the Christchurch rebuild is starting to wind down - where are all these new people going?
In fact you have to go back before August 2012 to find a month in which the number of work visa arrivals was fewer than for the same month 12 months previously. Up and up the figures have gone.
We don't have zero unemployment in this country. The official rate is 5.3%. Why are we pumping up the workforce with people coming from outside? Don't we need to be making bigger efforts to make sure some of those 5.3% are imbued with the types of skill-sets that are presumably possessed by those being granted work visas?
Dangerous assumptions
The Government is clearly making assumptions. Because in recent history large numbers of Kiwis have emigrated, the assumption is that we will see that resume in earnest again soon. Therefore the Government's happy to keep letting a lot of people in and enjoying the short-term boost to the economy it is deriving, thinking that eventually things will turn and that once again large numbers of outbound Kiwis will start to balance out those coming in. But it's real dangerous to make future assumptions based on what has happened in the past.
Stats NZ seasonally-adjusted monthly figures show us that back in 2011 and 2012 around 7000 and upwards people were leaving NZ every month long-term. Those figures have more recently been running at around only 4500 or slightly higher a month. There was a very slight uptick in the figures in January, which would be worth watching to see if it suggests any sort of trend.
But what about those coming in? Go back to 2012 and we were talking 6000s and 7000s a month. Since July 2015 we've had over 10,000 every month - and January's was the second highest ever figure.
In fact if you take the seasonally adjusted net migration gains for each of the past six months this gives an annualised rate of growth of 70,000 net immigrants a year. It can be debated whether the figures are showing signs of having plateaued in recent months - but they are not, so far as I can see, showing signs of falling. But even if we were to assume the figures have plateaued (but are not necessarily dropping), are we prepared to say we would be comfortable with an ongoing net gain of immigrants in the 65,000-70,000 region? Two years of that and, forget about Napier - you've got another Hamilton.
But of course, most of those people would not go to Hamilton, or Napier. We know that. Which brings us to the biggest friction point in the whole issue.
Auckland-bound
The Stats NZ figures for the 12 months to January show that 30,369 of the 65,911 net immigrants settled here were intending to live in Auckland. That's a lot. But it's not quite the whole picture, because 15,543 of the 65,911 didn't actually say where they were going to live. This means then that just 50,368 people stated where they would be living - and of these, 30,369 (around 60%) said they were going to live in Auckland. If you apply the same 60% ratio to those 15,543 who didn't say where they were going to live - that would give another 9325 or-so people settling in Auckland. So, the real Auckland-bound figure may well be fairly close to 40,000 - which would represent about a 2.75% increase in Auckland's population. 
If you take the Auckland average of three people to a house, then you would need around 13,000+ extra houses just to accommodate these people. According to Stats NZ there were building consents issued for nearly 9300 new dwelling units in the year to January. Problem?
This of course in a city with well-documented and fractious housing issues.
I don't think the Government can keep having a bob-each way on immigration. I think we are now well past the time when it has to chop back the numbers being allowed in - at least until there is some sign that previous patterns of outbound migration may be resuming.
We can't just keep adding a good-sized provincial city to our population every year and not expect there to be consequences. We just can't.