David Hargreaves says the Government may need a real business-friendly symbolic gesture to stop the country heading into a self-induced downturn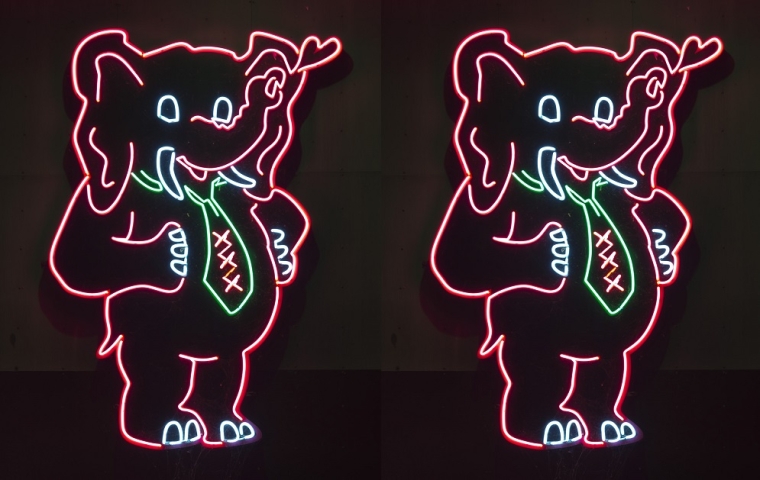 By David Hargreaves
Well, that big old shiny neon elephant has left the room and gone for a stroll down Auckland's Shortland Street, the main hub of New Zealand's business sector.
For the uninitiated, the concept of an elephant in flashing neon comes from a combination of comments made by the Prime Minister around the country's plunging levels of business confidence.
This issue has come from nowhere to be the biggest one this Government faces - and that's clearly recognised by the PM herself who attempted to meet the charging, flashing, beast head on with an address to business leaders on Tuesday and through the formation of a new Business Advisory Council. 
I can't readily recall the subject of business confidence becoming such a huge issue.
Yes, business confidence ebbs and flows - but not like this. This is something different, and I'm still not sure how we should be taking this and treating it.
I confess that in a fairly long career in business journalism I have mostly happily ignored the ANZ's Business Outlook monthly surveys (and I'm afraid I can remember them when they were the National Bank Business Outlook).
Here at interest.co.nz we've mostly ignored them in our news coverage - although we've always kept a weather eye on them every month. But, since the election (or some would say non-election, and that seems to be one of the problems) of this Government, the monthly surveys have become a 'must read'. And yes, we've been reporting on them and giving them prominence.
And we are not the only ones of course.
I suppose someone somewhere might be able to find previous examples of the New Zealand dollar directly reacting to release of the ANZ's monthly Business Outlook Survey, but I certainly can't readily recall a reaction like the near half a cent drop in the value of our currency that apparently directly stemmed from the release of the latest survey on Thursday.
That's just remarkable.
Are we being ridiculous?
I'm afraid what's going on at the moment is definitely what I would term 'frightening yourself'. It's putting on a scary mask, standing in front of a mirror, shouting 'boo!' and then recoiling back in shock.
For me the most telling graph in the ANZ survey is this one: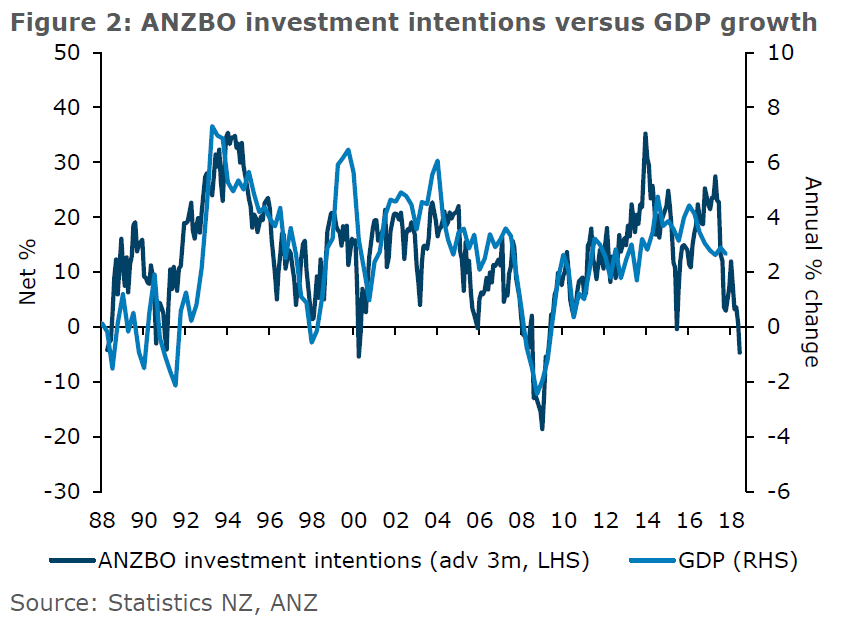 Okay, the bit on the far right that shows investment intentions of NZ businesses going through the floor is reasonably interesting.
But more interesting for me is to look right back through the graph at the correlation between rises and falls in investment intentions and rises and falls in the GDP growth rate.
Yes, that's right they ARE correlated - but not at the moment. At the moment we are in uncharted waters where the investment intentions are falling off a cliff, but GDP growth is, by historic standards, not terrible.
Look back through history as charted in that graph and you can see that previously GDP and investment intentions have risen and fallen in tandem.
So, what's happening now?
Grumpiness is global
Grumpiness does seem to be a worldwide trend - witness the kneejerk election results we've seen in some places and the move to populism. But things are changing fast and a lot of the 'old' rules, the way 'things worked' just don't seem to any more. Once upon a time we had inflation, which we didn't want. Now we want it and can't get it.
There's a lot about today's fast pace and technological changes that appears to be leading to a permanent change in how economies behave. Are we now suddenly in a situation where sentiment leads the business cycle, rather than taking its cue from perceived changes in that cycle. Right now, in New Zealand, it kind of looks like it.
The Government is trying to turn around the sentiment by talking nice but, to this point, business ain't having it - that's despite the economy still for now chugging along okay.
But as the fall in the dollar tells you, as the move to extreme 'dovish' sentiment from Reserve Bank Governor Adrian Orr tells you, the risk of a self-fulfilling slowdown of a meaningful nature is now real.
When sentiment becomes reality
It's one thing for business to throw a collective hissy fit as happened after the election. But once that extends into the actual intentions of the business - to not invest, to not employ etc - then the economy is in trouble.
A half cent fall in the value of the Kiwi dollar is a very real consequence from a negative attitude. It shows that real damage can come from business getting down on itself.
In her Tuesday speech, the PM again reiterated that the Government will be sticking to its fiscal cap.
Specifically, she said: "We will also meet our Budget Responsibility Rules. These rules are not a nice to have. They are a firm guide as to how we want to manage the economy.
"Some people have called for us to relax our borrowing rules or simply spend more. We won't. The rules are an important part of ensuring long term fiscal sustainability."
Well, this Government has shown itself pretty keen on making big symbolic gestures - such as the oil and gas exploration ban.
The grandest gesture
I would suggest it is now high time for another one - lose the fiscal cap, announce that more money will be borrowed, and get alongside the business sector to make concrete (literally) progress in building some much needed infrastructure.
Words are cheap. But the action stemming from the Government being prepared to stimulate the economy through spending and growth might be the only thing that gets business out of its grey hue.
The Government has some thinking to do.
Given the way the economy is at risk of setting like ready-mixed concrete, announcing some stimulatory spending might be the only way to go. Sooner rather than later.