New Zealand's largest bank follows two of its main rivals down with one home loan offer of 2.99%. TSB follows, going down to 2.89%. But savers pay with large term deposit rate cuts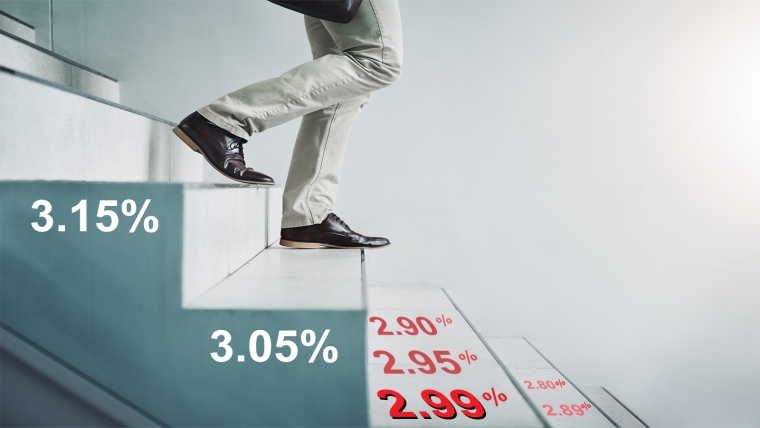 Update: TSB has now cut its one year 'special rate by -20 basis points to 2.89%.
---
ANZ has chased Kiwibank and ASB down with a matching 2.99% home loan rate.
This reduction is part of a set of three rates reduced by New Zealand's largest mortgage lender.
ANZ's new one year fixed carded 'special' offer is now 2.99%, a reduction of -6 basis points.
The bank has reduced its 18 month rate by -29 bps from a previously uncompetitive level, down to 3.20%.
And ANZ has cut -10 bps from its two year fixed rate, taking that carded rate down to 3.25%.
Similar reductions apply to ANZ's 'standard' rates.
These moves leave both BNZ and Westpac stranded with no offer below 3%, although negotiation may be able to prise matching rates from them.
At the same time, ANZ has taken a knife to term deposit offers, dropping almost all rates from 60 days to 18 months by -15 bps. The exception in this bracket is its one year rate which has been cut by -20 bps. Smaller cuts apply to two and three year terms. The effect is to put back a term premium for the longer rates (even if the overall levels are now getting very low). We will have more on the term deposit rate cuts separately.
Of course, these main bank reductions are not the first banks to go below this benchmark.
HSBC already offers rates as low as 2.95%. Heartland Bank offers a 2.89% rate. And China Construction Bank has the lowest of them all at 2.80%.
All banks are reporting squeezed net interest margins (NIMs) and the ANZ's matching term deposit rate cuts show they are serious about protecting margin, and that savers will be the group paying the price for low borrowing rates for homeowners.
Despite the lower fixed rate offers, there is no suggestion from any bank that floating rates will be reduced, and it is floating rates that are the basis for SME lending. These borrowers are being quietly passed by.
---
The world is changing fast and we now need your support more than ever. Quality journalism is expensive and in these very troubled times our ad revenues are becoming very uncertain. We provide our coverage free to readers, and if you value that, we ask that you Become a Supporter. The level of your support is up to you. Thank you. (If you are already a Supporter, you're a hero.)
---
Hold on for the BNZ and Westpac response. Most likely (and based on past behaviour) Westpac will just match the others. But BNZ has had a habit of being a bit more daring. We shall see.
Wholesale swap rates have fallen sharply in lockdown although the latest daily shifts have seen that retreat end and a kind of floor may have been found. See the charts here.
Here is the full snapshot of the advertised lowest fixed-term rates on offer from the key retail banks.
In addition to the above table, BNZ has a unique fixed seven year rate of 5.20%.