RBNZ Governor Wheeler sees mortgage costs 'biting'; Banks' funding position 'comfortable' so no need for a deposit price war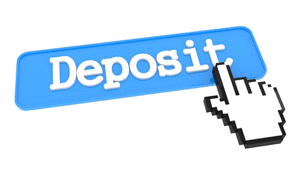 By Gareth Vaughan 
If the Reserve Bank's message for mortgage holders is "get ready for some pain", its message for depositors appears to be "the banks don't need you as much as they used to."
This comes from a Reserve Bank that's pointing to rises in the Official Cash Rate (OCR) to 4.75%, more than double the current 2.5%, by early 2016. That could also send bank mortgage rates north, from below 6% now to as high as 8% by early 2016.
The Reserve Bank points out in its latest Monetary Policy Statement (MPS) that although borrowers have been switching to fixed-term mortgages from floating mortgages, they're doing so for short terms meaning OCR increases, if they do come, will have an impact.
"Borrowers continue to switch out of floating rates onto fixed rates. At the end of October, the share of floating-rate mortgages was 43% compared to 56% a year ago. Most of the mortgage rate fixing has
been for short terms, with the share of fixed mortgages up to a one-year term at 30%. Thus, the combined share of floating rates and fixed rates of less than one year duration is 74%, well up from the trough of 37% in mid-2007," the MPS says.
At the press conference following the OCR review and issue of the MPS yesterday, Reserve Bank Governor Graeme Wheeler said of this 74%: "That means that when monetary policy does tighten, those mortgage costs have the potential to start biting in terms of debt servicing costs."
According to the MPS, the effective mortgage rate for existing loans, based on a weighted average of existing mortgage stock, currently sits at 5.51%.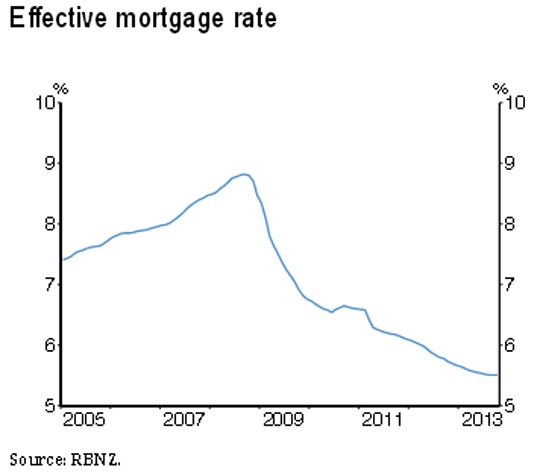 Meanwhile on the other side of the ledger, the MPS points out funding conditions remain comfortable for New Zealand's major banks.
"Access to funding is easy and pricing is about as low as it has been since the global financial crisis."

Times were better for depositors a year or two ago, the MPS adds, when banks were competing aggressively to attract retail deposits to improve the share of their funding that's counted as "core" under the Reserve Bank's prudential liquidity requirements.
"In that environment, deposits became relatively expensive (for banks). However, the more recent experience has been one of more comfort (for banks) with core funding levels and deposit growth remaining strong (around 10% per annum) despite less-competitive pricing," the Reserve Bank says.
"During 2012, banks were paying almost 200 basis points over the one-year swap rate on one-year term deposits. That spread is now down to just over 100 basis points. Over the past 18 months the six-month term deposit spread to six-month bank bills has fallen from around 160 basis points to just over 100 basis points."
"With little pressure on funding, new (bank) issuance of long-term wholesale debt (bonds) more reflects the desire to maintain a presence in offshore markets or to roll over maturing debt," says the Reserve Bank.
"Long-term domestic bank debt trades at an average spread to swap of about 80 basis points, 75 basis points below its levels of a year ago."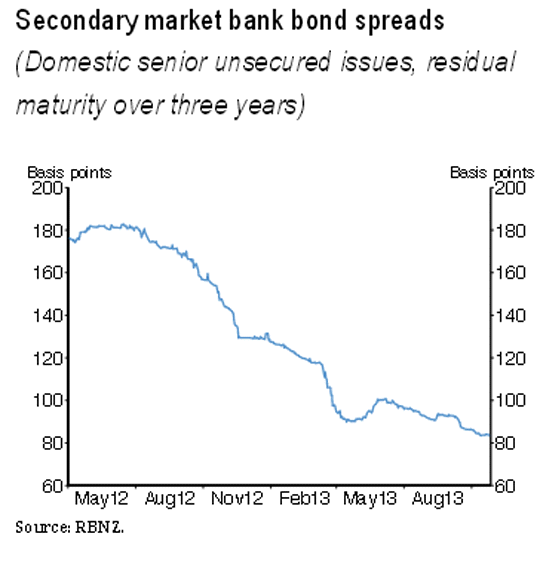 This article was first published in our email for paying subscribers. See here for more details and to subscribe.