Borrowers ignore Wheeler's warning about the threat of high housing debt, with new home loans taken out last week totaling a record $1.6b & the average mortgage value nearly hitting $217k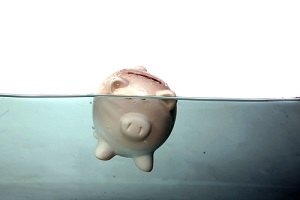 By Jenée Tibshraeny
The amount of new mortgage debt New Zealanders are taking out has hit a new high.
Borrowers last week took out $1.556 billion of housing loans – the most since Reserve Bank (RBNZ) records began in 2003.
Yet the volume of mortgages taken out wasn't near highs from the past, indicating people are taking out larger loans.
With 7,181 new mortgages approved last week, the average mortgage was worth $216,683.
The last time the total value of mortgage approvals hit an all-time high, the average mortgage was only $138,719. This occurred when the total value of mortgages hit $1.542 billion in the week ended March 16, 2007.
The total value of weekly mortgage approvals also got close to the levels reached last week, in April this year and December last year.
Looking at the number of mortgage approvals, there have been quite a few occasions since 2003 when this figure has surpassed where it was at last week.
The highest weekly number of mortgages approved, based on the Reserve Bank series, occurred in the week ended December 15, 2006. With 11,193 approvals, the average mortgage value was only $133,208.
These figures correlate with house price increases, indicating people are borrowing more to pay for more expensive houses.
REINZ figures show the median house price across the country peaked at $484,650 at the end of September. While it's dropped off a bit since then, it was 15% higher than the same period the previous year, and 21% higher than in September 2013.
The latest Quotable Value figures also show nationwide residential property values 34% above the previous market peak of late 2007, with the average value nationwide now $555,729. Adjusted for inflation values are 14% above 2007 levels. 
Auckland values are 71% higher than 2007, and 45% when adjusted for inflation, with the average Auckland value now $931,807.
Can we really afford to be taking out larger loans for more expensive houses?
The answer is not without a reasonable level of risk, with household debt as a percentage of nominal disposable income at 159%.
The last time this percentage was this high, was during the 2008/9 global financial crisis, when it hovered around 160% and hit 161%.
The RBNZ's November Financial Stability Report notes, "Household debt-to-income multiples (DTI) remain elevated at around 160% of household disposable income, of which bank mortgage loans account for around 84%.
"Existing borrowers are taking advantage of low interest rates to make increased debt repayments which, excluding repayments made on the sale of property, are equivalent to 20% of disposable income. However, substantial new lending activity has offset the impact of debt repayment.
"Rising house prices have placed upward pressure on the DTI of new lending, which is currently well above the DTI of outstanding debt. Elevated DTIs increase the vulnerability of households to a change in economic conditions, such as a rise in interest rates or unemployment."
Statistics New Zealand figures also show weekly average wages and salaries (before tax) only increased by 3.5% from the June quarter last year, and 9.9% from 2013, to $566.
The average weekly income from all sources (wages, salaries, self-employed, government transfers, investments and other transfers) sits at $800. This has increased by only 2.7% from 2014 and 8.5% from 2013.
This graph from the Financial Stability Report shows just how unaffordable houses are in Auckland.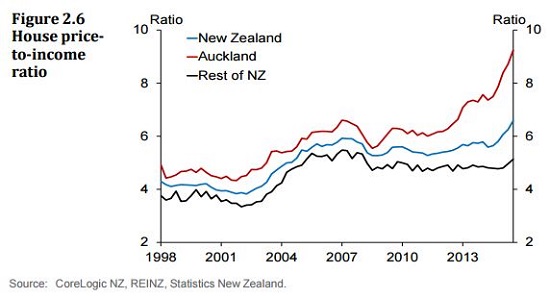 Wheeler's warning
In the Financial Stability Report, RBNZ Governor Graeme Wheeler, warns "The interaction between low mortgage rates, high household debt, and increasing house prices poses a significant risk to the financial system.
"Declining borrowing costs can partly explain the 17% increase in house prices over the past year.
"Although low mortgage rates are enabling a significant increase in debt repayment by existing mortgage borrowers, rising house prices have put upward pressure on buyer debt-to-income ratios. "As a consequence, the aggregate household debt-to-income ratio has remained at historically elevated levels.
"New mortgage commitments have increased sharply and are running at around 36% of outstanding mortgage debt. As a result, the characteristics of new mortgage commitments are being reflected in overall bank mortgage portfolios relatively quickly.
"Notably, a significant proportion of mortgage lending is being undertaken at elevated debt-to-income ratios.
"Although low mortgage rates are currently relieving pressure on these indebted households, some borrowers could quickly come under pressure if their labour incomes decline or mortgage rates increase."
In August Wheeler's deputy, Grant Spencer, pointed out 30% of new borrowers take on mortgages at greater than six times income. At these ratios, Spencer noted, it would not take much of an increase in interest rates to substantially erode mortgage affordability.