House prices drop by 4.9% in January but market remains strong; Median price NZ$370,000; Number of homes sold up 21% compared with a year ago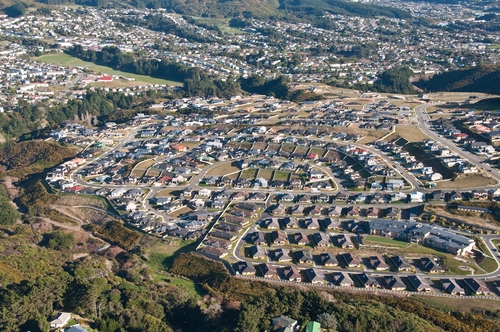 House prices dropped by 4.9% in the past month but the overall market remained strong and the median house price was still some 4.2% higher than the same time a year ago.
The Real Estate Institute of New Zealand said that a total of 4993 houses were sold in January 2013, which is the highest number sold during the month in the past five years and is also up some 21% on January 2012. The number of sales nationally in the month compares with 5754 in December. The median time taken to sell a home nationally was 41 days in January, which was six days fewer than the same month last year, but up from the 32 days in December.
Taranaki recorded a new record median of NZ$310,500 in January, up a striking 10.5% on December. Hawkes Bay, with a 7.6% rise to NZ$272,500, was the only other region to report an increase between December and January.
In Auckland, the main driver for the market, the median price fell NZ$509,250 from NZ$535,000 the previous month. However, prices in Auckland last month were still some 8.1% higher than a year ago. During January there were 1800 homes sold in Auckland, up from 1421 at the same time last year, but down from 2167 in December.
Within the central Auckland city area, the median price actually slumped some 18% to NZ$505,000 in January compared with December, but the latest figure is still up on the NZ$486,000 figure reported in January last year. In contrast, prices in the North Shore rose 4.3% in the past month to NZ$626,000 and are now some 14.5% higher than the same time a year ago. Waitakere City also saw a surge in median price in January, up to NZ$460,750 from NZ$442,000 and prices in the area are up 19% on the same time last year.
It is not unusual for national median house prices to fall in January compared with the previous month as New Zealand goes into holiday mode. In six of the last seven years median prices have fallen in January compared with the previous month - although last year the median price actually held at the same level.
REINZ chief executive Helen O'Sullivan, says that the residential real estate market has begun 2013 well, continuing the trend that developed during 2012.
"The residential real estate market has begun 2013 in good shape with a more than 20% increase in sales volume on this time last year," she said.  
"Given the highly seasonal nature of the housing market, prices and volumes tend to ease from their year end levels in January, as marketing campaigns for many properties in the upper price bracket don't begin until the latter half of the month."
She said that agents across the country were reporting continuing shortages of listings and positive buyer inquiry, even after taking into account the normal slowdown in activity over the Christmas/New Year break.
"The six day improvement in the number of days to sell between January 2013 and January 2012 is indicative of high levels of buyer activity in markets across the country," she said.
ASB economist Jane Turner says the housing sales figures for December and January suggest demand remains firm, whilst supply is still low. "As a result we can expect further price increases in the coming months."
She says the Reserve Bank has become increasingly nervous around housing market developments and the recent acceleration in credit demand.
"The RBNZ will be watching these developments closely, mindful of the risks to inflation and financial stability. We continue to expect the RBNZ will leave the [Official Cash Rate] unchanged [at 2.5%] until March 2014 in light of the gradual pace of recovery, elevated NZ dollar and weak labour market. However, we see a small, but growing chance, the RBNZ uses macro prudential tools later this year in order to try ease housing market pressures."
Westpac chief economist Dominick Stephens said the the "January round" of data portrayed a housing market that has continued to heat up.
"The seasonally adjusted number of REINZ house sales was up 3.5% in January, and is 21% higher than a year ago. And house price inflation has continued to accelerate. The REINZ's House Price Index is now 7.2% higher than a year ago, and Quotable Value's index is 6.2% higher," he says.
"There have been further signs that markets are becoming more buoyant across New Zealand, not just in Auckland and Canterbury. The volume of house sales has risen at least 10% over the past year in all regions of New Zealand except Taranaki (last three months of sales compared to same period a year earlier). And on a monthly basis, January's price increases were concentrated in the North Island outside Auckland."
Stephens says that house prices are once again becoming divorced from rents.
"Back in 2002, a New Zealand house might have sold for 18 years' rent on average. By mid-2007, a fit of speculative exuberance had seen house prices blow out to 33 years' rent. A correction was necessary, and for a few years one seemed on the cards. House prices did dip below 30 years' rent for a while. But in recent years the correction has stalled. House prices are now rising faster than rents, and house prices are once again selling for more than 30 years' rent."
This is the key sign, Stephens says, that physical shortages are not the only driver of today's house prices.
"Physical shortages should affect both rents and prices (witness Canterbury, where rents went through the roof following the earthquakes). By contrast, financial factors such as low interest rates or speculation affect only prices. Today's high-and-rising house price-to-rent ratio indicates that financial factors are at play. Our finger is pointed firmly at low interest rates. The implication of all this is that house prices will keep rising so long as interest rates remain low - but they could fall again when interest rates rise."