Finance Minister says RBNZ takes financial stability seriously and will use lending control tools if needed; says he assumes RBNZ will use controls if needed; has been advised generally on RBNZ plans, but watch for more direction tomorrow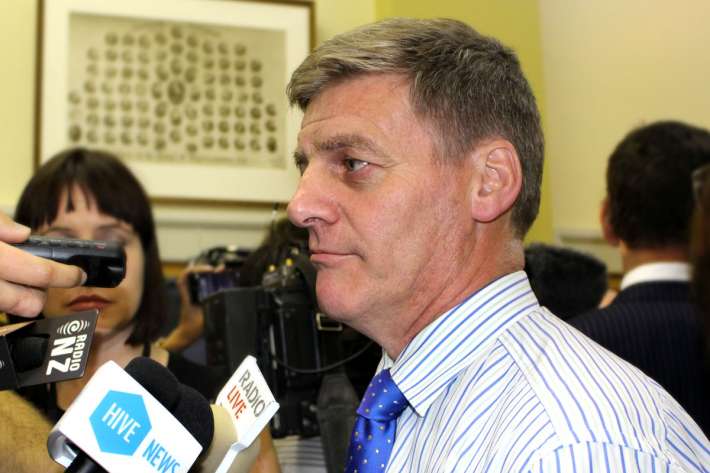 By Bernard Hickey
Finance Minister Bill English has given his strongest indication yet that the Reserve Bank is considering a third round of tighter Loan to Value Ratio (LVR) controls in response to another resurgence in the Auckland housing market and could announce them as soon as tomorrow.
English was asked on the eve of the Reserve Bank's half-yearly Financial Stability Report (FSR) if the Reserve Bank should bring in further LVR controls to dampen lending growth into the Auckland and other housing markets.
Speculation the Reserve Bank could signal tougher controls on Wednesday has gathered in recent weeks after fresh Real Estate Institute (REINZ) data in mid April that Auckland activity and prices rose sharply again in March. See more in David Hargreaves' preview here. For more detail on the REINZ shock, see Greg Ninness' article here.
Barfoot and Thompson data for April that was reported last week suggested the Auckland market kept accelerating through April. Barfoot and Thompson has around 40% of the market. The REINZ data for April is expected later this week.
"It's up to the bank. There's still a bit of uncertainty about just what the dynamics of the Auckland market are. The bank has signaled pretty clearly that it takes the issue quite seriously and they've got a range of tools and they're likely to want to use them," English told reporters in Parliament before the National Party's caucus meeting.
Asked if he had received advice that the Reserve Bank might be reconsidering its LVR settings, he said: "Not in detail. They've got the Financial Stability Report coming out tomorrow and that will probably signal direction."
The Reserve Bank introduced new controls for Auckland rental property investors from November 1, limiting their amount of lending above a 70% LVR. Economists have said the Reserve Bank could extend this 70% limit to rental property investors outside of Auckland, and/or further lower the limit in Auckland.
English said the Reserve Bank had been consistent in saying that it regarded "further rapid increases in Auckland house prices as posing a risk in future and the data indicates that's possible, so I assume they'll be still focused on it."
Governor Graeme Wheeler was asked on March 10 if the bank was considering further tightening the LVR controls put in place on November 1 last year and he said he wasn't.
English was asked again if the Reserve Bank was about to announce more Macro-Prudential measures to slow housing demand.
"The Reserve Bank has signaled consistently that it's taking the issues around the Auckland housing market quite seriously as a potentially serious threat to financial stability in the long term," English said.
"They've got a tool kit they can use to have some influence on it and I'd expect that if they're going to take some steps there they'll let us know," he said.
English said the Reserve Bank "has been pretty clear that if the market looked like it was going to take off again the Reserve Bank is quite likely to look at whether it can use further tools."
English said it seemed likely the Auckland market would continue rising because demand was so strong.
"On the other hand, I'm hearing more people starting to realise the risks of investing into a market that is so hot, that if the market is this high then at some stage they must come down," he said, adding that the Government's role was to enact reforms on the supply side to increase housing supply in Auckland in particular.
'If lending is taking off, the Reserve Bank will act'
"The Reserve Bank works on the demand side and it can have some impact through the rules it makes for bank lending and you can pretty safely assume that if it looks like bank lending's going to take off for funding the Auckland housing market then the Reserve Bank is going to take some action," he said.
Reserve Bank figures for nationwide lending showed housing lending grew in March at an annual rate of 8.0%, which was the fastest annual growth rate since June 2008 and significantly faster than household income growth. Household debt to income ratios rose to record highs late last year. The Reserve Bank does not break out regional lending growth figures, but BNZ reported last week that it grew its market share in Auckland slightly by growing its mortgage lending by 12.9% over the last year to NZ$14 billion.
New demand-side measures in the May 26 Budget?
Asked if the Government would repeat its 2015 Budget moves to dampen demand using tax and other tools, English said: "You'd have to wait and see, but the main focus for policy making around housing remains on the housing supply, and the next big step there is the Auckland Unitary Plan, which shows up within a couple of months and that will give us an indication of whether the standard planning process is going to respond to what are pretty strong conditions of demand and those conditions look like they're going to be sustained."
"We've all been a bit surprised to find that interest rates have still been dropping, migration numbers have held up, incomes continue to increase moderately and that's created strong demand conditions that Council has had to grapple with, the Reserve Bank has to grapple with and certainly we have to grapple with."