New data reveals construction sector bosses are pessimistic about the future, but Housing and Urban Development Minister Phil Twyford says he has an 'action plan'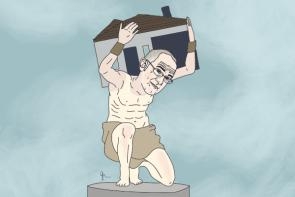 Minister of Housing and Urban Development Phil Twyford wants to abate the concerns of the construction sector by creating an "action plan" to address some of the industry's major issues.
This comes after a new survey of chief executives and senior managers revealed the scale of pessimism in the construction and related industries sector.
Asked if they agree that New Zealand's economy had performed well over the past 12 months, 77% of respondents either agreed or strongly agreed.
But that figure falls to just 51% when industry leaders were asked about the coming year.
In terms of how well they see the building and construction sector performing currently, 42% say poor and 10% say terrible.
Just 19% say its performance is good.
"I'm surprised that one in five thought it was good," Auckland University Director of Property Services Peter Fehl says.
Tony Doile, Managing Director of Armstrong Downes Commercial, says given the demise of three of New Zealand's larger construction companies in the last few months, "I don't think [the sector is] doing too well."
But Twyford says he has a plan to help alleviate some of these concerns.
"I will be offering, on behalf of the Government, that we will sit down with them and work out an accord, a shared action plan to address the productivity, the skills and training issues, that the industry is asking us to work with them on."
Twyford is due to make the announcement in his speech to the New Zealand Constructive Industry forum on Thursday afternoon. (See more from Twyford here).
But speaking to media before going into the House, Twyford outline a few details of the plan to reporters.
"It's a commitment for this Government to work alongside industry; to do our bit and show leadership as a Government but to work alongside the industry to address the deep-rooted productivity problems that are such an issue for the industry."
We want a seat at the table, Collins says
National's Housing Spokeswoman Judith Collins says it's "about time" Twyford sat down with industry leaders.
But she says Twyford needs to give National a seat at the table as well.
"We're hearing from the sector that Labour has come in with Phil Twyford and cancelled a whole lot of construction projects, particularly around infrastructure."
She says this has been "incredibly harmful" to the sector."
The same survey reveals lack of skills within New Zealand as industry leaders' biggest issue. This is followed by risk allocation in contracts and then the certainty of work.
"I honestly think our country has a real skills shortage in the construction industry, both residential and commercial and I just can't see how we're dealing with it," says Southbase Construction Chief Executive Quin Henderson.
Twyford accepts that the construction sector has its issues, which he says are beset by low productivity.
But he says KiwiBuild is the answer to some of these problems.
"It's a mass procurement programme, it's an opportunity to fix some of these problems because of the scale of the work we're going do."