Ex-RBNZ Deputy Governor and Acting Governor Grant Spencer says the RBNZ should've started increasing the OCR sooner to combat inflation, gives his outlook for inflation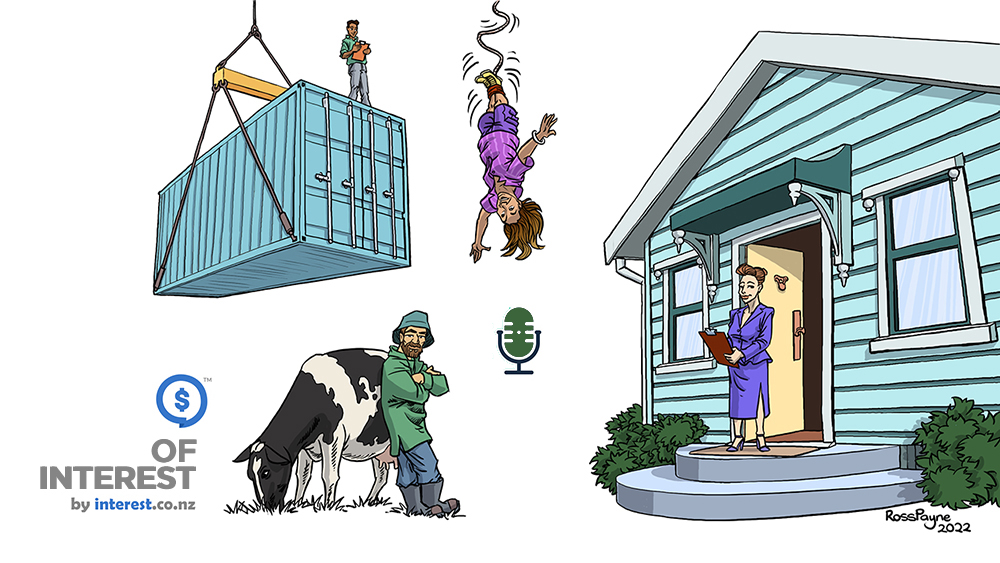 By Gareth Vaughan
By late 2020 it was clear central bank and government monetary policy and fiscal policy responses to the Covid-19 pandemic had prevented a major economic downturn, and thus the Reserve Bank should've been looking to move monetary policy to a neutral rather than super easy setting, says Grant Spencer.
Spencer, Adjunct Professor at Victoria University's School of Economics and Finance, is also a former Reserve Bank Deputy Governor, and was Acting Governor for six months up to his departure from the central bank in March 2018.
Spencer spoke to interest.co.nz about inflation in the second episode of the Of Interest Podcast, where we delve into big issues and new developments in the economic and financial worlds.
New Zealand's March quarter Consumers Price Index (CPI) inflation came in at 6.9%, the highest it has been since 1990, and well above the Reserve Bank's 1% to 3% target range. CPI inflation is even higher in other parts of the world, reaching 9% in the United Kingdom, 8.6% in the United States, 8.1% in the Eurozone, and Australia's last reading of 5.1% is expected to rise.
Inflation, Spencer says, is always driven by persistent excess demand.
"And in this situation over the past two-and-a-half years we've had persistent excess demand resulting from an adverse supply shock and expansionary demand policies, in particular monetary policy and fiscal policy."
By about September-October 2020 Spencer says it was apparent the emergency Reserve Bank and government policies had been successful in preventing the high unemployment and "drastic economic downturn" people had feared was coming in early 2020.
"I think it was around September-October 2020 when bond rates, interest rates, that had been falling, started to move up again. And that was in response to emerging economic indicators both here and internationally, which were saying the out-turn for real activity in the global economy is not going to be as bad as we thought, unemployment's not going to be as bad as we thought."
After that Spencer says the Reserve Bank should've been thinking about moving the Official Cash Rate (OCR) back gradually towards a more neutral position rather than waiting until October 2021 to increase the OCR from its record low of 0.25%, where it had been reduced to in March 2020.
"Different countries had different sets of indicators. But I think that shape of the trend in bond rates was generalised across the major markets, it wasn't just New Zealand. So that's when the information started to turn," Spencer says.
"The key is the interpretation of that so-called inflation, price increases. Is this a temporary shock, supply side blip, or is it something that policy should respond to with a generalised firming of policy? And that's always the nature of the discussion. And it's very easy to be biased in one direction and just sit pat until you've got a convincing case that overall core inflation, or underlying inflation, is moving therefore we need to move."
"It's difficult for policymakers to turn policy because as soon as you turn policy the markets will expect that you're going to continue to tighten. And the whole shape of the interest rate curve will change and you can have a significant effect on things just by that decision to start to make one increase rather than being on an easing mode," says Spencer.
"That's why they're nervous about shifting from an easing to tightening cycle until they can see the whites of the eyes of inflation. But that's also the challenge, because as it has turned out they really should've been tightening earlier."
He says the Reserve Bank should've started shifting the OCR back towards a neutral setting sooner than October last year, but won't give a specific time when he thinks this should've started.
"They should've been moving back to neutral. The default should be seen as neutral, not as super easy," Spencer says.
The neutral OCR rate is the level where it's deemed to be neither stimulating nor constraining economic activity. The Reserve Bank currently considers the neutral rate to be about 2%. That's where it's now at, after a 50 basis points increase on May 25. It was at 0.25% as recently as October last year. Spencer says the neutral OCR may be higher than 2%.
The record low OCR wasn't the only aspect to easy monetary policy. Between March 2020 and July 2021 the Reserve Bank bought $53.5 billion worth of NZ government bonds and local government bonds on the secondary market off banks in its first foray into quantitative easing. This was aimed at suppressing interest rates.
"You know if you've got super easy policy you should be moving back towards neutral if you think that things are starting to change, and you shouldn't be just focused on one of the dual mandate objectives," Spencer says.
The Reserve Bank's monetary policy remit states that it must both maintain price stability and support maximum sustainable employment.
In the podcast Spencer also talks in detail about what is causing the high inflation, what his outlook for inflation is, the role of the NZ housing market, Russia's invasion of Ukraine and China's zero Covid policy in this, and whether we're in for a hard landing, or a marked economic slowdown or downturn.
"It's a very difficult situation to manage through," Spencer says of the current situation.