Part five of our coverage of the ANZ report Greener Pastures: The Global Soft Commodity Opportunity for Australia and New Zealand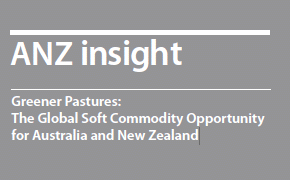 ANZ has released a major Report (.pdf 13MB) detailing the opportunities for Australia and New Zealand for agricultural commodities over the next 30 years.
Gareth Vaughan discussed the Report's finding with ANZ's Graham Turley.
Over the next few weeks, we will take a closer look at what the Report finds for New Zealand. This week we look at the current state of agriculture in New Zealand and Australia.
ANZ's report finds that a global race is emerging to develop high potential agricultural opportunities.
Successful agricultural industries do not happen by accident but take many years of development to build complementary strengths across a number of areas.
The Asia Pacific region has fostered many successful agricultural industries in recent decades including Australian cotton, New Zealand dairy, and Malaysian and Indonesian palm oil.
The following is an extract of part five of the full Report focussing on the New Zealand aspects.
Unlocking the full potential of agriculture
KEY THEMES:
– Australia and New Zealand need to take deliberate steps to rejuvenate agricultural industries and foster growth.
- Fostering and strengthening successful industry clusters around high growth opportunities will play a critical role.
- Each agricultural industry also holds unique challenges which need to be addressed with a tailored approach.
The global soft commodity opportunity presents a unique chance for Australia to reinvigorate its agriculture and for New Zealand to apply its dairy success to
other industries.
Growth-limiting hurdles must be recognised and overcome.
This will require the close involvement of all stakeholders across government and industry, and a high degree of commitment, collaboration and foresight. While the task ahead will be no small feat, it is important to recognise that gaining such momentum is not a new experience for agriculture in either country.
Three pathways to reinvigorate the agricultural sector
Australian and New Zealand agriculture can recover and prosper by redeveloping and creating healthy industry clusters across all three growth horizons.
Achieving this will involve pursuing change by:
1. Selectively reinvigorating stalled industries with strong growth potential.
First, there are opportunities to significantly improve the performance of some industries serving mature but growing markets. Improving the performance of Australian wheat, which still has significant scope to expand, is a good example. Second, the past decade has seen many high growth industries stall. Australian canola and wine are good examples, with potential to return to sustained, high growth trajectories (Horizon 2).
2. Sustaining and strengthening existing high growth industries.
For example, Tasmanian dairy, which has delivered strong growth, has potential to grow further if there is sufficient investment in irrigation infrastructure. Similarly, the strong performance of New Zealand dairy over recent decades could be sustained by alleviating capital and labour constraints, and focussing on more
sophisticated production models, such as improving efficiency, market and production innovation, and business management through economic cycles.
3. Fostering new agricultural industries around high growth opportunities.
Future success in Australian and New Zealand agriculture requires new and emerging industries to be encouraged and nurtured. Investment needs
to be targeted around high-potential opportunities.
Sector-wide paths to drive competitiveness and growth
As many of the overarching issues described in Chapter 4 apply across agriculture, both Australia and New Zealand need to focus on developing strength in the following sector-wide areas to improve competitiveness and enable growth.
Enhancing capital accessibility and innovation in financing
Farmers face major challenges in raising sufficient capital to fund growth.
This is particularly important for high-performing farmers who have the potential to drive substantial improvements in poor-yielding farms, but have insufficient capital to purchase additional assets independently.
Alternative farm ownership and operation structures will help to attract investment from domestic and foreign capital markets. For example, equity partnerships are common in New Zealand agriculture, particularly in dairy. While agricultural land funds already exist in Australia, equity-based investment options are still very much in their infancy.
Potential structures include:
– Agricultural management companies to provide professional management of farm businesses for investors;
– Equity partnerships in which passive investors finance part of the operation alongside the farmer;
– Structures that provide conduits to connect high-performing farmers with investors, facilitating the purchase of farmland funded by investors and managed by farmers;
– New financing models for non-land assets, such as funds for dairy cow herds, or mortgages reliant on future production as collateral;
– Less formal ownership models to enable the pooling of resources, where for example, a consortium of local farmers and/or investors jointly purchases property; and
– Off-take agreements, whereby investors receive a portion of the output of the farm in return for investment in it.
Beyond the farm gate, many agricultural industries in Australia and New Zealand could also benefit from more flexible capital raising to fund improvements in infrastructure, such as investment in transport (i.e. rail, road, ports) and irrigation.
Building momentum in this area requires the public sector to actively invest while ensuring an environment that attracts private sector investment. In many cases, private and public sector collaboration, and potentially co-investment, will be required.
Ensuring sufficient capital accessibility in part will require continued involvement from foreign investors. Australia and New Zealand need to foster an environment that effectively safeguards national interests without discouraging favourable foreign investment.
This will require both countries to:
– Facilitate informed discussions based on a true picture of the extent and nature of foreign investment in agricultural assets through improved data collection;
– Define clear agriculture-specific positions in relation to national interest with consideration of both the long term benefits and risks;
– Establish robust and transparent regulatory processes to prevent threats to national interest while minimising administrative disincentives for foreign investors;
– Foster the development of more innovative options to attract foreign investment in agriculture without land ownership, such as off-take agreements and leases; and
– Ensure public sentiment is aligned to national objectives and facts surrounding foreign investment in agriculture.
Boosting the labour force and efficiently managing natural resources
Overcoming labour force challenges requires government and industry to collaborate
on how to:
- Invest in the next generation of leaders in agriculture;
- Improve the sector's capability to attract additional domestic labour;
- Fill remaining labour force gaps with expanded immigration strategies; and
- Encourage the transition to less labour-intensive production systems.
Equally, significant growth in production over coming decades requires sustained improvements in the management of land and water. This could be achieved through:
- Optimising agricultural land use by facilitating farm conversions to higher-value products. For example, some suggest many Tasmanian beef and sheep farms could capture more value if converted to dairy or horticulture production;
- Managing land use conflicts, for example from urbanisation, gas and mineral projects, such that the preservation of prime agricultural land is encouraged
where appropriate;
- Minimising water wastage through investing in on-farm infrastructure including more effective storage (e.g. deeper storages with smaller surface areas) and utilisation (e.g. laser levelling) solutions; investing in critical off-farm infrastructure (the 'Water for the Future Program' in Australia and co-investment programs in New Zealand are positive steps); improving the efficiency and transparency of existing water markets and developing water markets where they do not exist; and
- Improving the agility of agricultural production systems to better respond to volatile climate and market conditions.
Harnessing agricultural R&D to maximise future growth
Given that the lag between agricultural R&D investment and subsequent productivity growth could be up to 35 years131, getting the approach right today is critical for the future. Maximising the effectiveness of the R&D system in each country requires a focus on answering some central questions, such as:
- How to adopt well-defined and clearly articulated funding goals that drive national agricultural R&D, and the corresponding roles of government and the private sector. How can the two sectors prioritise research objectives such as boosting productivity and increasing competitiveness through lowering costs and/or building differentiation – particularly in areas with high growth potential;
- How to focus public funding on areas that are of strategic national importance, particularly in areas not addressable by the market132. The role and purpose of each publicly funded body within the R&D system would require appropriate balance across different research types (pure and applied), timeframes and objectives; and
- How to boost private investment and collaboration. Insufficient and stalling private sector engagement in R&D has been noted across the innovation landscape in both Australia and New Zealand133. The private sector plays a critical role in each countries' R&D system, particularly in the commercialisation stage.
Re-invigorating extension services and closing the performance gap among farms
Glaring performance gaps between high and low performing farmers in Australia and New Zealand suggest both a sizeable challenge and an exciting opportunity.
Making progress in this area would significantly boost the robustness and production capacity of agriculture in both countries.
A reinvigorated extension system could build farmer confidence and encourage investment in new technologies and best practices. It could involve:
- The application of modern, internet-based communication and education techniques to increase access and improve knowledge diffusion;
- The continued development of standardised, robust benchmarking practices across all sectors to test new technologies and encourage uptake; and
- Influencing the next generation (or successors) of farmers. Not only does this help overcome future labour challenges it may also help improve farm productivity.
It has been argued that young people contribute indirectly to productivity growth by encouraging older producers to invest in new technology.
Particular measures that should contribute to extension improvement:
- Reviewing whether current public sector investment in farm extension is sufficient in Australia, and whether New Zealand should maintain a fully privatised system;
- Encouraging and facilitating professional development of extension practitioners;
- Ensuring the ageing work force and growing skill shortages in extension services are on the agenda of broader responses to agricultural labour issues;
- Maximising coordination and collaboration among industry stakeholders in supporting extension. This includes enhancing linkages between extension providers, R&D players and downstream players such as processors, traders and marketers; and
- Encouraging greater data collection at the farm level. This will support future improvements as new developments will increasingly revolve around data-based decision-making systems.
Fostering the development of robust supply chains
Robust supply chains are central to the success of agricultural industries in an increasingly competitive global market. Lowering costs and increasing supply chain differentiation will be critical for Australia and New Zealand.
The key is to create, or re-create, contestable supply chain organisations aligned with the producer in a number of possible ways:
- The challenge for supply chains which are concentrated with large corporate players is to focus on raising alignment and trust along the supply chain, particularly with respect to encouraging investment. A break-down in alignment and trust will result in an unwillingness to invest. Given some of these agricultural gateways could undergo further consolidation, it is important to ensure this process does not reduce contestability and inhibit future growth. Australia's grain and sugar industries are examples;
- Concentrated, characteristically cooperative structures with large players need to keep working to reduce capital constraints. Ensuring sufficient access to capital is critical to maintain international competitiveness. New Zealand's dairy industry, largely served by Fonterra, is an example; and
- Smaller industries with relatively fragmented structures often lack an industry leader that drives innovation. Besides further consolidation, this calls for greater cooperation among players. Deep and sustained involvement by industry bodies could help drive this. One example of where this might be necessary is New Zealand's red meat industry.
Additional investment in infrastructure is critical.
Potential areas include:
- Off-farm irrigation infrastructure investment to maximise the growth potential of dairy and horticulture industries. Tasmania and areas of northern Australia outside of Australia's Murray Darling Basin, New Zealand's South Island and parts of the North Island (Hawke's Bay and Waiarapa) could benefit from this;
- Rail infrastructure investment, especially in Australia's east coast, would help to address transport bottlenecks in grain transportation;
- Port infrastructure investment, particularly in New Zealand (but also in Australia), as ageing terminals are unable to handle larger deep-sea ships. Of New Zealand's four busiest export hubs, only Tauranga is in advanced stages of expanding for larger vessels; and
- Road infrastructure investment that enables more regions to have access to higher productivity vehicles such as B-triples. Raising access to these vehicles will not only increase productivity but also improve cost competitiveness and contestability with rail, although this should be seen as complementary to investing in rail, rather than a substitute.
Enhancing exposure to high-value markets
Australian and New Zealand agriculture can build relevance with high potential markets through balancing two strategies:
1. Driving strong volume growth through serving large, high growth opportunities, such as the rapidly growing Asian market for products like dairy, beef, oilseeds and wheat.
2. Capturing price premium opportunities for differentiated products that serve the expanding global middle class. New Zealand's merino wool industry is one such example.
Effectively achieving these strategies will require a combination of traditional and new models of market access:
- Continue efforts to strike multilateral and bilateral free trade agreements with key growth markets. Talks with China remain a priority for Australia, while both Australia and New Zealand could accelerate negotiations with India.
- Explore more innovative ways to increase market access such as major strategic off-take agreements in return for capital investment. This approach has been adopted by Brazil and Argentina in their trade relationships with China. Interestingly, this model is not new to Australia. Australia has been striking minerals-related, off-take agreements (or the like) with countries such as China and Japan for decades. For example, Japanese financing was crucial in establishing the Port Waratah Coal Services (PWCS) port terminal in New South Wales in 1976, in return for increased off-take of coal. Japanese investment with off-take rights is routine in the development of the Pilbara and Bowen Basin.
- Capture premium market opportunities through investing in differentiated products. Effectively gauging individual market needs will be helpful in this process. Key export product categories such as dairy, red meat, wheat and oilseeds could all possess potential opportunities.
Industry specific strategies - Two case studies
While many sector-wide paths to growth apply across Australian and New Zealand agriculture, each individual industry possesses unique challenges and opportunities, requiring tailored approaches. Two global market opportunities are explored in more detail in this section.
Dairy in Australia and New Zealand
While New Zealand and Australia are both among the top three dairy exporters in the world, their performance over recent years has diverged markedly – New Zealand has consistently increased production while Australian production has declined (Exhibit 5.1). Australian production volumes have dropped by 14% over the past decade (although Tasmania has been an exception to this trend).
Notwithstanding the fundamental contrasts, both industries face a series of challenges which need to be overcome to maximise future growth.
Costs of production in New Zealand and parts of Australia (particularly in Tasmania) are rising rapidly, undermining natural advantages. Improving production systems through better management or technology could alleviate this but farmers are constrained by high debt levels. For example over the past decade, average dairy farm debt increased by 75% in Australia.
Over the same period, the average debt level per kilogram of milk solids increased by 150% in New Zealand.
Furthermore, confidence plays a critical role in an industry's willingness to make long term, growth-oriented investments. In Australia, many farmers do not have a positive view about the future of the industry and remain cautious about expanding.
By contrast, farmer confidence has remained strong in New Zealand over the past two decades, in line with sustained growth.
While declining production volumes in Australia may reflect the exit of less efficient farmers since deregulation, it has also freed up processing capacity. As such, the challenge has been to utilise existing capacity as efficiently as possible and rationalise surplus capacity.
By contrast, cooperative-based processors in New Zealand have faced growing capital constraints as they seek to raise sufficient capital to support continued growth. For example, Fonterra's shareholder equity offering in 2009 only raised 24% of total potential funds from farmers.
Industry-specific approaches or opportunities to drive growth include:
- Continue to drive the development of dairy in Tasmania, which has favourable natural conditions that could emulate the success achieved in New Zealand. For example, while the recent investment of A$1.5 million by the Tasmanian Government on road infrastructure to enable farm conversions to dairy is a positive start, investment in irrigation infrastructure could increase the State's milk production by around two thirds;
- Enhance capital access for New Zealand's cooperative processors. While the Fonterra board has developed various strategies to protect and raise equity, cooperatives should be open-minded about alternate operating models, while recognising the desire to keep control over supply chains. Various cooperatives around the world have adopted a number of hybrid capital structures, with some success. Participating farmers also need to understand the importance of joint investment for growth;
- Manage risks and control cash flows through unfavourable or volatile price cycles. Options include using financial instruments, such as dairy futures, or long term supply contracts to smooth earnings. Greater certainty over future prices means production and investment decisions can be executed with a higher degree of confidence; and
- Grow volumes in higher value product segments. A successful example is Fonterra's Anlene 'bone health' brand in China148, which capitalises on the country's growing health awareness. Further opportunities include products targeted to the advanced nutritional needs of mothers, babies and the elderly.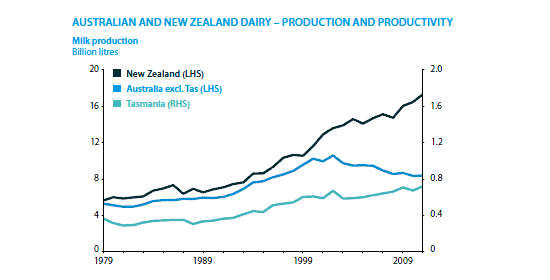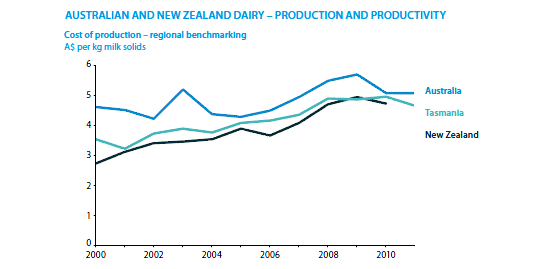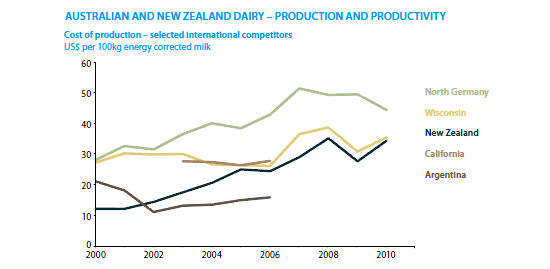 --------------------------------------------------------------------------
This story has been adapted from Part 5 of the ANZ report: Greener Pastures: The Global Soft Commodity Opportunity for Australia and New Zealand (.pdf 13MB)
Here is Gareth Vaughan's interview with ANZ's Graham Turley.
Part two deals with the global soft commodity opportunity and you can read that part here »
Part two deals with the enormous opportunity and you can read that part here »
Part three deals with building competitive advantage in key markets and you can read that part here »
Part four deals with the current state of agriculture in New Zealand and Australia and you can read that part here »
Part six will follow next week. It reviews the implications for key stakeholders.