Big banks step up marketing of environmentally friendly and sustainable farm loans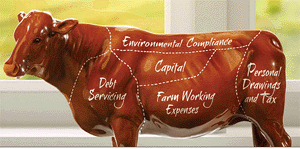 ANZ, the country's biggest rural lender, has introduced loans targeting farmers who want to improve both the productivity and environmental sustainability of their farms.
ANZ says its Farm Development Package includes loans with an annual interest rate of 4% for fulfilling compliance on effluent management, water quality management and water and energy conservation. ANZ's offering an environmental loan, through which farmers can borrow between $5,000 and $300,000 over five years. It's also offering a development loan, which is a revolving facility, through which farmers can borrow between $5,000 and $1 million.
The ANZ initiative comes after ASB unveiled its Rural Environmental Compliance Loan in February, which it touted as New Zealand's first such loan. ASB says this has a floating base interest rate of 3.80% on a maximum loan amount of $200,000 for up to five years. The loan must be used to fund environmental compliance initiatives and has no establishment fee.
The ANZ package also comes after Fonterra CEO Theo Spierings last month warned Fonterra's farmers must improve their sustainability to catch up to Europe, saying if farmers continued to intensify their dairying in the same way they had in the last decade Fonterra would "hit the wall in terms of sustainability and the environment."
Announcing ANZ's Farm Development Package Graham Turley, ANZ's managing director of commercial and agri banking, said increasing agriculture production - to pursue opportunities in Asia - is creating complex challenges on how to manage environmental stresses, especially the impact of dairy farming on water quality.
"If our farming sector is to realise the opportunities available, it must mitigate the effects of growth on the environment. An increasing number of dairy farmers are adopting new technologies to increase production and reduce their environmental footprint," said Turley.

"This package makes it easier for farmers to comply with environmental regulation, and achieve sustainable production."
BNZ says education a bigger issue than access to funding
Interest.co.nz asked other major rural lenders whether they offered anything similar. BNZ's head of agribusiness, Richard Bowman, said via a spokeswoman that BNZ had been focused on the issue of environmental sustainability within the agriculture sector for about 15 months. Bowman said access to funding wasn't the constraint on environmental sustainability in the agriculture sector.
"Rather, education on the issue, how to solve it and gaining clarity from regional councils as to what is needed will drive higher rates of environmental sustainability," said Bowman.
"That being the case, BNZ has placed our energy into this area. BNZ is the only bank that submitted on the proposed ECan Land and Water Plan. We are also working with a farmer based group providing information to ECan discussing the Land and Water Plan, what is workable and effective, (and) what is required from a regulatory and practical perspective to raise rates of environmental sustainability within the agri sector."
"This input was considered when ECan finished their Land and Water Regional plan which was presented last week. We are currently putting together a fact sheet for professionals so we can educate the sector on what the changes mean and what needs to be done. We think this will have a significantly increased positive impact on the environment," Bowman added.
A Westpac spokeswoman said her bank provides loans at competitive rates for sustainable farming practises.
"We take this a step further with our Solar Panels Initiative (with Meridian Energy) which provides practical assistance to purchase solar panels to help farmers get easy and affordable access to solar energy," the Westpac spokeswoman said.
A spokeswoman for Rabobank said environmental sustainability was one of the important challenges confronting New Zealand farmers.
"The bank believes knowledge and understanding of the issues are the keys for both farmers and banks and, for this reason, Rabobank this year appointed a full-time specialist in sustainable farming systems , Blake Holgate, to work with both staff and clients in a range of ways to incorporate sustainability within long-term farm business planning," the Rabobank spokeswoman said.
"In terms of our financial products, the bank's current product suite (primarily our All in One account) provides optimal flexibility for all farm financing requirements, including investing in improving the environmental sustainability and productivity of farms."
Reserve Bank sector credit data shows agriculture sector debt at $51.910 billion at the end of October, up 4.2% year-on-year.
ANZ wraps in UDC equipment lending
The ANZ package includes a loan for farmers considering developments that will improve their productivity such as farm conversion, feed systems, milking technology, stock housing and irrigation. It also features an equipment lending facility from ANZ subsidiary UDC Finance that uses existing farm assets as security to fund farm development initiatives.
"The recent ANZ privately Owned Business Barometer found that 68% of farmers were looking to increase farm production to improve their financial position, and 23% were looking to invest in farm infrastructure. We're seeing more farmers wanting to invest in improving water security, environmental compliance, infrastructure, and land use change such as cow housing and standoff facilities," Turley said.

"The Farm Development Package caters for any agricultural or horticultural development seeking to invest in systems to increase productivity and profit as well as reduce the impact on the environment."
ASB also unveiled a rural credit facility in January.  It says this combines the features of a cheque account, call account, overdraft and lending facilities. In a move reminiscent of BNZ's TotalMoney home loan product that has been replicated by Kiwibank and Westpac, it also enables rural businesses with seasonal periods where they are in significant credit, to offset their total cost of borrowing.
This article was first published in our email for paying subscribers. See here for more details and to subscribe.