LendMe eyes rural sector and top up loans for home buyers with P2P licence from the FMA expected 'shortly'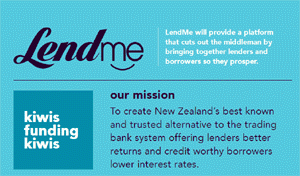 By Gareth Vaughan
LendMe is close to obtaining a peer-to-peer (P2P) lending licence and has the farming sector and top up loans for people striving to raise deposits to buy a house in its sights, director and shareholder Mark Kirkland says.
Kirkland, also a director at Auckland law firm Kirkland Morrison O'Callahan and an ex-Westpac counsel, told interest.co.nz LendMe has lodged its licence application with the Financial Markets Authority (FMA) and expects to be granted a licence shortly.
LendMe, whose CEO is Kirkland's sister Kerry the former head of marketing services at the University of Otago, is planning to offer loans for home purchase, residential investments, commercial property, business growth, new equipment and the rural sector.
"Our target (loan) market is between $50,000 and $2 million, the traditional first mortgage market," Kirkland said.
"We're not in the consumer finance market, that's not what we're into at this stage. (We're) in the more traditional banking market - first mortgages, second mortgages, anything that requires a security, preferably a mortgage security. We're going to also have quite a focus on farm lending. that's a big area for us."
In terms of the farming sector LendMe plans to offer mortgages on farms and equipment, seasonal lending, plus environmental product lending.
"We're also getting into 100% top up loans. So residentially if you're a good debt, for example two professionals earning a good income and you've got 5% of the (house) deposit versus the 20% the bank requires, what we'll be doing is splitting the loan up into the normal 80%, which they can either get at a bank or through LendMe, and the other 20% will be available as a different kind of product," said Kirkland.

"So we're going to meet that market. We're not regulated at this stage by the Reserve Bank so lenders are free to take that kind of opportunity on board. That kind of product will attract quite good returns."
Kirkland declined to provide specifics on interest rates for borrowers and investors, but said LendMe will have a credit grading system similar to the one operated by Harmoney, which to date is New Zealand's sole licenced P2P lender. It will also fractionalise individual borrowers' loans among potentially numerous investors.
And also like Harmoney, LendMe will have funding from institutional investors and potentially from local banks.
"We are in talks with several large organisations including banks, New Zealand trading banks. We're also in talks with overseas funds as well," Kirkland said.
"(But) our goal is in our tagline 'kiwis funding kiwis,' so I guess what my vision is is that I want ordinary people to have as an option in their investment portfolio the option to take (LendMe) loans."
Kirkland and fellow Kirkland Morrison O'Callahan director Edwin Morrison are LendMe's major shareholders. Kirkland says other shareholders include well known bankers, well known investors and well known "angels."
With more than $1 million raised to date, he said LendMe has plenty of funds and is planning on raising further capital, ideally through equity crowd funding platform Snowball Effect. LendMe is likely to seek between $750,000 and $1.5 million, with the capital raising soon.
"If not through Snowball Effect it will be an institution picking it up. I would like to have quite a wide base of kiwi shareholders," said Kirkland.
LendMe is alongside Wayne Croad's Lending Crowd, (Croad is managing director of Finance Direct), and John Bolton's Squirrel Money with P2P licence applications lodged with the FMA.
LendMe says its mission is "to create New Zealand's best known and trusted alternative to the trading bank system offering lenders better returns and credit worthy borrowers lower interest rates."
Here's a detailed back grounder on P2P lending. And here's a video interview with FMA director of compliance Elaine Campbell on P2P lending.
This article was first published in our email for paying subscribers. See here for more details and how to subscribe.