QV arm Rural Value has seen 'definite change in sentiment' after the latest sharp drop in global dairy prices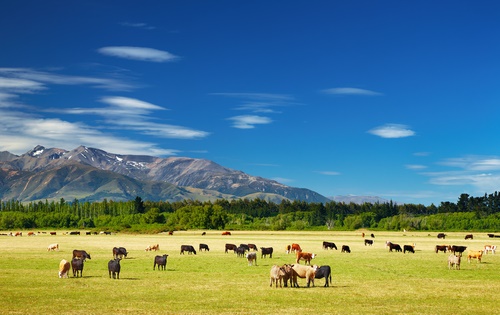 The latest sharp drop in global dairy prices has led to growing expectations that there will be a drop in farm prices, according to Rural Value, a division of Quotable Value.
QV's Rural Value National Manager, David Paterson said there was "a reasonable expectation" that the drop in dairy farm incomes would lead to a reduction in the sale price of dairy farms.
"We are noticing a definite change in sentiment following the latest Fonterra GDT auction and over the past few months we've witnessed a significant decline in the number of farm sales recorded."
Paterson said prior to the last two or three GDT auctions the market had been operating on the basis that the current commodity prices are a short term aberration and that the market would pick up through the season.
"However the latest auction, which resulted in yet another reduction, has prompted serious doubt in the market."
He said the projected pay-out was now below the cost of production for most operators and there was now "anecdotal evidence of pressure on some farmers to sell before their financial situation deteriorates further".
"Purchasers are also holding off on making investment decisions until there is a clearer picture of what is happening in the global dairy market and are waiting for distressed sales to occur to see what happens in the rural property market as a result."
Paterson said Rural Value had a number of highly skilled and qualified rural valuers working in the dairying areas of the country including Waikato, Manuwatu, Wairarapa, Whanganui, Hawkes Bay, Canterbury, Westland and Otago/Southland.
"Their insights show the impact of the decreasing dairy prices on the rural land market has so far been varied in different parts of the country."
Here is a breakdown of the views of the valuers around the country:
Waikato Region
Rural Value Waikato Registered Valuer, Chris Coakley, said, "In the greater Waikato districts we have seen continued sales activity and strong value growth in dairy and dairy support properties until very recently."
"During the last 12 months this growth has occurred in an accelerated manner relative to preceding years despite the lower commodity price and farms have been selling at higher values than they were a year ago particularly smaller units and those adjoining owner farm enlargements."
"However, since the latest drop in the milk solids price we've already seen an impact at an auction of an above average dairy farm, with good scale in the upper Waikato where at least one purchaser with pre-approved finance to purchase the property was asked by their financier to halt any purchase until their lending position had been re-evaluated."
"We do not have the data to yet say it has turned, but anecdotally we think this may be the beginning of sale prices softening and will keep an eye on upcoming auctions to see what impact this is having on values as more sales occur."
Central North Island
The general sentiment of the wider rural market in the central North Island has been positive but the recent dairy auction results have now dampened this optimism amongst the dairy market somewhat.
In the Manuwatu and Whanganui it has been a similar story to date, with good interest shown in properties offered to the market and in most cases good sale prices were still being achieved up until recently.
Rural Value Palmerston North Registered Valuer Simon Willocks said "Dairy sales that occurred in the early part of 2015, demonstrated a continued confidence in the industry but the more recent GDT dairy auction results, may well have broken this level of optimism."
Recorded dairy farm sales ranged from $40,000- $50,000 per hectare for better units compared $25,000-$35,000 per hectare for lesser types.
Rural Value Napier Registered Valuer Bevan Pickett said "the general sentiment of the wider rural market in 2015 in Hawke's Bay has been positive. There has been good interest shown in properties offered to the market and in most cases good sale prices achieved."
"The dairying portion of Hawke's Bay rural profile is relatively small and confined largely to the southern and western portions of the district. For these farmers the impact is real and there will be some clear effect on the region."
Rural Value Taranaki Valuer, Tony Welch said "Taranaki experienced a good level of activity and increased dairy farm value levels in the latter part of 2014 and early 2015 with the best farms selling at over $70,000 per hectare.
"However, there has been limited activity since the end of May as product auction prices have declined and it's expected that the real effect of lower product prices will be known next spring when the new season sales begin," he said.
"Good beef prices have stimulated some activity in that sector. There is also a steady demand for good quality Manuka blocks for honey production."
Canterbury
Ian Bunt the Principal Consultant for Rural Value in Canterbury said, "There have been fewer dairy farm sales in the Canterbury region during the first half of 2015 compared to strong sales and sustained value growth in 2014."
"Properties in the region tend to be significantly larger than those in the North Island and sale prices (land and buildings) ranged between $45,000 and $55,000 per hectare generally speaking through 2014-early 2015."
"The current market level is in all likelihood below levels set in 2014/early 2015, and while buyers and sellers have been reasonably upbeat, in the last few weeks sentiment has changed."
"In the market place there are rumours of purchasers now attempting to back away from agreements signed at 2014/early 2015 accepted levels."
"Potential buyers in the market are now opting to sit and wait for several months or at least (as they see it) until the first distressed sales occur before committing to a purchase."
"There were some good sales from March to June but that now appears to count for nothing and valuers are well aware the farm market relies on few sales to change it quite rapidly."
Otago/Southland Region
There has also been a decline in activity with a fewer number of sales over the first six months of 2015 than during 2014 however so far there has been no significant decline in sale prices.
Rural Value National Manager David Paterson said, "The market is very quiet at present and it's likely that values will be lower but there is currently no real evidence due to lack of recent sales data."
"There seems to be limited interest from buyers with a recent dairy unit attracting no bids at auction however good farms in Southland still selling at between $42,000 to $48,000 per hectare while second and third tier properties are becoming harder to sell."
"Banks are working closely with farmers to help with revised budgeting forecasts, as extending credit in instances where debt/equity levels are already under pressure is not seen a viable solution long term. They are also asking farmers to minimise seasonal spending where possible."
"Spring will be the telling time for a lot of dairy farmers but so far there is only one report of a forced sale in Southland."
"Over the last several years the dairy farm market has greatly influenced sales prices and values in the arable, finishing, and to a lesser extent, the grazing market."
"However, generally these types of farms are continuing to sell well and we may now see the two markets become more disassociated as the net profit per hectare / per production gap closes." 
QV is New Zealand's largest valuation and property services company which offers independent and extensive services across the residential, rural, government and commercial sectors in New Zealand and Australia.