TPP deal finally done; PM says deal eliminates tariffs for 93% of NZ exports to US, Japan, Canada, Mexico and Peru; Dairy companies disappointed with deal; Beef tariffs removed; drug costs to rise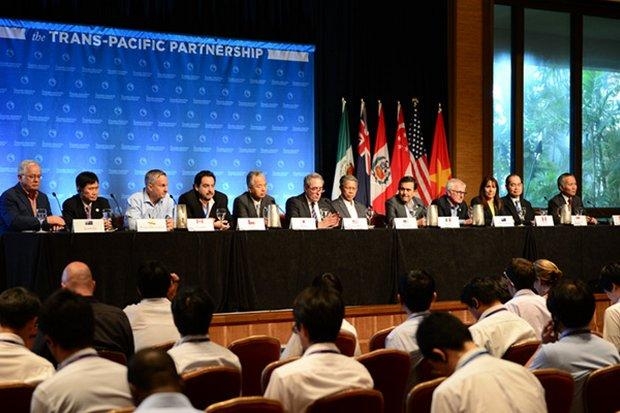 By Bernard Hickey
A Trans-Pacific Partnership Agreement (TPPA) between 11 countries covering 40% of global GDP has finally been agreed after 25 years of talks that were initially led by New Zealand.
Prime Minister John Key hailed the deal has New Zealand's biggest ever trade agreement which would give exporters better access to 800 million customers across Asia and the Pacific.
"In particular, TPP represents New Zealand's first FTA relationship with the largest and third-largest economies in the world – the United States and Japan. Successive New Zealand governments have been working to achieve this for 25 years," Key said.
The deal would eliminate all tariffs on 93% of exports to New Zealand's new trade agreement partners, including the United States, Japan, Canada, Mexico and Peru, he said.
However, dairy exporters would only get access to those markets through newly created quotas, in addition to tariff elimination on a number of products, Key said. Trade Minister Tim Groser subsequently said tariffs would remain on New Zealand wholemilk powder exports to the United States for 25 years.
Beef export tariffs to all TPP markets except Japan would be eliminated, Key said. 
"We're disappointed there wasn't agreement to eliminate all dairy tariffs, but overall it's a very good deal for New Zealand," Key said.
"We've seen with China how a free trade agreement can boost exports of goods and services and deepen trade and investment links," he said.
Key said the overall benefit of TPP to New Zealand had been estimated to be at least NZ$2.7 billion a year by 2030. He said consumers would not pay more for subsidised medicines and the Pharmac model would not change, although Groser later said drug costs would rise because of the deal.
'Not gold plated for dairy'
Groser later told Morning Report the deal meant all tariffs on cheese exports to Japan would be removed over time, while it would take 10 years for US infant formula tariffs to be removed and 25 years for wholemilk powder tariffs on exports to the United States to be removed.
"It's much less than what we would have wanted on some of our dairy products, but it's the best we could get," Groser said.
Groser said parts of the deal could be described as the 'gold standard' for trade agreements.
"There are other bits that fall far short of a gold standard in the dairy area, but it still leaves us miles ahead," he said.
"It was as good as we could get and a big step forward for New Zealand."
Groser said New Zealand now had trade agreements with its top five trading partners -- Australia, China, the United States, Japan and Korea.
"We've seen from previous FTAs, including the China FTA, how positive they have been for New Zealand trade and investment, and therefore in supporting jobs and growth for New Zealanders," Groser said.
"Not being in TPP, on the other hand, would put New Zealand at a competitive disadvantage compared to other countries."
Groser estimated the changes would ultimately reduce tariffs on New Zealand exports by NZ$259 million a year, which was double the initial forecast savings from the China trade deal.
Beef does much better than dairy
Groser said tariffs on beef exports to TPP countries would be eliminated, with the exception of Japan where tariffs would reduce from 38.5% to 9% per cent.
Tariffs on all other New Zealand exports to TPP countries - including fruit and vegetables, sheep meat, forestry products, seafood, wine and industrial products - would be eliminated, he said.
Groser said the most significant change for intellectual property rules was an extension of New Zealand's copyright period from 50 years to 70 years.
"The cost of this to consumers and businesses will be small to begin with and increases gradually over a 20-year period," he said.
"Other potentially far-reaching or costly proposals raised earlier in the negotiations were not included in the final agreement. Consumers will not pay more for subsidised medicines as a result of TPP and few additional costs are expected for the Government in the area of pharmaceuticals. There will also be no change to the PHARMAC model," he said.
"Regarding data protection for biologic medicines, New Zealand's existing policy settings and practices will be adequate to meet the provisions we have finally agreed on."
Groser said the TPP also contained a provision that allowed the Government to rule out Investor State Dispute Settlement challenges over tobacco control measures.
Groser said he expected the TPP to be in force within two years. MFAT has more detail here.
Here is a break-down on the likely tariff savings by types of export.
Dairy exporters disappointed
The Dairy Companies Association of New Zealand (DCANZ) said it was disappointed the agreement had not delivered a more significant opening up of TPP markets.
"It was always going to be very hard given the starting point for dairy as one of the most protected sectors globally" said DCANZ Chairman Malcolm Bailey.
"While further market opening is needed to help address price volatility in the global dairy market, the deal does contain some useful improvements," he said.
Fonterra Chairman John Wilson said the TPP deal was a "small but significant step forward."
"While the dairy outcome is far from perfect, we appreciate the significant effort made by Minister Groser and his negotiators to get some gains in market access for our farmers," Wilson said.
"Dairy has been very hard to resolve and New Zealand has managed to get some progress against the odds. Our team has done well to lift the deal from where it stood at the Ministerial meeting in Maui. While I am very disappointed that the deal falls far short of TPP's original ambition to eliminate all tariffs, there will be some useful gains for New Zealand dairy exporters in key TPP markets such as the US, Canada and Japan," he said.
Wilson said entrenched protectionism in the US dairy industry in particular ensured the deal failed to reach its potential.
Political reaction
Labour acting Leader Annette King said the Government appeared to have failed to deliver meaningful gains for dairy while adding costs for Pharmac.
"Tim Groser has been left in the dust on this deal despite the big promises made of a "gold standard agreement'," King said.
"The deal falls well below expectations with only disappointing crumbs for our dairy industry and extended patents on new drugs which will cost the taxpayer millions and leave New Zealanders without life-saving drugs," she said.
"If the best Tim Groser can say is it sets a 'direction of travel' then it looks like a failure. We've missed the bus on our biggest export."
King said the Government needed to say what the 'devil in the details' concessions, including whether the government had traded away rights to further restrict foreign ownership of housing or farm land and what agreements have been made to allow foreign corporations to sue New Zealand for regulating in the public interest.
"The Canadian and US Governments are planning long and open debates in their parliaments over the details of the deal. New Zealand's Government must commit to the same – an open consultation with public and a full parliamentary debate including the complete text of the agreement," King said.
"Labour supports free trade, but the TPPA is more than just a trade agreement. We have been very clear that we will not support it if it does not meet our bottom lines including meaningful gains for farmers, the ability to restrict house and land sales, protecting Pharmac and the ability to govern in the interests of New Zealanders."
(Updated with political reaction)