DairyNZ cuts breakeven milk price as higher than expected production lowers costs for farmers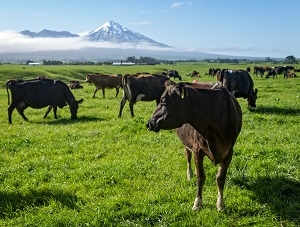 DairyNZ has revised its breakeven milk price for the average New Zealand dairy farmer down 15 cents to $5.25 per kg/MS.
"Due to favourable weather conditions production has been higher than initially forecast leading to lower costs per kgMS," the organisation says. 
Yet even at $5.25, the breakeven price is well above Fonterra's seemingly optimistic forecast farmgate milk price of $4.15 per kg/MS for the current season.
ASB economists cut their milk price forecast by 20 cents to $3.90, following prices falling for the fourth consecutive time at the fortnightly GlobalDairyTrade auction on February 17. The GDT Index fell by 2.8%, while the key wholemilk powder price fell a further 3.7%
Westpac economists trimmed their milk price forecast earlier this month by 20 cents to $4.00, while ANZ economists slashed theirs by 30 cents to $3.95. 
As for the 2016/17 season, Westpac has dropped its forecast to just $4.60; ANZ, $5.00; and Westpac is at $6.00.