State-owned farmer to sharply reduce scale of forestry-to-dairy conversions at Wairakei Estates; cites financial and environmental reasons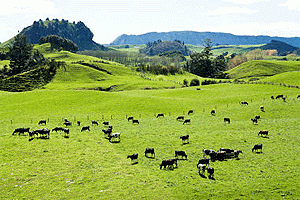 By Bernard Hickey
New Zealand's largest corporate farmer has announced it will sharply scale back its plans to convert thousands of hectares of forest near Taupo into dairy farms because of financial and environmental concerns.
State-owned Landcorp formally launched a review of its plans for leased forestry land at Wairakei Estate last year, citing the low dairy payout, the heavy capital requirements for the conversions and environmental concerns about nitrate leaching into the Waikato River catchment.
Chief Executive Steve Carden said Landcorp would now only increase its dairy herds on the Wairakei Estate from around 17,000 cows currently to between 22,000 to 23,000, rather than the originally planned increase to 38,000 to 40,000. He said Landcorp has originally planned to invest a total of up to NZ$285 million in converting the 14,500 hectare Wairakei Estate, but would now invest closer to NZ$255 million. It has already invested around NZ$120 million and the new plans to invest a further NZ$135 million over the next four to five years would be funded from existing cashflow and by increasing bank debt.
Carden said this would increase Landcorp's debt gearing from around 13-14% currently to around 16-17% by 2020, assuming a dairy payout of NZ$6/kg.
The decision was being closely watched by the dairy industry, farmers down-stream, bankers, environmentalists and the Government. See our previous articles here and here.
Environmentalists and some farmers downstream have argued the extra conversions would generate heavy new nitrate leaching into the Waikato River system, potentially restricting farmers downstream under future regimes where nutrient leaching was capped, and causing long-term environmental damage.
Landcorp issued an announcement early on Tuesday saying it had decided to significantly reduce the scale of further forestry-to-dairy conversions on the 14,500 hectare Wairakei Estate, which it leases from Wairakei Pastoral Ltd. Landcorp has already converted 13 farms with 17,000 cows over 6,400 hectares. It said the new plan would reduce the total cost by NZ$25-35 million.
"We've had some concerns about the Wairakei development in terms of the original plan for 38,000 to 40,000 cows. We're now looking at under the new revised land use plan at more like 21,000 to 23,000, which is around a 45% reduction in cows," Carden told Interest.co.nz.
Landcorp would also internalise its dairy support on the Estate, rather than use farms outside Wairakei, and would build covered pads for wintering cows and to shade cows in summer. It would also build two more sheep milking farms on the Estate, he said.
"The net effect of that is a significant reduction in the amount of nutrient reduction that is occuring from the Estate," he said.
The revised plans would reduce expected nitrate leaching by 45% from the original plan, and Landcorp's plans for better fertiliser application and covered wintering pads would reduce leaching by 35% from today's levels.
"We've taken a rigorous approach to what is the highest and best use of the land and determining the cost of the different uses we could put the land to -- what generates the highest return and delivers the best environmental outcome," he said.
"I still think there's room for some traditional expansion of bovine dairy, but certainly not to the same extent we had originally planned. When you look at the investment in terms of cow barns, precision application of fertiliser, we're looking to substantially drive down on our existing footprint of land our nutrient leaching rates."
Carden denied that Landcorp's decision would have been different if current payouts of around NZ$4-5 kg had been higher, saying Landcorp began reviewing the plans 18 months ago when payout expectations were higher.
"What we're trying to do as a company is move away from the volatility that the dairy sector is providing and will continue into the future -- whether that's high payouts or low payouts," he said.
"We still have a fairly optimistic outloook of where the dairy payout will be in the long term. This is a 45 year investment development so we take a very long term view on land use and dairy payout levels."
The dairy conversions would make up around 60-65% of the total land use, while dairy support would make up 17-18%.
'Days of expanding dairy footprint over'
Carden said Landcorp was now finding it difficult to find land for dairy conversion that was both economically and environmentally sustainable.
"It's a struggle for everyone. The days of New Zealand continuing to expand its dairy footprint are largely coming to a close. The more marginal land -- of which the land around the central plateau is one -- is increasingly looking unviable for large scale dairy conversions," he said.
"The financials make it challenging by virtue of both the volatility in dairy returns and dairy farm prices still remaining very high. The environmental piece is probably the most challenging and what we're trying to do with this land use change is be proactive about where we see the environmental restrictions going and consumer expectatations going, and trying to get ahead of them."
Carden said the Waikato Regional Council's  'Healthy Rivers' plan was now up for debate and scrutiny.
"It's going to get harder to do large scale dairy conversions and to continue to do status quo dairy operations without some significant nutrient restrictions going forward, and we want to make sure we're ahead of that," he said.
Landcorp would focus now on growing the value of its dairy output, rather than just volume. He said Landcorp was exploring organic milk production and had already started building an A2 herd.
"These are niche opportunities where we think we can, with our partners, get a premium over time. That's more sustainable long term for the country than simply putting 5% more additional cows onto the footprint," he said.
Landcorp reported last year its total debt stood at  NZ$361.8 million as at June 30, 2015, including bank borrowings of NZ$210.7 million -- up from from NZ$172.4 million in 2013/14. Last week Landcorp reported a net operating loss of NZ$8.9 million for the six months to December 30 and forecast a full year net operating loss of between NZ$8 million and NZ$12 million.
Land owner and ecologist welcome move
Landcorp entered a 40 year leasehold deal in 2004 with Auckland property developers Ross Green, Mark Wyborn and Trevor Farmer, who bought the land from Fletcher Challenge Forests in 2003. Landcorp, which pays for the sheds, races, fences and houses on the land, has already spent NZ$120 million converting 13 dairy farms on the estate and originally had plans for as many as 39 farms, which would have made it the biggest dairy farm operation in the Southern Hemisphere.
Green was quoted in the Landcorp statement as saying he supported the new plans.
Mike Joy, a fresh-water ecologist at Massey University and a prominent critic of forestry-to-dairy conversions, is on Landcorp's Environmental Reference Group.
He was quoted as saying the decision was a significant win for the environment.
"It is pleasing to see them proactively changing tack on the development to significantly reduce its environmental footprint," Joy said.
Federated Farmers President William Rolleston said he was pleased Landcorp was proactively reducing its nutrient pressure on the broader Waikato catchment. Waikato farmers last year questioned whether a moratorium was needed on the central plateau conversions.
"Landcorp has taken the initiative here and should be applauded for their efforts and aspirations," he said.
Landcorp said that under the new plan the land leased from Wairakei Estate would be used for dairy (irrigated and dryland), dairy support and sheep milking. Other potential uses were also being investigated, it said.
Green reaction
Green Party Water spokeswoman Catherine Delahunty described the decision as a brave one by Landcorp and a victory for environmental campaigners, including those 8,000 people who signed a petition presented to Parliament calling on Landcorp to abandon its conversion plans.
"The next step would be to abandon all plans to increase dairying on the Wairakei estate. We're sure that the price of dairy solids slumping also contributed to Landcorp's decision," Delahunty said.
(Updated with Green reaction, interview with Landcorp CEO Steve Carden)