UBS analyst forecasts Fonterra will take a writedown of $160 million on its Chinese Beingmate shareholding and reduce dividend payment this year to 32c from 40c last year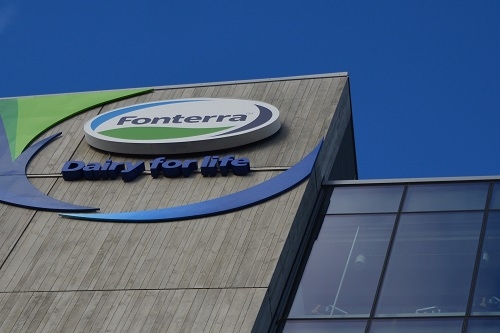 By David Hargreaves
The combined impacts of damages awarded to food group Danone, a writedown on its investment in Chinese company Beingmate Baby & Child Food Co, and underlying earnings pressure from lower NZ ingredient margins are likely to see dairy giant Fonterra reducing its dividend to farmers from 40c to 32c this year, according to an analyst.
Fonterra is set to announce results for the first half of the current financial year next Wednesday (March 21) and a key question for farmers and investors is how much it will write down the value of its 18.8% shareholding in Beingmate, which recently announced an RMB 964 million loss for the year (about NZ$208 million at current exchange rates).
At the time Beingmate warned in January of the likely magnitude of its losses, Fonterra said that that four Beingmate directors, including the two directors designated by Fonterra, "have expressed reservations relating to some aspects of Beingmate's financial management and reporting practices".
This was all a far cry from just a few years ago. When announcing the intention to invest in Beingmate Fonterra Chief Executive Theo Spierings said the partnership would be a "game changer" that would "provide a direct line into the infant formula market in China, which is the biggest growth story in paediatric nutrition in the world". About NZ$750 million was invested by Fonterra in the company in 2015. 
However, the Beingmate shares have recently been changing hands at about RMB 5.56, versus the RMB 18 Fonterra paid for them - and to this point Fonterra has taken relatively small writedowns on its holding.
UBS analyst Marcus Curley is predicting that Fonterra will write down the carrying value of its Beingmate stake by NZ$160 million.
"At this stage we believe Fonterra will value Beingmate based on a return to strong profitability as the Chinese infant formula market consolidates over the next 5 years," he says.
"In comparison, we believe Beingmate's current share price implies a potential write-down of $380m."
Curley notes that Fonterra will also be affected by the $183 million damages award to Danone. 
And he says there's underlying earnings pressure from lower NZ ingredient margins caused largely by strength in Whole Milk Powder prices but weakness in both protein and cheese commodity prices
However, Curley retains a positive view of the value of Fonterra's NZX-listed shareholders' funds units (FSF).
"...Our analysis suggests FSF's recent share price weakness broadly captures these issues. Plus the NZ ingredients margin should recover over time as stream returns normalise."
Curley has a 12 month 'target' price for the FSF units of $7.60 compared with a current price of $5.95.
"We believe FSF's valuation remains attractive trading at a discount to both absolute and relative benchmarks. However, we acknowledge our positive viewpoint may fall on deaf ears in the short-term."