The 'First Citizen of the Provinces' has called for the resignation of another top public-sector figure – Fonterra Chairman John Wilson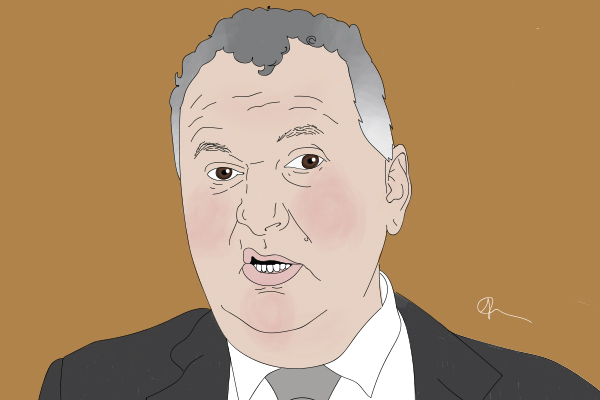 The self-described 'First Citizen of the Provinces' and Minister of Regional Economic Development Shane Jones has a message for Fonterra's Chairman John Wilson – it's time to resign.
"The leadership of Fonterra, I believe, starting with the Chairman is full of their own importance and has become disconnected," Jones told reporters on his way out of the House on Wednesday.
"The Chief Executive has gone – well that's only one party of the double Dutch that we've had to put up with in Fonterra over the last nine years.
"I thoroughly believe this: as the Chief Executive leaves Fonterra, the Chairman should in quick order catch the next cab out of town."
Former Chief Executive Theo Spierings resigned in March but is not due to leave till some unspecified time later this year.
NZ First Leader Winston Peters was highly critical of Spierings' salary before the election, calling him a "fat cat."
Jones is not happy with the dairy giant's activity overseas and the money it lost in foreign ventures.
In March, Fonterra wrote down the value of Beingmate from $405 million to $244 million. In January, the Chinese company downgraded its 2017 earnings to a loss of $171-$241 million.
The company has been struggling for much of the period since Fonterra bought a $750 million stake in 2015.
"I'm worried about the absolute absence of accountability for the enormous amounts of dough that the current Fonterra chairman has presided over," Jones says.
He adds that Fonterra should focus less on interfering in politics and more on justifying the money it lost overseas.
"I have requested that the Minister of Agriculture, when he looks at the dairy restructuring, identify the issues and whether or not it's time for us to look at a restructuring of Fonterra."
Calling for public sector chief executives and chairmen and woman to resign has become somewhat of a regular occurrence for Jones.
After Air New Zealand canned some of its flights to regional parts of the country, he called on its chairman, Tony Carter, to fall on his sword.
After news broke that a Warehouse branch in Kaikohe closing, the NZ First MP blasted the company's Chairwoman, Joan Withers.
Both times he has been less than apologetic about his comments.
Jones, however, hasn't been the first person to suggest that Wilson's time at Fonterra should be called.
Rein it in, 'motor mouth Jones'
National's Regional Economic Development Spokesman Paul Goldsmith says the Prime Minister needs to step in to stop Jones from attacking business leaders.
"Shane Jones' attacks on Fonterra's leadership are the latest burp from a man who is fast losing any respect he once had," Goldsmith says.
He says Jones' comments that he's "worried about the absolute absence of accountability for the enormous amounts of dough that the current Fonterra chairman has presided over" is "startling hypocrisy."
"[This] from the same man who defended his own region getting the lion's share of funding from his billion-dollar Provincial Growth Fund by stating 'to the winner goes the booty.'"