Finance Minister Grant Robertson says banks have enough time and money to implement new capital rules without making dairy farmers pay the price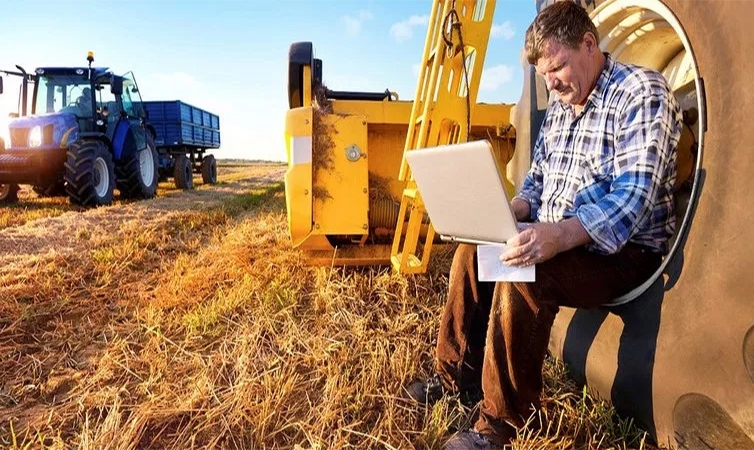 Finance Minister Grant Robertson says there's "no need" for a particular sector to "bear the brunt" of the Reserve Bank's (RBNZ) new rules requiring banks to hold more capital.
"I don't believe there's a justification here for there to be a blow to rural communities," Robertson said.
Federated Farmers and the National Party are among those concerned that if banks restrict their lending, or charge higher interest rates, to mitigate the effects of tougher capital requirements, dairy farmers will be hardest hit.
The thinking is that a bank keen to maintain or boost its profit to keep shareholders happy while it pays a higher premium to insure itself against the risk of a financial crisis, might be hesitant to lend to a sector that has high debt and also faces environmental challenges.
Robertson didn't go so far as to say he would intervene to protect higher risk borrowers in the face of the new rules, which the RBNZ expects will increase interest rates by an average of 20.5 basis points in the long-run, and see banks restrict their lending by 2.2 basis points in the short-term.
However, he said: "I think it is very important that no bank uses this as an opportunity to target a particular sector. There is no need for that…
"New Zealand's banks - particularly the four Australian-owned ones - are extremely profitable."
Figures released by the RBNZ on Thursday show the big four banks - ANZ, ASB, BNZ and Westpac - had the highest return on shareholders' equity last year out of 14 developed countries.
"There is now a seven-year timeframe [rather than a five-year one as initially proposed] in which banks are able to work with the RBNZ on a plan," Robertson said.
"I am confident this can be managed."
'We can't set policy based on a few'
RBNZ Governor Adrian Orr has repeatedly said he believes banks operate in a competitive environment.
He reiterated at a media conference on Thursday that the changes being made relate to the level of capital, not the risk allocation of capital.
He also made the point that some banks over-exposed to dairy have been reducing their exposures to the sector, regardless of the RBNZ's requirements.
In other words, banks have in the past made commercial decisions to lend a lot to dairy, so are now making commercial decisions to ease back.
"Lending into the agricultural sector is still strongly positive," Orr said.
"It's only a part of the dairy sector that is highly negative, and that is for a specific idiosyncratic set of reasons established by banks and borrowers. That's the nub of it.
"We can't set policy based on a few. This is based on the nation and the banking sector as a whole."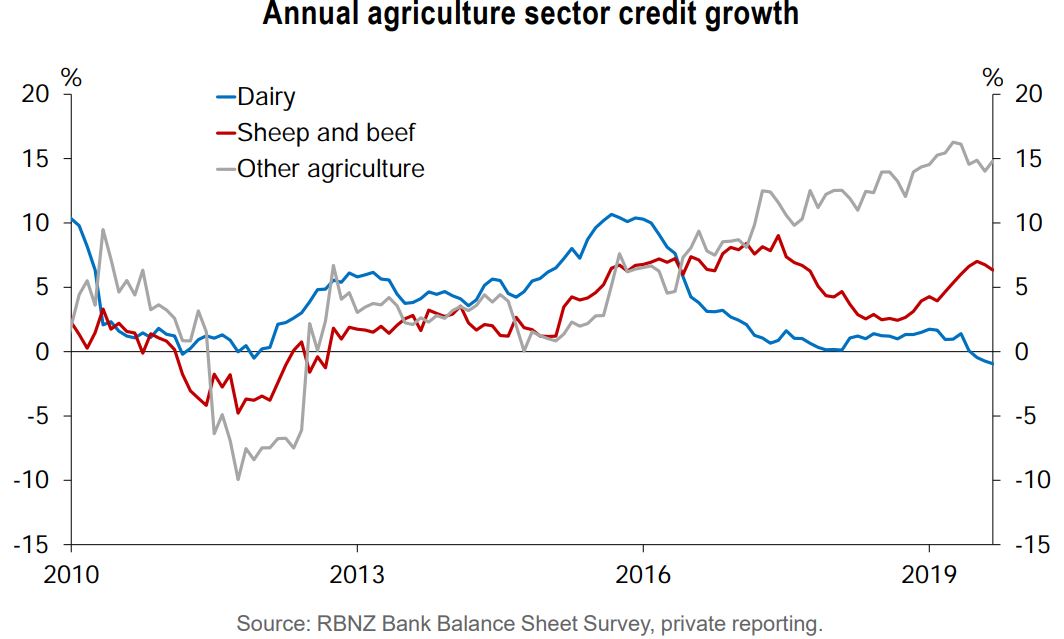 The RBNZ, in its November Financial Stability Report, explained: "Dairy sector debt decreased by 0.9% in the year to September.
"The contraction in credit reflects banks' reduced appetite to lend to the sector and a decline in demand for new loans.
"Banks expect to tighten credit availability further over the next six months.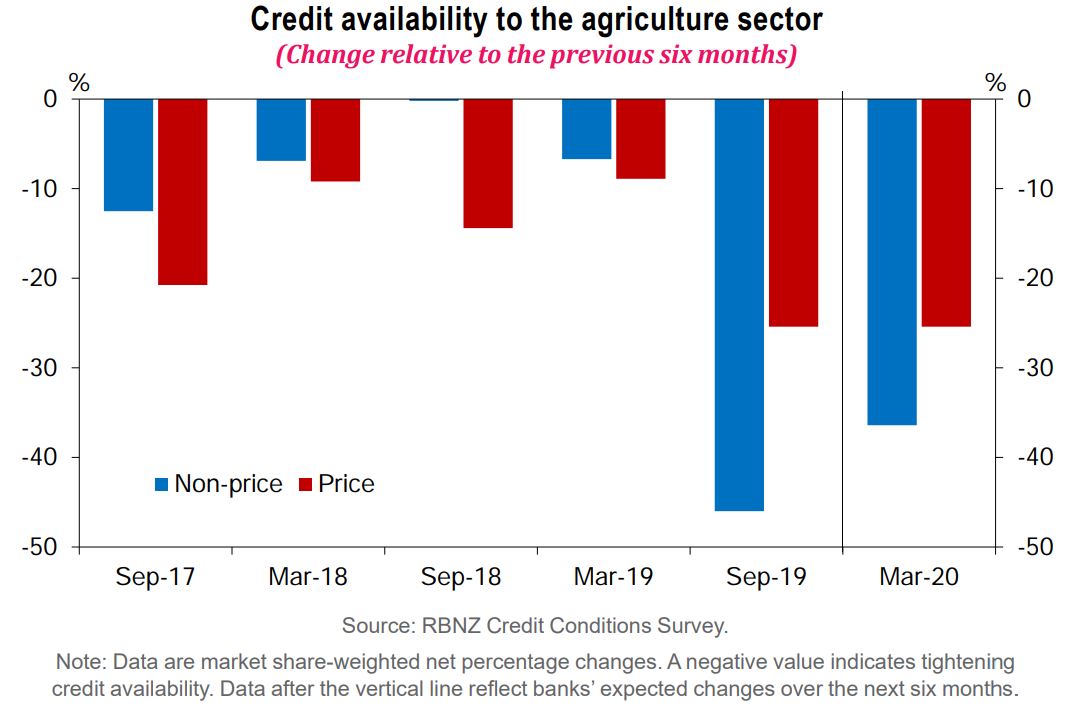 "A number of factors are contributing to this trend, including a desire to diversify agricultural exposures, and a re-evaluation of lending portfolios to manage the transition to higher capital levels.
"In particular, banks may seek to reduce the availability of standby facilities that carry ongoing capital requirements irrespective of any drawdowns, and raise interest rates on riskier loans."
Why banks have been reducing their exposures to dairy
The dairy sector has a high debt-to-income ratio at 350%, and debt in the dairy sector is concentrated, with 30% of debt held by highly indebted farms
"While current prices are supportive of farm profitability, significant pockets of debt remain vulnerable to a price downturn and the sector is facing a range of challenges to its long-term outlook," the RBNZ said.
"Progress has been made by some borrowers in reducing debt and restoring balance sheet sustainability. However, the most indebted farms have struggled to achieve profitability and repay debt.
"A significant share of dairy loans are still being closely monitored by banks, and the share of loans that are non-performing has increased."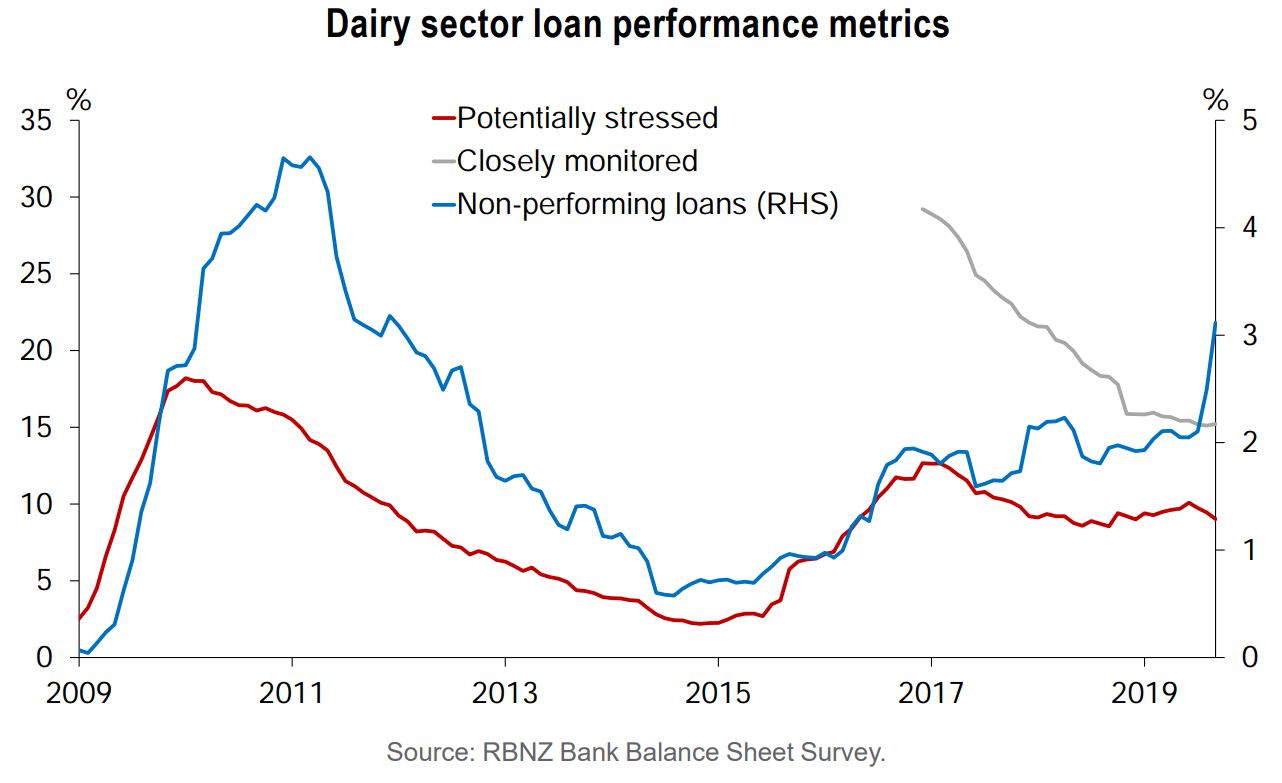 The agriculture sector accounts for around 14% of financial system lending. Two thirds of this goes towards dairy.