Despite the apparent shunning, by the masses, of cash, the amount of cash in circulation has never been higher - and there was plenty of it moving around before the start of the lockdown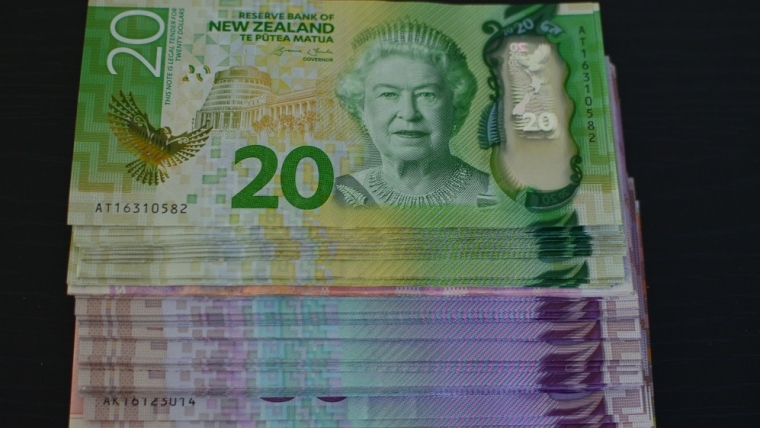 It has been one of the great contradictions in recent years.
We all hear and talk about how nobody uses cash these days. With all the alternatives, why bother?
The Reserve Bank has been doing a lot of work on the future of cash and is conscious that those who still use cash don't be marginalised.
And clearly some people still do.
The numbers do not lie. 
Reserve Bank figures have shown that the amount of cash in circulation keeps going up even as all the talk is about nobody using cash.
Then you throw a pandemic in the mix and, well, things go a bit crazy.
Whether this all drove some people to open 'mattress accounts' by taking out and stashing some hard cash we'll never know. That's not the sort of thing people talk about. But there certainly was a bit of activity in the run-up to New Zealand going into lockdown in late March.
The RBNZ releases annual figures on cash in circulation, based on how much was in circulation as of the last Wednesday in March.
Of course this year the last Wednesday in March just happened to be right on the cusp of when we went into lockdown.
The result was over $1 billion more in the hard folding stuff was out there as at March 25, 2020 than had been the case a year earlier. Total cash in the hands of the public was just under $7.318 billion, compared with $6.285 billion (the previous record) a year earlier.
The big stuff was in vogue, with over $3 billion worth of $50 notes (up over half a billion dollars on a year earlier) and well over $2.5 billion in $100 notes (up from over $2.2 billion). 
'A significant uplift'
In an explanatory note with the figures the RBNZ said the cash in circulation "involved a very significant uplift from 2019".
"This was caused by an unprecedented demand for cash from system participants (banks, retailers, the public) in the days leading up to the COVID-19 pandemic lockdown in New Zealand, which commenced at 11.59pm on 25 March 2020. It is expected a large portion of this increase will be returned to the Reserve Bank once the pandemic is over."
We were interested in getting a little more information on the build up of the amount of cash out there and what happened in the run-up to the lockdown, so we approached the RBNZ for more information and the big five banks to see what they could tell us about cash movements before the lockdown.
The RBNZ for its part issued several media releases prior to and during the lockdown, basically reassuring that the financial system was working well and there was plenty of cash. And it covers this subject in its Covid-19 page on the RBNZ website. 
In response to our queries an RBNZ spokesperson said the RBNZ and "wider cash sector" had been working together to ensure resilience and mitigate any potential service disruptions or demand changes due to Covid-19. This work began in February, ramping up to "intensive work" from early March.
'Large cash withdrawals'
"We had anecdotal reports from banks of an increase in large cash withdrawals by a small number of customers in the week or so leading up to lockdown," the spokesperson said. 
They said that data from the five major banks showed that the total value of cash withdrawals (all customer segments, over counter and ATM) in the seven days before lockdown (to 25 March), was about 10% up on the seven day period ending on 26 February, four weeks earlier.
"Cash withdrawals then fell in the first seven days of lockdown (ending 1 April) to about a quarter of the 26 February figure.   Four weeks into lockdown, the seven days ending 22 April saw a total value of cash withdrawals of about a third of the 26 February figure."
On the other side of that cash deposits (all customer segments, over counter and ATM) by total value over seven days went up about a third before lockdown (25 March) compared with four weeks earlier (ending 26 February).  Then, the seven-day totals were about 10% and 15% down on the February total for the periods ended 1 and 22 April respectively.
A separate series of data from the RBNZ for the March month showed some big swings due to the general fiscal stimulus and the wage subsidy, with bank deposits surging by some $4.5 billion in the month. 
The spokesperson said cash system dynamics fluctuate for seasonal reasons such as major holidays, tourism peaks, etc, and during response events such as natural disasters or pandemics.
'Cash levels will normalise'
"We expect that the level of cash on issue will begin to normalise over the coming weeks and months."
We asked the big five banks three questions:
1. Did your bank observe an increase in the amount of cash being withdrawn by customers ahead of the lockdown?
2. Did this cause any problems?
3. Has this withdrawal of funds now ceased?
This is what they said in response:
ANZ:

"We didn't see anything out of the ordinary on withdrawals, and this continues to be the case. We have seen an increase in deposits."

ASB:

1. Did your bank observe an increase in the amount of cash being withdrawn by customers ahead of the lockdown?
"We did see an increase in customers withdrawing money prior to lockdown, however we had increased the amount of cash we carried to ensure our branches and ATMs were well stocked in anticipation of this. We would like to take the opportunity to reassure our customers that while these are unusual circumstances, we have been continuing to manage cash stocks as usual, and this does not change our standard practice of ensuring cash is managed and handled in a safe manner."

2. Did this cause any problems?
"As above, there was a significant increase in withdrawals in the week before lockdown, however this did not cause any issues as ASB had increased its cash stock to cope with increased demand."

3. Has this withdrawal of funds now ceased?
"We saw cash withdrawals through lockdown drop significantly, as expected. Over the last week in level 3 we have seen a slight increase in activity."

BNZ:

"In the lead-up to lockdown and during lock down itself, we have seen lower levels of cash withdrawals across our ATM and branch network.

"Given the nature of COVID-19, we have seen the majority of our customers move to contactless payments wherever possible.

"As a bank, we are holding slightly higher levels of cash than we might otherwise as a prudent measure to ensure financial stability."

Kiwibank:

"Prior to lockdown we did experience higher than usual demands on cash which was to be expected given the circumstances. We saw the same sort of spikes after the Canterbury and Kaikoura earthquakes.

"We encourage our customers to talk through their options before exposing themselves to loss and risk by holding more cash than normal. With the range of digital, phone banking, and payment options available there are plenty of safer alternatives to withdrawing large amounts of cash.

"In short we were able to meet the short-term increase in demand for cash and levels are now back to more normal volumes."  

Westpac:

"Westpac NZ noticed a manageable increase in cash withdrawals in the lead-up to the Level 4 lockdown period. 

"We prepared for this anticipated increase by replenishing machines with cash more frequently. This is not an unusual occurrence, as we regularly plan for localised increases in cash withdrawals for major events such as concerts and sporting events.

"Cash withdrawals from ATMs reduced significantly during the Level 4 lockdown period."
So, there you have it. The great cash bulge of 2020. Seemingly it's now over. And it will be interesting to see if the amount of cash that was in the hands of the NZ public as at March 25, 2020 proves to be an all-time high water mark as we move more and more to the cashless society.
Or will the folding stuff maintain some allure? People have been writing off gold for years.
*This article was first published in our email for paying subscribers. See here for more details and how to subscribe.