RBNZ Deputy Governor Geoff Bascand says deposit rates could drop to zero and some savers might want to put their money to work elsewhere
By Gareth Vaughan
Reserve Bank deputy governor Geoff Bascand suggests at least some bank depositors might want to put their money to use elsewhere.
Speaking to interest.co.nz after the Reserve Bank issued its latest Financial Stability Report on Wednesday Bascand, who is also general manager of financial stability, told interest.co.nz it's possible deposit rates could drop to zero. This is against the backdrop of the COVID-19 crisis and the Official Cash Rate (OCR) at just 0.25%.
"We don't really anticipate negative deposit rates," Bascand said.
He said negative wholesale or interbank deposit rates are possible, but for retail depositors the Reserve Bank is "expecting them to be floored by zero." ANZ, the country's biggest bank, now has all its advertised deposit rates - except for its five-year rate - below 2%. The five-year rate is 2%. (All banks' advertised term deposit rates from one to nine months are here, and here for one to five year terms). 
"Deposit rates have been declining and that's part of what we have to do in a monetary policy sense to reduce the cost of funds to banks so that they can reduce the cost to borrowers. And I guess it also encourages savers to look at other areas to divert those funds," said Bascand. 
"It reduces the cost of equity if they shift their funds from a deposit into an equity instrument, it pushes up those prices and reduces that cost in a different way to the equity funders. They could put it into other assets... so hopefully seeing that saving used closer to supporting the economy."
Asked whether he was encouraging savers to put deposit money to use elsewhere, Bascand said this was a choice savers have to consider.
"What we've said for quite some time is we expect interest rates to be very low for quite a period of time. There's not just a short dip and we suddenly see interest rates go up. We think in the circumstances it'll be quite a while for real growth to pick up, let alone inflation to pick up. There'll be quite a lot of surplus capacity in the economy, unemployment, other resources not fully utilised, capital that could be sitting a bit idle."
"It takes a while for any likelihood really of interest rates to rise. So if you're a saver you've got to say 'well, do I just accept that?' You've always got to mix up the safety element, how much I want certainty of my savings being there, which is why you might keep it in a term deposit or a bank, versus how much I need income from it or a higher return. And I might get a higher return somewhere else. They're going to have to make those portfolio choices," Bascand said.
In its latest Monetary Policy Statement on May 13 the Reserve Bank nearly doubled its quantitative easing programme to $60 billion, and kept the door open to the possibility of a negative OCR.
March saw the highest month-on-month gain ever in household deposit growth of more than $4.5 billion, according to Reserve Bank data, as COVID-19 fears gripped the world and the Government launched its wage subsidy scheme. The previous record high was $2.6 billion in October 2008 as Global Financial Crisis fears held sway. (See chart at the foot of this article).
No rush to implement deposit insurance
Whilst the Government is proposing the introduction of a deposit insurance scheme through the review of the Reserve Bank of New Zealand Act, full implementation isn't scheduled until 2023. Asked whether this could be brought forward, Bascand noted because it would require legislation it's ultimately a decision for the Government. Speaking to interest.co.nz in April Finance Minister Grant Robertson indicated no urgency in deploying a deposit insurance scheme.
"What we've indicated is we are working on being able to be ready to introduce legislation if the Government wish to do so," Bascand said. "...what we're doing is preparing advice on getting the Minister and Cabinet prepared if they wish to move at an earlier date." 
Asked whether the Reserve Bank had advised the Government it should introduce deposit insurance before 2023, Bascand said there had been discussion of optionality and consultation with the banking industry.
"There are practical things like how would you pay the money out. The whole idea of the scheme is to support depositors if their institution failed. You want to get them the money so they can actually pay their bills. You've got to get ready to think what are the mechanisms for that? We don't have an institution that would run the scheme as yet. You've got to make sure you know what's covered by it, what form of savings are covered, etc. It's really just getting those options well developed for discussion with Cabinet," said Bascand.
A consultation paper issued in March by the Treasury and Reserve Bank team overseeing the Reserve Bank Act review proposed which products should be covered by the scheme.
In the video Bascand also talks about mortgage rates, banks' appetite to lend, cyber-attacks, loan deferrals and climate change.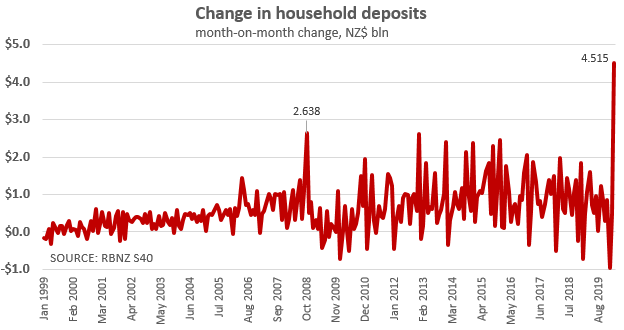 *This article was first published in our email for paying subscribers early on Thursday morning. See here for more details and how to subscribe.