PM pleased the RBNZ is looking to reimpose stricter bank lending rules on investors than owner-occupiers, but won't go so far as to suggest what new LVR rules should look like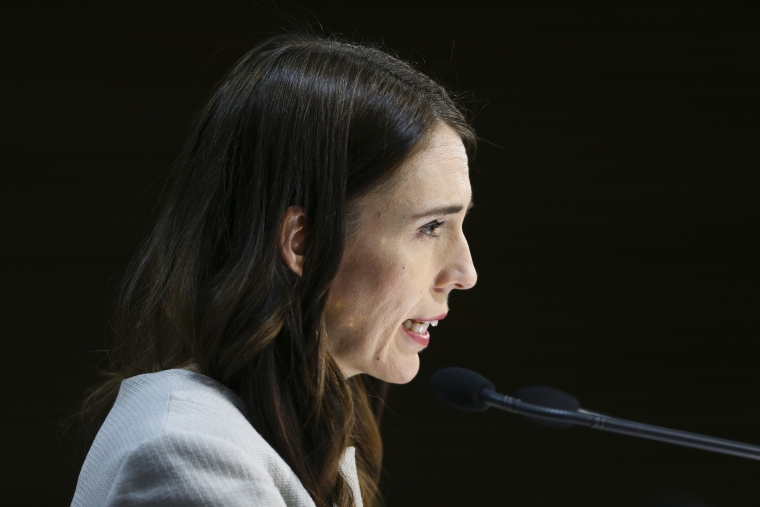 Prime Minister Jacinda Ardern is avoiding wading into the debate over whether the Reserve Bank (RBNZ) should reimpose restrictions on bank lending against both investor and owner-occupier property, or just investor property. 
RBNZ Deputy Governor Geoff Bascand last week clarified the RBNZ wanted to reinstate the same loan-to-value ratio (LVR) restrictions it had in place earlier this year.
These require at least 80% of a bank's owner-occupier lending to go to borrowers with deposits of at least 20%, and at least 95% of a bank's investor lending to go to borrowers with deposits of at least 30%.
Asked on Monday whether she'd be comfortable with restrictions being put back on both investor and owner-occupier lending, Ardern said: "I need to allow the Reserve Bank to make those decisions…
"I am pleased to see that there has been a particular focus on investors and that three of our mainstream lenders have already moved on that in anticipation of likely moves by the Reserve Bank."
Finance Minister Grant Robertson a couple of weeks ago gave media the impression he was putting pressure on the RBNZ to rein in sky-rocketing house prices on the back of its looser monetary policy. He specifically said he had brought forward a scheduled meeting with the RBNZ. 
Then, following the RBNZ announcing it would consult on reimposing restrictions from March 1, rather than May as previously promised, Robertson voiced his approval.
"In the current circumstances this is a sensible decision. I welcome it and I would like to see the work happen as soon as possible," he said. 
ASB last Thursday announced it would immediately start requiring investors to have a 30% deposit, rather than 20%, as per its own policy. ANZ followed, saying it would adopt the same approach from December 7. Westpac never lifted LVR restrictions when the RBNZ removed them on May 1.
National's shadow treasurer, Andrew Bayly, told interest.co.nz he was concerned reimposing LVR restrictions could disproportionately disadvantage first-home buyers.
He didn't go so far as to say they should only be imposed on investor lending, but said it would be "disappointing" if restrictions were imposed on first-home buyers. Bayly said investors should be targeted.
This graph, put together by Kiwibank economists, using RBNZ data, shows there's been a larger rise in high LVR lending to investors compared to first-home buyers since the LVR restrictions were removed, but the uptick in the latter is still notable.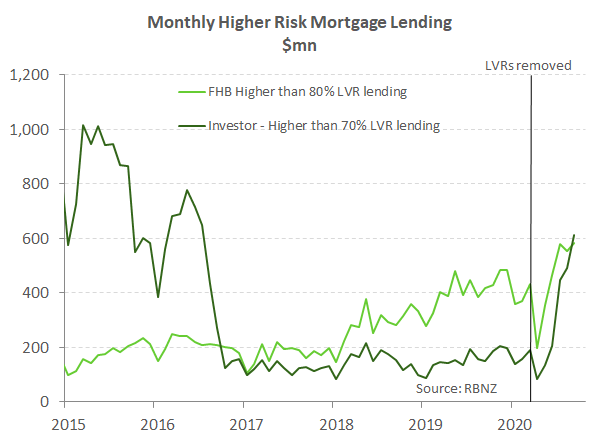 RBNZ data also shows there's been an increase in the portion of bank loans to owner-occupiers, including first-home buyers, who are taking out a relatively high amount of debt compared to their incomes.
This table shows the increase in the percentage of mortgage lending to borrowers with debt worth more than five times the value of their annual income. This debt-to-income ratio is considered high-risk by the RBNZ:
| | | | |
| --- | --- | --- | --- |
| Group | Sep 20 | Jun 20 | Sep 19 |
| First-home buyers | 43% | 41% | 36% |
| Other owner-occupiers | 38% | 36% | 30% |