Could New Zealand First save the Conduct of Financial Institutions regime?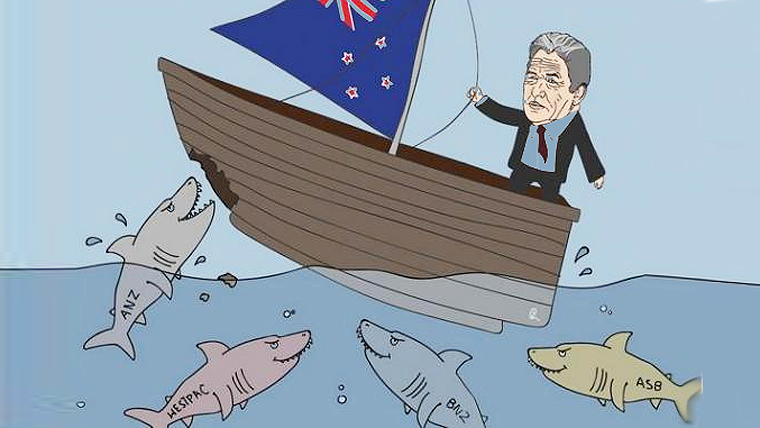 New Zealand First, currently engaged in negotiations to form a government with National and ACT, wants to create a government guarantee to boost the capital of NZ owned banks. The idea is this would enable one of them to become government banker.
This policy features in NZ First's 2023 election policies, albeit with scant details. The party wants to; "Create a Crown guarantee for Tier 1 capital to expand New Zealand owned registered banks so that at least one could become New Zealand local and central government's banker."
Banks have specific regulatory capital requirements set by the Reserve Bank, which are the form of funding standing first in line to absorb any losses banks may incur. Tier 1 capital includes the likes of retained earnings and shares. Thus smaller, less profitable banks find it harder to significantly grow capital. And more capital enables banks to do more lending.
This NZ First policy is a new variation on an old theme. The 2017 coalition agreement between Labour and NZ First included the plan to; "Investigate growing Kiwibank's capital base and capabilities so that it is positioned to become the Government's Banker when that contract is next renewed."
The contract was renewed this year with Westpac NZ retaining its role, held since 1989, as the Government's key banker for at least four more years. Government-owned Kiwibank, the biggest of the NZ owned banks, didn't participate in the latest All-of-Government tender for banking services.
Kiwibank's inability to compete for government business became a political issue during the last tender of government banking services in 2015, with it lacking the necessary institutional and corporate banking capacity, which it still doesn't have and doesn't plan to develop.
In 2018 Treasury said it would investigate what would need to happen for Kiwibank to be capable of taking on the Government's transactional banking business. As previously reported by interest.co.nz, Treasury hired an independent consultant in 2019 to assess the feasibility of Kiwibank developing capabilities to provide banking services to the Government. A report was produced in November 2019.
Treasury told interest.co.nz the report showed Kiwibank would require "a significant enterprise-wide capability uplift over many years to cater for the additional complexities" that would come with providing banking services to the Government. Additionally providing banking services to government would "need to be seen as a priority by the independent board that oversees Kiwibank."
The latest Reserve Bank data shows the other NZ owned banks, SBS Bank, TSB, The Co-operative Bank and Heartland Bank, combined have total assets of about $24 billion. That compares to Kiwibank's $34 billion, and the big four Australian-owned banks which are all well over $100 billion each. ANZ NZ leads the way with total assets of about $192 billion.
 Kiwibank recently received a $225 million capital injection from its parent company, while the Reserve Bank approved a bespoke capital instrument for mutual banks SBS and Co-op, a Mutual Equity Tier 1 instrument, to help them bolster capital. Mutual banks are limited in their options to raise Tier 1 capital because of their mutual structure.
Might NZ First want to keep CoFI?
NZ First's 2023 election policies also include a pledge to; "Put a regulated duty on the banks to deliver 'fair value' through UK-style consumer duties, remove all woke investment rules and create a Financial Services Ombudsman as an Office of Parliament."
The UK Consumer Duty took effect on July 31, this year. According to the Financial Conduct Authority (FCA), it requires firms to "act in good faith towards retail customers, avoid foreseeable harm, and enable and support retail customers to pursue their financial objectives."
In language that sounds similar to that used by the Financial Markets Authority (FMA) to describe NZ's Conduct of Financial Institutions (CoFI) regime, the FCA says the duty "sets higher and clearer standards of consumer protection across financial services, and requires firms to put their customers' needs first."
CoFI is scheduled to come into force in 2025, establishing a conduct licensing regime for banks, insurers and non-bank deposit takers overseen by the FMA, with a legal obligation to make sure they treat customers fairly. The National Party, however, is pledging to repeal the Conduct of Financial Institutions Act saying it; "makes credit more expensive and harder to obtain, even for basic services such as overdrafts and mortgages."
CoFI followed a review of banks' conduct and culture in 2018 by the Reserve Bank and FMA. This review suggested ultimately banks did what was best for banks, with this not necessarily coinciding with what's best for their customers, the majority of whom didn't trust the banking industry. 
The FMA also undertook a review in 2018 of bank incentive structures, saying a strong sales focus meant there was a high risk of inappropriate sales practices occurring, with banks not adequately monitoring and controlling this risk. Banks were told to remove incentives linked to sales measures for salespeople and their managers. 
'A full scale pricing and monopoly investigation'
This year's election, of course, came against the backdrop of an ongoing Commerce Commission market study into retail banking competition focusing on deposit accounts and home loans.
Six years ago, when they last held the post-election balance of power, NZ First and Leader Winston Peters had gone into the 2017 election calling for a banking inquiry.
Going into that election Peters was blaming "subservient puppetized politicians who won't act in the national interests of business and private citizens," for the lack of a NZ inquiry into bank competition. The 2017 Labour-NZ First coalition agreement made no suggestion of a banking inquiry.
This time around NZ First has pledged; "Foreign owned banks, supermarkets, and energy 'gen-tailers' will face a full scale pricing and monopoly investigation, as they have in other countries." Its 2023 election policy document says there've been five Australian parliamentary  inquiries into banking costs and none in NZ.
NZ First also says it wants to; "Amend the Banking (Prudential Supervision) Act to prohibit any New Zealand registered bank discriminating against, or debanking, businesses or individuals on the basis of business type or political belief."
When negotiations with National and ACT conclude it'll be interesting to see whether any of NZ First's policy proposals for banks see the light of day. The only mention of "bank" in National's 100 Day Action Plan refers to the Reserve Bank, with the party pledging to; "introduce legislation to remove the Reserve Bank's dual mandate to get the Bank focused on putting the lid back on inflation."
*This article was first published in our email for paying subscribers. See here for more details and how to subscribe.