Finance Minister and RBNZ unwilling at this stage to link up directly to fund the fallout from COVID-19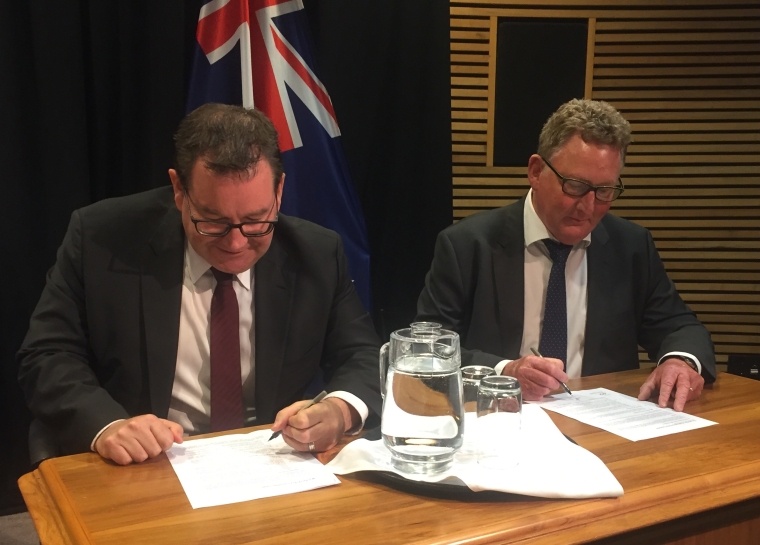 The Government last Wednesday passed legislation enabling it to borrow up to $52 billion before June to shield the country from the economic fallout from the COVID-19 pandemic.
This is the equivalent of 17% of "normal" time gross domestic product (GDP) or 60% of the tax we paid in the year to June 2019.
Finance Minister Grant Robertson characterised the $52 billion as an "emergency backstop", not a prediction of exactly how much will be spent.
"But it does demonstrate the level of commitment of this House and this Government to fighting the virus and protecting New Zealand from it," he said during the second reading of the Imprest Supply (Third for 2019/2020) Bill.
So yes, we're talking big bucks.
The range of support measures Robertson has announced to date is expected to cost nearly $25 billion.
With net core Crown debt below 20% of GDP, the Government has room to borrow much more before hitting debt levels other countries are at.
Still, the debt will need to be repaid.
Before we consider the daunting question of what our society will need to forgo to get the country's books back in shape, it's worth considering how the debt should be raised.
The options
In the eyes of Raf Manji, an investment banker turned strategy and risk consultant, there are three ways to raise this debt:
By Treasury selling bonds in the market
By Treasury selling bonds directly to the Reserve Bank (RBNZ)
By the RBNZ giving Treasury cash
Method Number 1, which is very run-of-mill, is currently being employed.
In fact, the New Zealand Debt Management (which is part of Treasury) will publish its bond issuance plans for the June quarter and provide an update on the 2019/20 New Zealand Government Bond programme at 8am on Wednesday.
The RBNZ is expected to buy a number of these bonds, having announced on March 23 that it will buy up to $30 billion of government bonds over the next year.
By the RBNZ helping increase demand for government bonds, this will reduce the yield, which will flow through to lower interest rates for borrowers. Low interest rates encourage spending and thus growth and inflation.
Why go through the secondary market when you could go direct?
However, Manji believes the RBNZ should jump to Method Number 2 and buy bonds directly from the Treasury at 0%.
Explaining his rationale in a piece written for interest.co.nz on March 23, he said:
"Lower interest rates, whilst important for bank funding and liquidity, are not really the solution to this problem right now.
"There is not going to be any new "investment" whilst businesses are going bust, and people are frantically working out how to pay basic bills and stock their cupboards. This is exactly the problem that the post-GFC approach experienced.
"All the new central bank money that went into the secondary market to buy government bonds and a whole range of other securities, ended up being redirected into financial markets, setting them off on a very, long bull market, which has now come to a shuddering end.
"What the RBNZ needs to do now is to make clear that it can and will purchase government bonds directly from the Treasury at 0%. These funds should be used to fund the current and forthcoming economic support packages.
"The RBNZ can and should still support the secondary bond market but it should not make the mistake of previous international QE [quantitative easing] programmes, and focus entirely on supporting the financial markets."
Robertson and Hawkesby happy with the status quo for now
Asked by interest.co.nz last week whether Method Number 2 was on the cards, Robertson said it wasn't necessary right now.
"The New Zealand Government continues to issue government bonds, as we always have," he said.
"And in fact, I think they did one this morning and it was over-subscribed again, which means the bond market is continuing to work. That means New Zealand is in a position to continue to be able to take on debt."
Meanwhile the RBNZ's assistant governor, Christian Hawkesby, on Monday told interest.co.nz it wasn't buying bonds direct from Treasury because this would blur the lines between fiscal and monetary policy, or the Government and RBNZ which are meant to be independent of each other.
"By parties acting in the secondary market we keep that clear distinction… once central banks start having long-term funding arrangements out of the secondary market, then that starts to blur what is fiscal policy and what is monetary policy," Hawkesby said.
An argument for supporting financial markets
BNZ interest rate strategist, Nick Smyth, made a similar comment when asked about whether it was really necessary for money to flow through the financial system rather that going directly to where it's needed - the Government's purse.
"I don't see too much difference between the RBNZ buying directly from Treasury or the RBNZ buying bonds from market participants who have themselves bought directly from Treasury. Ultimately, the money goes to government and bonds end up on the RBNZ balance sheet," he said.
"Central banks generally try to maintain the appearance of not directly financing governments because it could lead to a slippery slope where the government gets used to unconstrained spending, the central bank loses independence and ultimately inflation could be a big problem…
"For me, it is better to transact in the secondary market, under a transparent framework with clearly defined objectives. 
"Part of what the RBNZ intends to achieve with quantitative easing is to restore liquidity to the secondary market in New Zealand Government Bonds, which has been strained recently. It helps achieve this objective by transacting in the secondary market. 
"Manji says, "The RBNZ can and should still support the secondary bond market but it should not make the mistake of previous international QE programmes, and focus entirely on the supporting the financial markets." 
"I would argue that, at times like these, supporting financial markets and real economy are intertwined. If financial markets, like the bond market, stop functioning properly, then borrowers who rely on the capital markets might have difficulty rolling over coming maturities and accessing capital for investment and spending. This has real world, or real economy, implications. 
"If the RBNZ manages to lower yields on corporate bonds and so forth, this lowers the cost of borrowing for real world businesses."
Eaqub supportive of Manji
Like Manji, economist Shamubeel Eaqub of Sense Partners, doesn't see why we don't jump straight to Method Number 2 - the RBNZ buying bonds from Treasury direct.
"It's a question of how long do you wait until you get there," he said, noting that as governments around the world issue bonds to pay for COVID-19, central banks will have to step in and buy these bonds.
Rather than waiting until the market can no longer scoop up all the bonds on offer, the RBNZ could get right to it - direct.
Why should New Zealand be the country to go into relatively unchartered waters?
"You need a crisis big enough to try new things," Eaqub said.
"If you can't try in a small country, where can you try?"