Auckland has a well publicised housing shortage. Over the ditch there's an array of property development companies and concerns about oversupply. So why aren't more of them coming to Auckland?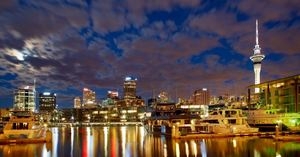 By Gareth Vaughan
Auckland has a housing shortage and a growing population. New Zealand's major banks have tightened up on the lending they're prepared to do to property developers. Both central and local government say they want an increase in house and apartment building. And, as highlighted by the Reserve Bank, the country has a dearth of big construction companies.
Against this backdrop, sitting a little over three hours flight away, is an array of Australian construction companies. In their homeland the Reserve Bank of Australia is worried about an oversupply of apartments in some cities. Thus New Zealand, and especially Auckland with its Unitary Plan designed to encourage increased building density, could hold some appeal. Especially to some of the big Australian firms such as the share market listed Lend Lease, Mirvac and Stockland, plus the likes of Meriton.
But, apparently it doesn't.
A spokesperson for Lend Lease, a large international property and infrastructure group, told interest.co.nz; "At this stage, Auckland is not currently part of our global gateway cities strategy."
A spokesperson for Stockland said; "Stockland's strategy is to focus exclusively on the Australian residential market. We have no plans to enter the New Zealand market at this time."
One from Mirvac said; "Mirvac is an Australian focused company. Our strategy is to continue to focus on urban markets, with an overweight preference to Sydney and Melbourne. We have no current plans to expand overseas."
And a spokesperson for Simonds Homes said; "Currently we only build in Australia and would prefer not to comment on outside markets."
Meriton and other Australian companies contacted for comment are yet to respond.And those who did respond gave no specific detail on why they weren't looking at Auckland.
Seventeen gateway cities but Auckland not among them
In terms of Lend Lease, the gateway cities strategy is worth a closer look.
In an investor day briefing last October Vikas Kaul, Lend Lease's group head of research, detailed the firm's 2014 study that gave it its 17 gateway cities. One of the criteria for selecting these cities, which feature in the chart below, is a population of at least 1.5 million.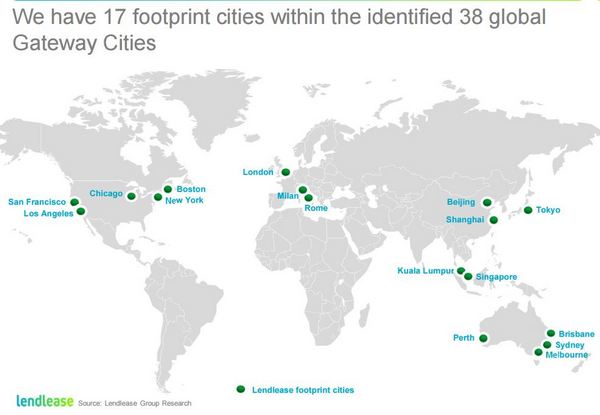 One piece of evidence Kaul cites to back-up that Lend Lease has chosen well is the global appeal of these cities. The evidence for this is their share of global foreign investment flowing into property. The chart below shows this and features Auckland, sandwiched between Osaka and Sao Paulo in thirtieth place. That's ahead of Perth and Kuala Lumpar, two of Lend Lease's 17 gateway cities.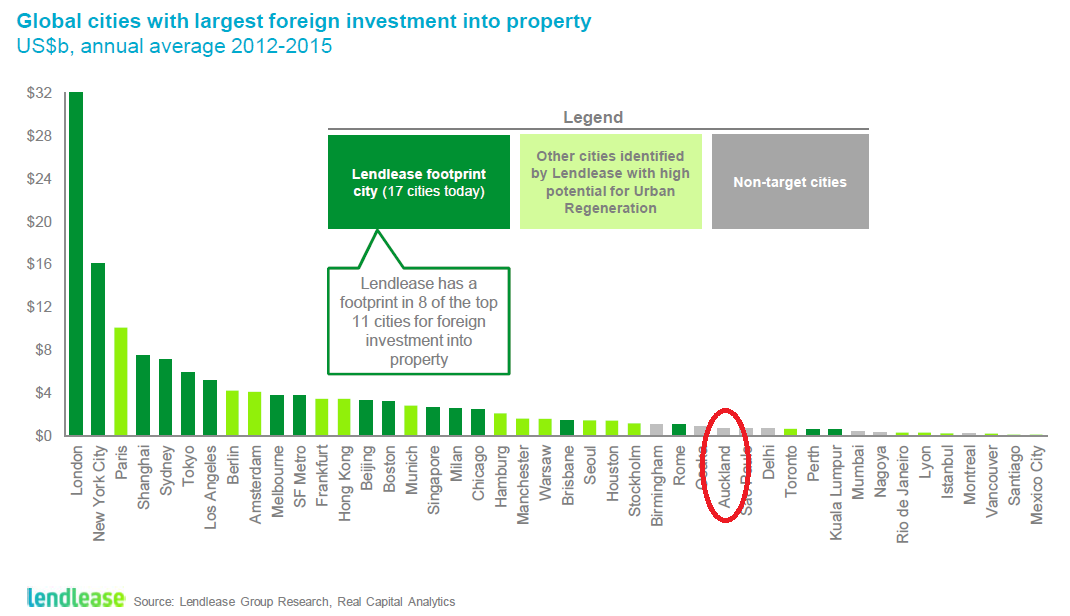 Auckland, as Auckland Council points out here, has 1.6 million people, and the population is expected to increase by 700,000 by 2043, giving Auckland 40% of New Zealand's population.
A need for around 40,000 homes now
Credit rating agency S&P Global Ratings recently estimated Auckland's housing supply shortage at between 30,000 and 40,000 dwellings, noting; "With banks reporting a tightening in lending standards for property development, it's conceivable that new construction will slow, despite the rollout of the Auckland Unitary Plan, applying further upward pressure on house prices." 
Incidentally, S&P's housing shortage estimate is very similar to interest.co.nz's own estimate.
Although Auckland's median house price has dropped for four consecutive months, the supply-demand equation remains out of whack and is likely to continue to do so for some time. NZ recorded a record net population gain of 71,305 in the 12 months to January, and a very similar figure in the February year. For the January year, Statistics NZ said, 56,231 arriving migrants said they intended to settle in Auckland. However, the actual number's likely to be nearer 65,000 given almost 20,000 migrants didn't state where they intended to live and many of them are also likely to have settled in Auckland.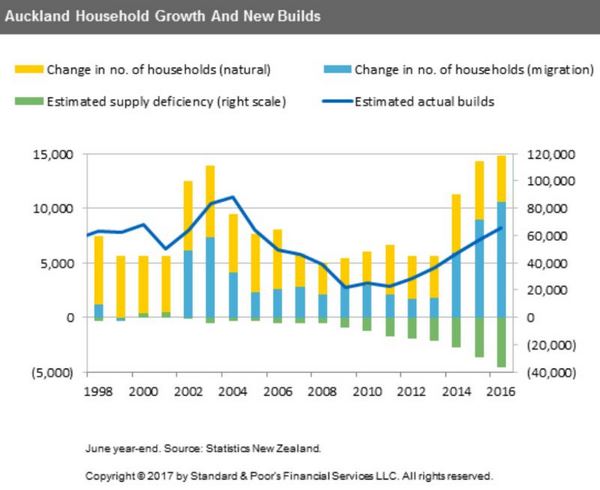 RBNZ bemoans fragmented construction industry
Meanwhile, in last November's Monetary Policy Statement the Reserve Bank aired concerns the fragmented nature of the NZ building construction industry, plus constraints on access to labour, materials and funding, could hamper high density construction and intensification in Auckland. It also suggested the entry into the local market of big international construction firms could help the construction industry combat its challenges by increasing scale and introducing new technology.
One Aussie firm that is here wants more
One Aussie construction firm that is involved in house building in Auckland is AVJennings, working with Housing New Zealand Corporation at Hobsonville Point. 
AVJennings CEO Peter Summers told interest.co.nz his firm is "very keen" to expand its Auckland operations.
"The AVJennings brand has now been active in Auckland for just on 10 years and [we] feel well placed to increase our presence. In terms of pipeline we don't comment on specific opportunities until they are at advanced stages, but it has been reported that we are part of a consortium that is bidding on the Tamaki redevelopment," Summers said.
In terms of the challenges of operating in New Zealand, Summers said AVJennings has noticed the well publicised higher building materials costs here compared to Australia. On the labour front he also notes the trades and manufacturers are at full capacity. However, AVJennings's building partners have not experienced delays.
The much maligned Resource Management Act hasn't been an issue for AVJennings.
"The Hobsonville Point Development, where AVJennings is predominantly engaged, has been underway for some time and generally the resource management issues are addressed prior to them becoming critical to the delivery process," Summers said.
NZ 'a great country to do business in'
With the original Hobsonville Point agreements signed off just before the Global Financial Crisis hit, Summers said the early years were "challenging."
"After those initial challenging years, financial outcomes have been good. But it also needs to be remembered our role at Hobsonville has been to assist with the supply of land to local builders. So it is a business to business model and therefore pricing, and costs, are less volatile and more around volume than the retail market for housing."
Summers said he's not surprised more Australian property development companies aren't active in NZ.
"Even in Australia most property companies don't operate in all regions. It is also not well understood that we have had a presence in New Zealand in the past. Our group was a former owner of Universal Homes. So the step back into New Zealand was a little easier based on that history."
"Every market has its challenges. But overall, New Zealand is a great country to do business in. New Zealanders tend to see the big picture so much more and to set social goals, not purely financial ones. Without that type of mindset the shortage of housing that Auckland has would have no hope of being solved," said Summers.
Chinese developers & banks active
Meanwhile, Chinese developers are making their presence felt in Auckland. These include Hengyi Pacific, the firm behind plans for The Pacifica, a 178m, 57 level apartment tower, with 295 apartment units and 35 hotel suites, to be built on Commerce Street.
New Zealand's three registered Chinese banks are also set to grow in prominence. Already China Construction Bank New Zealand is funding Rose Garden, a large apartment development in Albany.
And along with ICBC NZ and Bank of China NZ, China Construction Bank NZ is set to apply to the Reserve Bank for dual registration status. If approved, this would see them establish branches alongside the existing subsidiaries of their vast Chinese parents in NZ.
 Local incorporation status alone currently means the three are subject to restrictions on related party exposures imposed by the Reserve Bank as part of their conditions of registration. In contrast a branch structure allows access to significant amounts of related party funding.
China Construction Bank NZ's deputy CEO Lloyd Cartwright recently told interest.co.nz having a branch alongside the local subsidiary; "Would give us a lot more ability to bring our global balance sheet, our global funding capability, our global expertise, to the fore in New Zealand whereas operating in a subsidiary has some limitations in that respect."
This comes after ANZ, NZ's biggest bank, tightened its lending criteria for rental property investors and owner-occupier borrowers by reducing loan-to-value limits, and by stopping lending to investors wanting to buy sections and apartments off the plan, last June. This saw other banks follow suit, and tighten their lending standards too. This is demonstrated in the S&P chart below.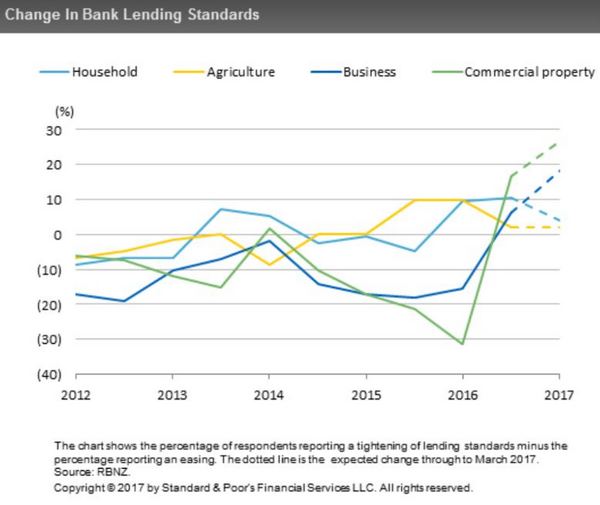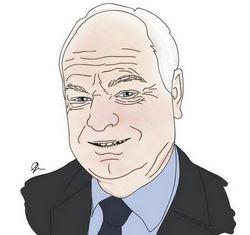 ANZ CEO's caution
Shortly after that ANZ NZ's CEO David Hisco publicly aired concerns about the Auckland property market being overheated and potentially running out of steam.
"What we believe is that clearly wages have not risen in pace with Auckland house prices. And so there comes a point when if we're not already close to it or there, where kiwis can't afford to get a loan and pay it off," Hisco told interest.co.nz last July.
"This thing's going to come to an end somewhere, it has to because you can only borrow so much."
Low interest rates have enabled people to borrow more money, but Hisco (pictured left) said this doesn't compensate for the rise in prices.
"And of course the more you borrow, the debt doesn't go away, you have to pay it back," Hisco said.
*This article was first published in our email for paying subscribers early on Tuesday morning. See here for more details and how to subscribe.