No solid economic rationale behind Gold tumbling 3.2% and Silver being down 2.6%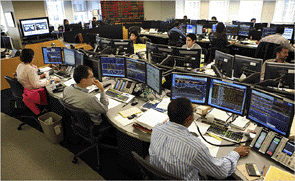 by Mike Jones
NZ Dollar
From hero to zero. After storming to the top of the currency performance rankings yesterday, the NZD has been the weakest performing currency over the past 24 hours. The NZD/USD briefly hit an overnight high of 0.8340, before sliding all the way back to 0.8270.
The NZD ping-pong mirrors some whippy price action in the greenback overnight, as US markets try to figure out the implications of the current US government shutdown and upcoming debt ceiling debate.
But the general underperformance of the NZD has more to do with heavy selling of NZD/AUD. Indeed, the cross has shed a full cent over the past 24 hours (currently 0.8800).
The RBA yesterday left rates on hold at 2.5% as all and sundry expected. However, the tone of the accompanying Statement was less dovish than most expected.
Overall, the RBA seem pretty happy with how recent rate cuts are working through the economy, and will probably need to see a clear deterioration in the data to cut again. The pullback in RBA rate cut expectations yesterday (just 8bps of further cuts are now priced) saw NZ-AU 3-year interest rate differentials ease back to 67bps, having started the week around 75 bps.
At this stage, our NAB colleagues' formal call for a November RBA rate cut is looking like a long shot. If the RBA is indeed at the end of its easing cycle it would certainly cast doubt on our forecasts for NZD/AUD to spend some time above 0.9000 later this year.
Still, building strength in NZ economic data, and the likelihood the minutes from the October meeting restate the RBA's easing bias, should limit dips to support at 0.8660.
This morning's 2.4% increase in dairy prices did little to prop up the currency. However, in our view this was another very positive result. Prices are now up 54%y/y.
For today, while the NZD/USD may continue to trip a little lower in the short-term, support at 0.8240 is expected to hold given the USD is starting to look a little heavy.
This afternoon's (1pm NZT) ANZ commodity price index should be NZD positive too, with another increase expected. We'll also be keeping an eye on a speech from RBNZ Assistant Deputy Governor McDermott at 4:30pm.
------------------------------------------------------------------------------------------------------------------
To subscribe to our free daily Currency Rate Sheet and News email, enter your email address here.
------------------------------------------------------------------------------------------------------------------
Majors
The fallout from the first US government shutdown in 17 years has been relatively limited. The USD briefly slipped to 9-month lows, before it was resuscitated by some positive economic data.
General 'risk sentiment' hasn't deteriorated much either. US stocks are currently up 0.4-1.0%, following gains of 1.1-1.7% across European bourses. Meanwhile, the VIX risk aversion gauge has actually slipped lower, from 17% to a smidge above 15.5%.
Investors did try to take the USD lower through the early part of the night, although this may have partly reflected EUR strength. A surprise fall in Eurozone unemployment (12.0% vs. 12.1% expected) and reconfirmation of September's solid EU PMIs helped the EUR/USD up to 9-month highs above 1.3580. USD/JPY, meanwhile, stumbled lower from 98.50 to around 97.80.
However, it wasn't long before the USD staged a comeback. The US ISM manufacturing index leapt to a 29-month high of 56.2, confounding expectations for a fall to 55.0. US bond yields crept higher in the wake of the release (US 10-year currently 2.64%), helping to restore USD sentiment.
Market watchers are scrambling to figure out what's behind some big overnight drops in precious metals prices. Gold prices have tumbled 3.2% to US$1285/ounce, while silver prices are down around 2.6%, having earlier been off almost 4.8%. Rather than any economic rationale, it looks as if thin liquidity and a slew of stop/loss triggers in gold prices are responsible for the moves.
At this stage, there is no resolution in sight for the US shutdown. Republicans and Democrats are still at total loggerheads over 'Obamacare'. However, market participants, for the most part, continue to take a sanguine view of the overall economic impact. This reflects the fact that 1) the Fed may delay tapering for longer in an effort to cushion the economy, and 2) markets are much more worried about a failure to raise the debt ceiling later in October, which risks a US sovereign downgrade (Fitch said as much overnight).
This all suggests that while risk sentiment may continue to hold up in the short-term, there are certainly some dark clouds on the horizon. But, as we've said before, the overall risks around the USD are hard to gauge given the Fed is likely to respond to any material economic fallout by delaying tapering. Near-term, and with DXY support at 80.00 broken, we wouldn't be surprised to see additional USD weakness.
Other News:
*Japanese PM Abe duly raises VAT tax from 5% to 8% (starting early 2014) following the better-than-expected Tankan survey. A ¥5t stimulus plan was also announced to offset the impact of the tax.
Event Calendar:
2 Oct: NZ ANZ commodity price index; AU trade balance; EU ECB decision & press conference; US ADP employment; US Fed's Bernanke speaks;
Oct 3: CH non-manufacturing PMI; EU final services PMIs; EU retail sales; US factory orders; US ISM non-manufacturing index; US Fed speakers;
Oct 4: CH HSBC services PMI; JN Bank of Japan decision; US non-farm payrolls; US more Fed speakers.