Reports suggest Republican leaders have agreed to six-week debt ceiling extension but this is far from an ideal outcome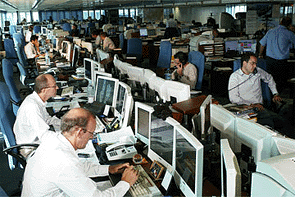 by Mike Jones
NZ Dollar
Global markets are in a more optimistic mood this morning as signs of progress slowly emerge in US Congress.
But while most 'risk-sensitive' assets have received a clear boost, the NZD/USD has tended to lag the moves as the heavy NZD/AUD weighs down the kiwi. The net effect is the NZD/USD currently trades around ½ cent above yesterday's 0.8240 lows, marking its 12th consecutive day inside the 0.8240-0.8350 range. More of the same looks likely for today.
Yesterday's Australian employment figures had something for everyone. Headline employment was disappointing at 9.1k (15k expected). An unexpected fall in the unemployment rate was encouraging (5.6% from 5.8%), but this was partly driven by a lower participation rate.
Speculative accounts were keen to play up the positives, buying AUD/USD and entering NZD/AUD shorts on the expectation the Aussie economy is slowly turning itself around and the RBA has finished easing. We're not quite so confident, and still believe there is a strong chance of another RBA rate cut early next year. This is what underpins our forecast for the NZD/AUD to hold around 0.9000 through the first part of next year.
Nonetheless, NZD/AUD selling helped drag the NZD/USD down to the key 0.8240 support level yesterday. But overnight the NZD/USD bounced as House Republicans finally started to make some encouraging noises about a deal to raise the debt ceiling.
The problem is, the proposed deal would only kick the can down the road another four to six weeks. So currency markets are likely to remain sidelined until we get some proper certainty.
The fact Monday is a holiday in the US, Canada, Japan and Hong Kong probably further dims the potential for a break out of the sideways ranges currently in play.  Hopefully, as the US government eventually reopens, US economic data begins to trickle out again and the focus for markets will return to US monetary policy. Here, the risk is that a bumper September non-farm payrolls report re-centres the market's tapering expectations on the December FOMC meeting, potentially allowing the USD to recover some of its recent losses.
Today's local data calendar offers up just NZ food prices (BNZ -0.8%m/m), with more attention on weekend trade data out of China (US$26b September trade surplus expected).
------------------------------------------------------------------------------------------------------------------
To subscribe to our free daily Currency Rate Sheet and News email, enter your email address here.
------------------------------------------------------------------------------------------------------------------
Majors
Tentative signs of progress in US budgetary negotiations spurred a sharp rally in risk assets overnight. However, currency markets remain reluctant to participate in the celebrations. The USD index shuffled sideways in a tight 80.35-80.60 range. Low volumes and limited investor participation remain a feature of FX markets.  
Details are still sketchy, but reports suggest Republican leaders have decided to push a "clean" six-week extension of the debt ceiling. A vote is possible in the next few days. It's far from an ideal outcome. While President Obama is likely to sign the deal (as long as Republicans agree to reopen the government), another round of debt ceiling negotiations will be needed on or before November 22.
Still, equity markets were happy just to see some progress. European stocks rallied 1.5-2.3%, with the Dow Jones and S&P500 both climbing 1.6%. The VIX index (a proxy for risk aversion) has fallen sharply from 20% to below 17%, and commodity prices, in particular energy prices, are up strongly (oil +1.7%).
The reaction in currency markets has been mostly consistent with a classic 'risk-on' scenario. The relative 'safe-haven' of the JPY has been shunned in favour high beta currencies like the AUD and CAD. However, the overall reaction has been fairly muted, with most of the majors remaining within now well-trodden ranges.
USD/JPY and the AUD/USD have been two of the night's bigger movers, both strapping on gains of around ½ figure (to 98.10 and 0.9455 respectively). An attempt to rally by the USD seems to have been snuffed out by some weaker jobless claims figures (374k vs. 311k expected), even though statistical quirks biased upwards this week's numbers.
Looking ahead, the focus for currencies will remain on the US. A vote in favour of a temporary extension of the debt ceiling would be positive for risk sentiment, but we doubt it would be particularly important for currencies.
Indeed, investors have always expected some form of compromise to be reached. There may be some passing interest in the annual meetings of the IMF starting tonight. Expect more pressure on US leaders to sort out their debt issues. China and Japan have already expressed concern.
Other news:
*BoE leaves both interest rates and asset purchases unchanged at 0.50% and £375b respectively, as expected.
*French industrial production figures for August: 0.2%m/m vs. 0.6% expected.
Event calendar:
Oct 11: NZ food price index; EU German CPI; US Michigan consumer confidence.