First phase of Govt's Covid-19 support package worth 4% of GDP; Includes wage subsidies, benefit increases and depreciation deductions for commercial and industrial buildings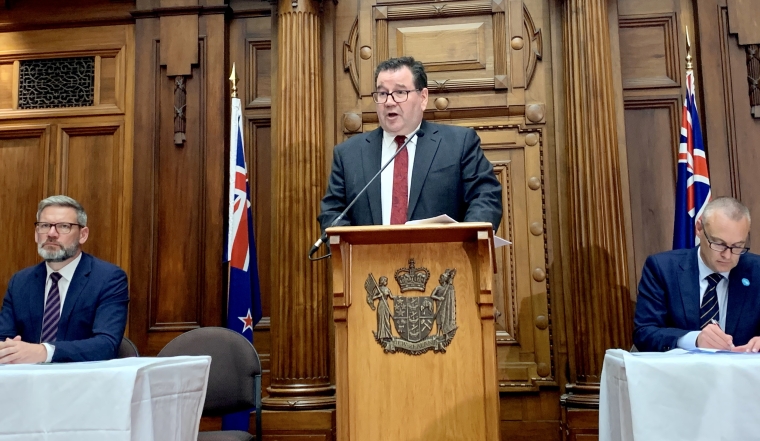 The Government is pledging to inject $12.1 billion into the economy in what it called its "most significant peace-time economic plan in New Zealand history".
This is equivalent to 4% of gross domestic product (GDP), which is greater than the response to the 2008 Global Financial Crisis, and greater than Covid-19 relief packages announced in Australia, the UK and the US. 
The bulk of funding - $5.1 billion - is expected to go to wage subsidies for businesses that can show a 30% decline in revenue for any month between January and June 2020.
Eligible employers will be paid $585.80 a week for full-time employees and $350 per week for part-timers. The subsidy will only be available for 12 weeks at this stage and support will be capped at $150,000 per business. 
Robertson said the $5.1 billion figure was predicated on the assumption half of businesses will use the subsidy. 
The second largest bundle of funding, worth $2.8 billion, will go towards an income support package.
This includes a permanent $25 per week increase in all main benefits from April 1.
The third largest amount of money, $2.1 billion, will go towards reinstating depreciation and deductions for commercial and industrial buildings.
Other support measures include waiving interest on some late tax payments and a $600 million support package for the aviation sector.
Finance Minister Grant Robertson said there are "ongoing discussions" underway between Air New Zealand and the Government, which is a majority shareholder. 
Furthermore, $500 million is being put towards boosting health resourcing.
This is only the first phase of support that will be provided.
The Government is still working on how larger or more complex businesses that fall out of the scope of this package will be assisted.
Officials are also meeting with banks to discuss the potential for future working capital support, including in the form of loan guarantees for businesses that face temporary credit constraints.
Robertson said preliminary forecasts indicate GDP growth for the year to March 2021 is expected to be -1% with the package. Without the package, it would've been -3%.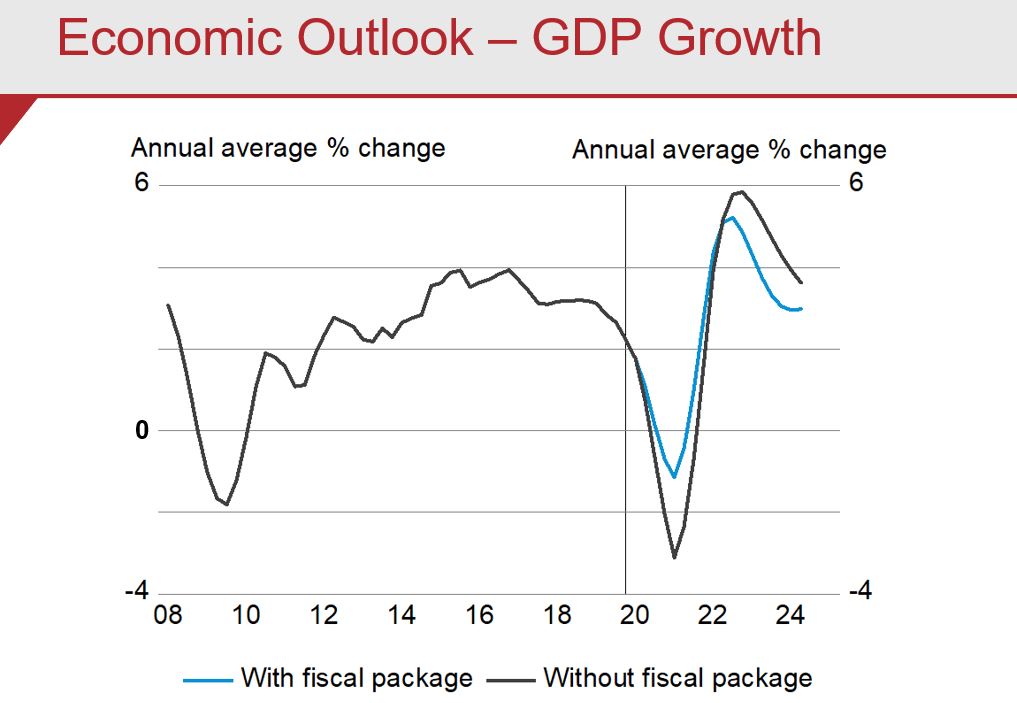 Robertson said New Zealand's net core Crown debt is expected to breach the 15% to 25% of GDP target range in the near-term. Debt to GDP was 19.5% at the latest reading. Robertson noted his Budget Responsibility Rules have a caveat for a "major economic shock or crisis".
He warned New Zealand should prepare for a number of budget deficits, with Budget 2020 being recast as a "recovery budget".
"This is the rainy day that we have been planning for," Robertson said.
"Any measures the Government takes must be timely, fiscally sustainable, targeted to those who need it, and proportionate to the level of economic shock…
"Today's economic package is all about cashflow and confidence."
The forecast 2019/20 New Zealand Government Bond (NZGB) programme is now set $3 billion higher than forecast at the Half Year Economic and Fiscal Update, at $13 billion. 
$7.5 billion of bonds have already been issued in the fiscal year to date. The forecast borrowing programmes for subsequent years are currently unchanged.
However, Treasury expects increases to programmes for future years will be necessary. It will provide updated forecasts alongside Budget 2020, to be released on May 14.

Here is a summary of the package:
Wage subsidies

The wage subsidies will be available for businesses in all sectors and all regions that can show a 30 per cent decline in revenue for any month between January and June 2020 compared to the year before (including projected revenue). If eligible, employers would be paid $585.80 per week for full time staff, and $350 for part time. Payments are capped at $150,000 per business. They will be paid in a lump sum. The support will be available for twelve weeks with applications open today. Businesses must have taken active steps to mitigate the impact of COVID-19 (eg. engaged with their bank) and signed a declaration form to that effect. Estimated total cost: $5.1 billion

COVID-19 leave and self-isolation support

The COVID-19 leave payment scheme will provide support (through employers/to sole traders and the self employed) for those people unable to work because they are in self-isolation, are sick with COVID-19 or caring for dependents who are in either of these situations. The payments will be equal to the rate of the wage subsidy scheme but available for a maximum of eight weeks. Employers will be expected to meet all of their sick leave and other employment expectations. Estimated total cost: $126 million

Income support package

This package includes:

- A $25 per week increase for all main benefits from April 1 2020. MSD estimates that this will increase the incomes of approximately 350,000 low income families. This will also help as more people who have previously been in work are likely to need income support in the coming months, and act as a stimulus.

- The Winter Energy Payment for 2020 will be doubled to $1400 for couples and $900 for single people. It is estimated that around 850,000 recipients will benefit from this change. Once we include the partners of recipients, more than one million people are expected to benefit.

- Removing the hours test from the In Work Tax Credit to assist those who may face variable hours.

Estimated total cost: $2.8 billion

Redeployment package

$100 million has been allocated to support worker redeployment. The Tairāwhiti region will be the first to receive assistance, with the package to be agreed by COVID-19 Cabinet Committee on Wednesday. 

Fewer small businesses having to pay provisional tax

From April 1 2020 the threshold for provisional tax will lift from $2,500 to $5,000. This measure will reduce cashflow pressure and compliance costs for small taxpayers by allowing roughly 95,000 businesses to defer their tax payments. Estimated total cost: $4 million.

Reinstatement of depreciation deductions for commercial and industrial buildings

A reintroduction of depreciation deductions for commercial and industrial buildings will encourage business investment in the recovery phase and support productivity. It will support business confidence, continuity and recovery. Estimated total cost: $2.1 billion

Waiving interest on some late tax payments

Interest is usually payable by taxpayers when they pay their tax late. The Commissioner of Inland Revenue will be given a time-limited discretion to remit interest if a taxpayer's ability to make a tax payment on time has been significantly adversely affected by the COVID-19 outbreak. This measure will provide targeted relief to directly affected taxpayers facing cashflow pressures and apply for all tax payments due on or after 14 February 2020.

Immediate deductions for low value assets

Immediate expensing allows businesses to fully deduct the cost of low-cost assets when they are purchased, with the threshold for the write-off currently at $500. We are putting in place a temporary increase in the threshold to $5,000 for one year, reverting to $1,000 in the longer term (still higher than the current $500 threshold), which will reduce compliance costs for businesses. It will also have the side-benefit of stimulating business purchases. Estimated total cost: $667 million.

Support for large or complex businesses

Some businesses may fall outside the scope of the proposed business and employee support package (including working capital support), such as large or complex businesses. Officials have been asked to develop options so the Government can support larger businesses that have been materially impacted by COVID-19, where other avenues for support are not available, and the businesses are commercially viable over the longer-term. Any support would seek to mitigate the economic impact as adjustment occurs.

Working capital support for small and medium sized businesses

Officials are meeting with banks to discuss the potential for future working capital support, including in the form of loan guarantees for businesses that face temporary credit constraints.

Aviation Sector

The COVID-19 Cabinet Committee will discuss a package of measures to support the aviation sector and the protection of supply chains. This does not include any Government support for Air New Zealand. The estimated cost of this package is $600 million.

Measures already taken:

- Expanded Regional Business Partner Programme ($4m)

- MSD rapid response teams in regions hit hardest

- Removed benefit stand-down periods
BusinessNZ CEO Kirk Hope said the package will "substantially help businesses keep operating through the period of the coronavirus outbreak".
He said the wage support and tax measures were well-focused on key areas of need.
The Council of Trade Unions president Richard Wagstaff said: "This package provides an immediate boost to get through these challenging times.
"Ensuring that working kiwis, including those working as contractors or casuals, are financially supported so that they can self-isolate and take sick leave, is tremendously important. Employers have a pivotal role to play in responding to the impacts of COVID-19 and slowing down the spread. The government is doing its bit - now business and employers must do theirs." 
Here is National's response: 
The economic package released today by Labour, the Greens and NZ First puts money in the pockets of beneficiaries faster than it does most businesses, Leader of the Opposition Simon Bridges says.

"While we support the significant wage subsidy package, it is not immediate enough. Businesses and workers need relief now. Only about half of the total spending will actually go out the door in the next few months. The remainder will be spent slowly over the next four years.

"I am also concerned about how businesses with more than 21 full time staff will cope, with wage subsidy payments capped at $150,000.

"This package should be about keeping people in work. Instead, it will put money in the hands of beneficiaries faster than businesses who are doing it tough.

"National would have devoted more of the $12 billion package to urgent support for businesses in the next two to three months, to save jobs.  

"We also support the investment in increasing the Government's health response however we would question why funds for ensuring New Zealand has sufficient medicines and facemasks aren't being spent right now.

"Business depreciation changes are welcome but they do not go far enough, soon enough. The focus should be on accelerating business investment in the short-to-medium term and a much more significant instant asset write-off scheme.

"It is disappointing there is no announcement on deferring the minimum wage increase. We continue to urge the Government to put off the increase for at least six months.

"There is also no sign the Government is bringing forward major infrastructure projects.  Only 12 per cent of the Government's $12 billion infrastructure package will actually be spent before the end of the 2021 financial year. That's not fast enough.

"The Government should have also done the work on assuring banks have the confidence to continue lending to small-to-medium sized businesses, such as through a guarantee scheme implemented in the United Kingdom.

"We are heading into a deep recession, the Government needs to rise to the occasion. We acknowledge this plan and the support it will provide to some but New Zealanders will left asking for more.

"National would focus on keeping people in jobs, keeping businesses afloat and restoring business confidence."