New Zealand expected to provide an 'important profit driver' for the Aussie banks in 2011 for first time in a decade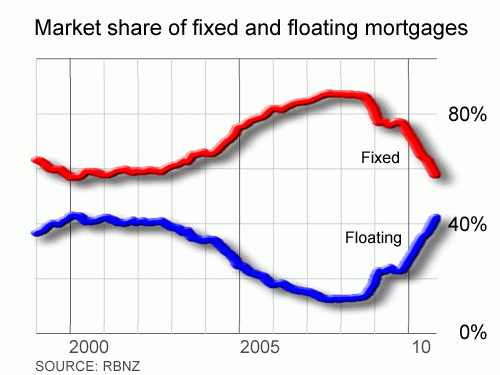 By Gareth Vaughan
New Zealand's Australian owned banks will be an important profit driver for their Aussie parents in 2011 for the first time in a decade, analysts at UBS say.
Sydney-based UBS banking analysts Jonathan Mott, Chris Williams and Adam Lee have issued a research report entitled New Zealand: A slice of banking heaven? after a recent visit across the ditch. In it they note New Zealand banks are now writing more than 80% of new mortgages at variable, or floating, rates.
Reserve Bank data shows 42.3% of mortgages by value were floating as of October, up 2% from September and closing in on the record high of 43.1% (since Reserve Bank records began in June 1998) recorded in January 2000.
The UBS analysts say the shift to floating from fixed-term mortgages is being driven by the first upward-sloping yield curve in 20 years. See all bank mortgage rates here.
"Variable rate mortgage spreads are 30-40 basis points higher than fixed rate spreads," the analysts say. "This mix change supports margin expansion in New Zealand."
Crafar sale 'critical'
Mott, Williams and Lee also argue the proposed sale of the Crafar dairy farms to Hong Kong-based Natural Dairy for about NZ$240 million is "critical" to rural asset values given the low recent volume of farm sales provides little transaction evidence to support banks' provisioning levels.
"With 65% of NZ Agri credit being lent to the dairy industry, this transaction represents a crucial mark for the sector."
The proposed Crafar sale has, however, hit a potentially fatal roadblock with the Serious Fraud Office investigating transactions between Natural Dairy Holdings and associate UBNZ. The 16 Crafar farms, New Zealand's largest family owned dairy business, were put into receivership in October last year owing about NZ$216 million to their lenders Westpac, Rabobank and PGG Wrightson Finance after interest.co.nz revealed animal welfare issues at the farms.
Meanwhile, in its bi-annual Financial Stability Report the Reserve Bank said last month farm prices may need to continue falling to see "substantial" buying interest reemerge and also warned that further falls could see dairy farmers, who took on debt to expand during the boom times, slip into negative equity. And the latest Real Estate Institute of New Zealand (REINZ) figures show there were just 46 farm sales in October, equal to the previous record monthly low of 46 recorded in January this year and down 42% from the 79 farms sold a year ago.
Solid earnings improvement
Mott, Williams and Lee say recent financial results from the banks – ANZ, ASB's parent Commonwealth Bank of Australia, Westpac and BNZ's parent National Australia Bank, showed the New Zealand divisions as stand outs for relatively strong improvements in results, both pre and post provisions.
They note that for the second-half of the 2010 financial year, the combined results from ANZ, ASB, BNZ and Westpac show pre-provision earnings growth of 2% from the first-half to NZ$2.086 billion, and a 33% rise in net profit after tax to NZ$1.251 billion.
And monthly net interest margins reached 2.16% in September, up from 2.05% in September 2009.
Kiwibank's 'meaningful' competition
Government owned Kiwibank remained a "meaningful" competitive influence on both deposits and mortgages. That said, the UBS analysts note Kiwibank's annual cost to income ratio rose to 72.6% in the year to June from 68.7% last year, marking the first year in the eight it has been operating that Kiwibank's cost to income ratio has deteriorated.
Furthermore the analysts say given Kiwibank has a sovereign guarantee on all its debt securities, it's "heavily dependent" on New Zealand's sovereign credit rating for its capacity to grow and compete effectively with its Australian owned rivals.
The UBS analysts also point out market participants emphasized to them how "progressive" the Reserve Bank continued to be, noting its "pragmatic" liquidity policy  and core funding ratio and its recent consultation paper on plans to develop a legislative framework for bank covered bond issues.