Compare the policies of the parliamentary parties contesting the 2014 Election with our extensive comparison resource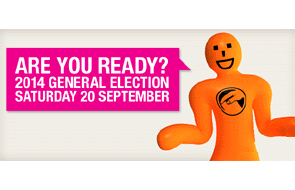 The General Election on September 20 is now just 7 days away.
Our coverage of the issues has been though three projects.
Firstly, Bernard Hickey is publishing a daily (weekday) diary of political events and news items that readers should know about.
Secondly, Bernard has interviewed the finance spokepeople of four political parties and you can see these video interviews here:
- Bill English, National Party
- Winston Peters, New Zealand First Party
And thirdly we have a comprehensive comparison of 110 policy topics, our agnostic comparative pages of party policy.
This is the fifth general election in a row we have provided this service and this year has seen the highest usage of any previous campaign. More than 100,000 people have used the service.
You can find them indexed on this handy page.
Easy access to this page is also available on our News section page here, in the right-hand "In the section" sidebar menu.
Not all parties release their policies at the same time, so this has been a work in progress updated as new releases have become available from the Parties.
Our comparisons only use the words contained in a policy document published online by each party.
We do not source any information from candidate press releases; it must by official party policy to be used in our pages and it must be available to link to online.
Nor do we use Government policy documents. Our current government is a coalition of various parties; it is only the parties policies themselves that we are comparing.
Our pages are limited to five key points from each party. In all cases we provide a handy link to find the full policy release on their website
We only cover parties currently in Parliament.
Each policy comparison page is open for Comment. Please keep them civil, and relevant to the policy issue of the page.
Our approach is different to others. We are not 'summarising' or using our interpretation of the policies; we are only recording what they say.
What political parties say is one thing; what they do can be another, especially when they enter MMP negotiations. You are on your own assessing those implications.
In addition to the policy comparatives, we also have a handy page comparing the Party Lists, here.
And we have Government budget data analysed in a convenient format here and here.
Here, in order, are the 20 most popular policy comparison pages so far in the 2014 election campaign, in order of download stats (updated September 15):
There are 90 other specific policies compared, with each on a convenient one page, showing where each party stands.